Other / Watches / Women
Check Out These Leather Watches for Women!
Leather watches are not a luxury: you'll find watches made out of metal (both precious and otherwise); then Khaki-made ones that are a fan-favorite due to their eccentric look; and then ones made out of ceramics. Still, despite the appeal of other watch variants, leather watches have won our attention with their formal, styling grace. Here we will focus on leather watches for women.
You'll find that they come in a variety of prices, but as they all fundamentally tell the time irrespective of price, they go very easy on the pocket. This post reviews the best leather watches for women with the requirements: functionality & aesthetics as well as a great price.
Our 10 Favorite Picks for Leather Watches!
1. Anne Klein Women's 10/9442 Leather Strap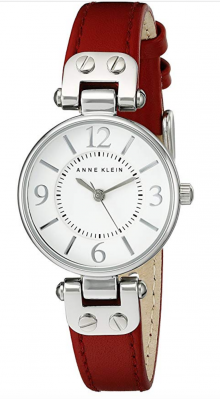 From the studded leather strap to the watch case, this is one of Anne Klein's best quartz watches with it easily complementing a woman's collection.
The timepiece is a bit on the chic side (case measures 26mm); however, it does sell itself with that great vintage look. Its flat design is timeless (incorporating an analog display), while the combination of metal and faux-leather is sensual. Purely perfect as an open slate for any girl who likes to dabble in her wardrobe.
Nevertheless, we recommend that you gift this on a formal occasion. We're talking graduations, promotions at work (whether to yourself or to a colleague), or even as a dinner companion to your next date.
The watch comes in an elegant box too, so it's easy to gift. We recommend you add in a love bracelet if you're hoping to set a romantic tune.
Cons: Time between leather replacement is ok, but could be longer.
Other info: Water resistant up to 30m, uses a buckle clasp and comes in 5 color combinations.
2. Michael Kors Women's MK2740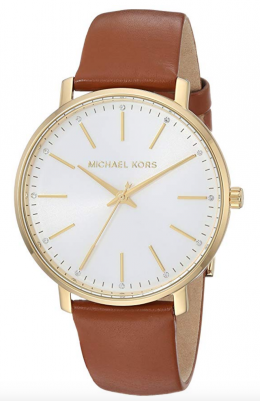 Look-wise, this quartz-powered Michael Kors MK2740 is a sexy watch with a white dial, and a 38mm case made out of yellow gold.  Attached at the lug, you'll come across the brown leather that contrasts so vividly with the overall color scheme of the watch.
This is perfect as a gift for work, so if your wife's profession needs something this classy, you should go ahead and get one for her. It fits the formal tone with the use of crystals as hour markers, while the gold markers act as complements.
Whoever you decide on giving it to, this should remind her of you at each glance to the watch.
Cons: A bit expensive.
3. Timex Easy Reader 30mm Watch
While there are 11 other colors of the Timex Easy Reader that you can choose from, this one in white is our favorite. Get this; the quartz timepiece comes with a 30mm rose gold-plated brass case, designed with a cream dial full of black Arabic numerals, and suspended by a white leather strap.
Further, the watch features Timex's iconic Indiglo back-light tech, that shows you the time even in the night.
Our recommendation this time around is practically limitless. This timepiece has the good-looks and grace to bring out your presence in all situations, formal and informal. So it's suitable as a graduation gift to a friend, an anniversary watch to act as a reminder, or even an accessory to congratulate your colleague at work.
Couple all this with the fact that the watch's longevity is legendary (battery boasts a minimum of 10 years), and it's a piece that'll remind her of you for a long time.
Cons: Defective batteries are the most common issue.
Other info: 14mm leather strap fits up to 7.5-inch wrist.
4. Timex Unisex Weekender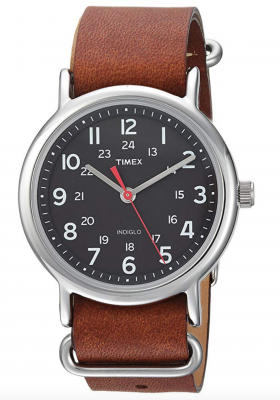 This piece from Timex is a bit more functional than the rest since the looks are more muted. In no way does that remove from the watch's aesthetic appeal, but you've got to admit that it does look more rugged.
This battery-powered piece comes in a 38mm brass case that is water resistant to a depth of 30m. In addition to that, there's the iconic Indiglo back-light tech from Timex, which easily allows you to read the time in pitch darkness.
Combine that with the textured leather strap, and you have a set of strengths that practically leave no space for cons. Instead, you're left with a timepiece with the excellent build quality and enough aesthetic appeal to win her over.
It's perfect as a gift for birthdays, Valentines, or if you buy more than one copy, a family memento that's shared by everyone. Just make sure you buy a better gift box since the one from the manufacturer is made from paper.
Cons: It's generic, so it's only best for first-timers.
5. Anne Klein Goldtone and Black Watch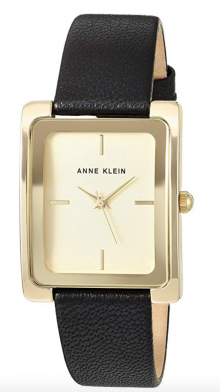 While all the previous options pack a lot of punch when it comes to their design, this piece easily stands tall among them. It upgrades the classic women's dress watch to become the ideal accessory for official dinners/dates.
It can also work as a gift for that woman of yours who's more at home when she's at work. The watch features a 28mm rectangular gold-plated case; it's broad, but the aesthetic is undeniable.
Within the case, you'll find a clean, beige dial, that contrasts finely with the black leather. On the light champagne dial, you'll discover gold-tone minute-markers and hands representing the hour, minute, and seconds. As we implied, there's no better choice for formal outings. This is why it's essential in every woman's collection.
Cons: Not water resistant.
Other info: Features a curved mineral crystal lens and a Japanese quartz movement.
6. MVMT Signature Watches – Analog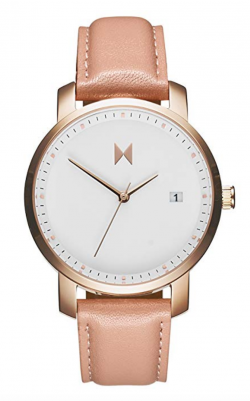 Perhaps one of the cleanest-looking options we've seen, the MVMT piece is a peach-colored leather watch, with the looks of a dress jewelry item and the build quality of higher-priced timepieces.
The 38mm-cased accessory is sealed with a hardened mineral crystal. Inside, it's operated by a battery-powered Miyota movement, with a lifespan of up to 10 years.
In terms of design, MVMT is known for its minimalistic-flat look, which this model embraces. It features an analog display with three hands (the hour, minute, and seconds), and a date-display, sitting just beside the 3°clock marker.
Following that, small hour and minute markers run along the edge of the white dial, to create a clean and functional look.
Cons: The case should be a concern (only suitable for wrist circumference starting from 6 inches).
Other info: Uses double-stitched cowhide leather.
7. Fossil Georgia Quartz Stainless Steel and Leather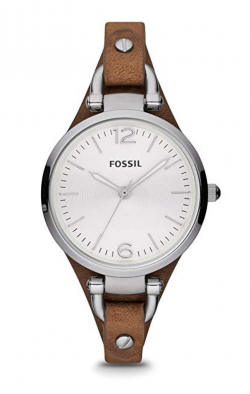 This piece is a bit unorthodox in design when compared to others, but it's no less powerful (unique is a better word) in terms of aesthetics. The piece is powered by a Japanese quartz movement which is housed by a 32mm case. The case is made of stainless steel and designed with a textured silver dial accented by silver markers and luminous hands.
Color-wise, it comes in 3 combinations, with the cowhide changing shade with each one. It is water-resistant to a depth of 50m and its strap uses quick-release pins for attachment. This feature allows her to swap straps depending on her taste at the moment.
We think this could be a great surprise present for the women in your life (daughter, wife, and mother).
Cons: Bands can be an issue since they're defective in some cases.
8. SK Wristwatch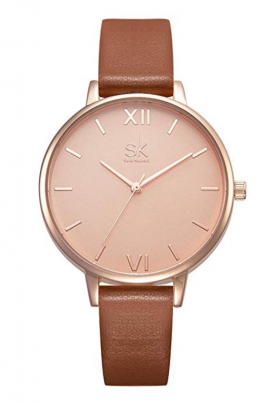 Finessed with textured cowhide, the SK piece means business with both beauty and brawns. This variant of the timepiece is powered by a Japanese quartz movement, which comes in the round 38mm case made out of a rose-gold-plated alloy.
Taking a look inside, you'll find the Hardlex dial also painted bright rose gold, with three hands and small hour markers giving the timepiece a minimalistic look. It likewise comes in a gift box, and we think it's a great graduation or admission present for your daughter. Otherwise, it can easily work as a congratulations gift to a loved one who got promoted at work.
That said, all of this can work in nine fantastic color schemes, so go through them, and choose what she'll prefer.
Finally, this piece is shock-resistant and water-resistant to a depth of 30bar.
Cons: Movement is louder than others.
9. Skagen Ancher Quartz and Leather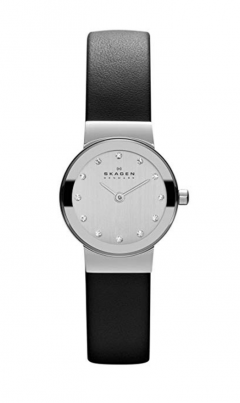 The Skagen watch is another option we chose because of the minimalist design. It isn't over the top; with it spotting a 28mm case made out of stainless steel which houses a chrome dial with Swarovski crystals acting as hour markers and silver-tone hands.
Further, it's water resistant up to 100 feet, which makes it an all-purpose piece.
Our recommendations if you're using this as a gift, include options like Mother's Day, Valentine, or maybe even as an anniversary present. Though we have to say you should find another sweet little present in the form of an outing to seal the deal. A romantic dinner is a nice idea, or gifting this beautiful piece alongside a fantastic bouquet of her favorite flowers!
Cons: Might be too small for some wrists.
10. Anne Klein Mini Leather Strap Watch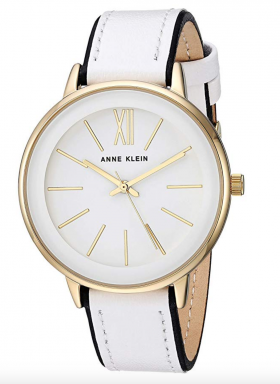 Anne Klein makes the best of watches for women who prefer classic round-cased timepieces. This piece is both sexy and modern, with its golden dial, designed with bold roman numeral hour markers. On the outside, the white leather contrasts with the golden-tone case.
Add in a Japanese quartz movement with a lifespan of 10 years, and a water-resistance rating of up to 100 feet deep, and this is one of a kind.
Consequently, it's one of the best choices for that special woman in your life. Asides the clean readability (courtesy of the analog display), we think Valentine's and anniversaries are top choices for you to consider.
You should also consider her birthday as a top option to gift this. Good luck!
Cons: It isn't as casual as other types of watches.
Advantages of Leather Timepieces over the Competition
The benefits of using leather timepieces are worth a look. In the watch industry, pretty much everyone loves leather watches. The "appeal" is what we'll discuss below (similar to a comparison session).
✓

Comfortability

The one downside of metal wristwatches is that they're not that comfortable. Though keep in mind that metal wristwatches make up for this by lasting far longer than their leather counterparts.

The only exception to this rule are ceramic watches since they carry that soft, but sturdy integrity. On the other hand, leather watches for women are padded on the best part of the strap. Combine that with the comfortability of cotton, for example, and you've should have the main idea already.
✓

Formal Look

Metal wristwatches are some of the best-looking accessories that both sexes can get. Now, considering what we just said, we'll still take a leather wristwatch any time of the day. In as much as it's for a formal occasion.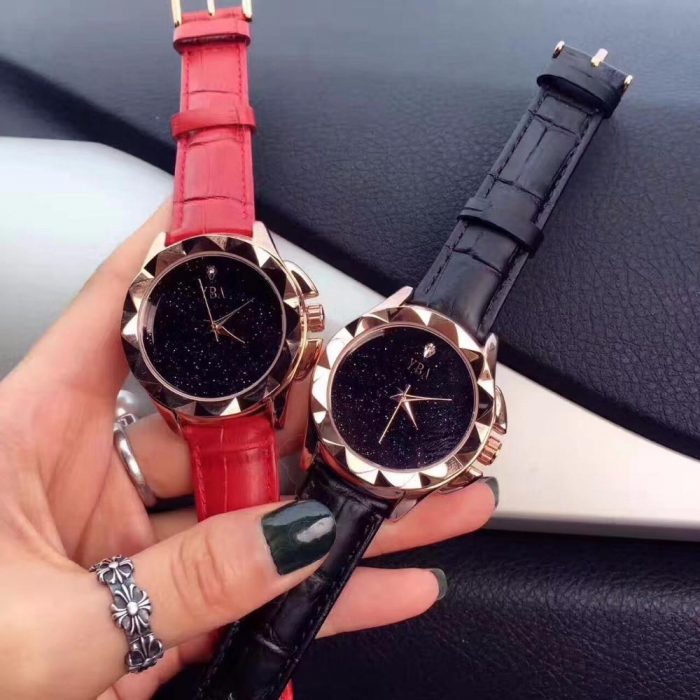 The fashion trend has been going on like clockwork (pun intended) for years now. So it's good enough to try out.
✓

More Comfortable to Operate and More in the Moment

With leather options, their buckle system is the best there is (undisputed in this area too). It only goes in a hole, and it's not coming undone unless you want it to.

Likewise, it's easier to maintain & replace as well!
Any Disadvantages?
Excuse the dry joke, but there's always two sides to a coin. In this case, there are disadvantages to buying a leather watch. Below we'll be going through the reasons why we think you should consider leather wrist watches.
✓

Waterproof Capability

One of the advantages that users keep a note of is the waterproof capabilities. The only issue is that the waterproof resistance goes both ways when it comes to leather watches for women.

There's the case that houses the movement of the watch (usually carries some water-resistance): and then there's the leather, which doesn't play well with water.

This point is something to always keep in mind if you're getting a leather wristwatch for yourself.
✓

The Life Expectancy isn't Indefinite

Metal might have its faults in the fact that the best ones are often pretty expensive, but you cannot ignore that their life expectancy is indefinite.

Gold or maybe the more expensive platinum is not going to vanish from existence anytime soon. On the other hand, leather is going away. You can treat it with the best preservatives, but it will go away one day.
✓

Certain Colors Might not be the Best for All Occasions

Black and also maybe brown are the only real exceptions to this rule, and you can get leather watches for women in green, blue, purple, pink, white, and many others.

For that con though, the positive side is that you can get a leather watch in any particular color. The good trade-off though it depends on your fashion taste.

Regardless of which one you decide to get, leather watches for women always manage to instill a sense of timelessness, despite the sense of formality they bring.
Frequently Asked Questions
1. What are the tips for handling watches underwater?
✓ Avoid pressing buttons under water. Also, avoid using your watch in extreme hot or cold temperature.
✓ Clean the strap with a soft cloth regularly.
✓ Regardless of how replaceable the watch is, contact with water should be controlled.
2. How to combine leather colors like a pro?
Remember the codes that white is always noble, while black and brown are both formal hues.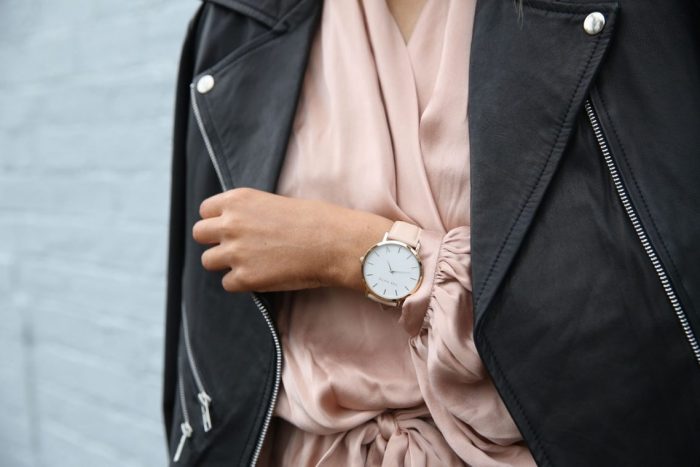 Other options with eccentric colors like pink are playful. It's like you're flaunting when it comes to those colors, and we do admit it feels good.
3. What are the best tips for maintaining your leather wristwatch?
Leather watches require you to wash the sweat and dirt off the inner, padded side of the strap. Not the easiest of jobs, but it helps with longevity.