Inspiration / Jewelry
What is Morganite? Meaning, Stone Value and the Best Morganite Jewelry!
Often chosen as an alternative to diamonds, the morganite gemstone is a fantastic option if you're looking for a beautiful piece of gemstone jewelry. Although diamonds are indeed stunning and very desirable, morganites offer you a gemstone that is not only just as attractive (if not more so), but one that is also usually much more affordable.
But what is a morganite and which one should you choose? Read on to find out everything you need to know about this gorgeous gemstone and some of our favorite pieces.
What is a morganite gemstone?
Morganite is actually a variety of the beryl mineral. You'll recognize this gemstone due to its soft pink to orange color and this is also the reason that morganites are sometimes known as pink beryl and rose beryl.
The pink "salmon" color of morganite gem is a result of manganese which is a chemical element found within morganite. Other types of beryl differ considerably in color and include aquamarine, which is a blue or cyan color; and emerald, which is a deep green color.
You may also come across a yellow or orange one, however, this is less common and morganites are well known for being a familiar pink color.

These stones are commonly chosen for their color and jewelers/gemologists are actually able to improve the color of this gemstone by heat treating it, something that also removes any traces of yellow that may be found within the gemstone.
The name morganite may also seem familiar to you because it is in fact named after the famous banker and financier, J.P Morgan.
Morganite meaning, benefits, and properties
You'll be pleased to hear that there are many benefits that come with owning your very own morganite, the main one being an improvement in your health.
A pink morganite can work wonders with improving your health, in particular, your emotional and physical state. The gemstone cleverly works in aligning your bodies vibratory rates and works in clearing any knots of emotional energy from your physical tissue. It is believed that the gemstone allows the life energy to move more freely through your body, making it easier for your body to begin the healing process.
Allowing this energy to move better through your body, will result in an improvement in your overall health which is fantastic news if you're a lover of these stones!
Another quality of the pink stone is its strength to provide emotional clarity. The stone can work in resolving any tangled emotional energy.
By organizing these fibers, it actually allows your emotional body to be clearer, allowing your true feelings to emerge. This is extremely powerful because it allows the process of forgiveness, confidence, compassion, and self-love to begin.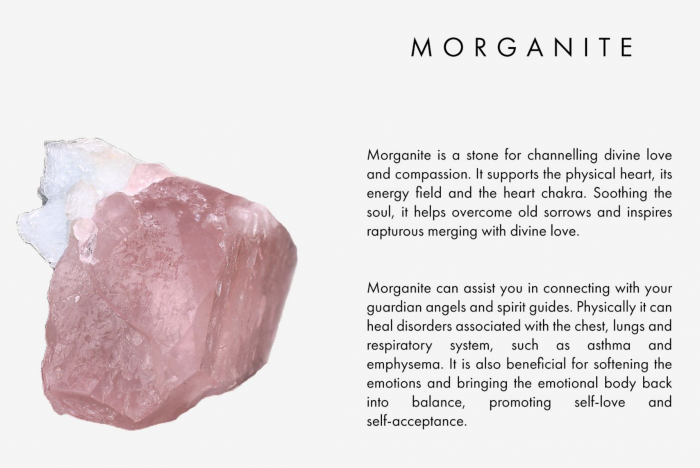 It can also transform negative emotions into positive ones. This, therefore, means that any feeling of anger, anxiety, resentment or greed can transform into feelings of compassion, forgiveness and courage. The gem also makes it easier for a negative emotion to drain away.
Another benefit is that allows the body to experience a greater sense of self-acceptance and self-sow, allowing you to experience more positive and healthier emotions. This will cleverly remove any energetic causes of ill health that may be present in your body.
Interestingly, the pink morganite is believed to affect the performance of your heart. As you're probably aware, the heart is the most powerful organ in your body and plays a big role in determining how your emotions are expressed.
The heart also determines how easily and quickly your emotions can be uplifted. Along with the heart, this gemstone can strengthen all of the organs in your body.
Stone value 
Its value depends on a number of things including the stone's clarity, hardness, durability, and color. To make the process of buying your stone easier and ensure that you purchase a quality one, it's important to do your research and be aware of the following to ensure you buy a genuine and valuable morganite. These are some things to consider:
✓ Colour – The color will affect the quality and value of the stone so make sure you choose well. When choosing your stone you'll more likely have a choice between a pink morganite or a peach-pink/salmon one (the pink or rose-tinted is known for being the more popular choice of color).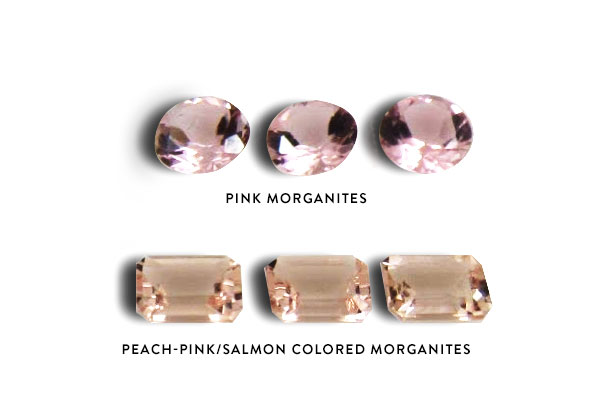 It's also a good idea to ask for a gemological certificate when buying your gemstone. This will ensure that you are purchasing a genuine stone and are getting your money's worth!
✓ Clarity – The best morganites are the ones that have fewer inclusions. A gemstone that is free from inclusions, in the morganite world, will, therefore, be seen as being more attractive and desirable. However, if the stone contains any blemishes or inclusions this will decrease the value. Another important thing to be aware of is the higher the clarity, the more valuable the stone.
✓ Treatment – Quite often when you hear the word 'treatment' and jewelry, the value of jewelry is known to decrease, however, when it comes to this type of gemstone this isn't the case.
Treatment, in particular, a 'heat treatment', is seen as a positive thing because it not only enhances the color of the stone, making it look more beautiful but it will also make the gemstone a lot of ore durable. For these gemstones, a heat treatment is known for being an industry-accepted standard that certainly doesn't de-value the stone.
✓ Cut – Another important aspect that will affect the value of your stone is the cut. It's very important that you purchase one that has a brilliant cut because this will enhance the brightness of the stone.

✓ Carat – This may come as a surprise to you that the carat size does not have much of an impact on the value. However, it is advisable that you buy a larger sized stone because the vivid colors of the gemstone actually exhibit better in a larger gemstone.
✓ Cleaning – The great thing about a morganite is that they require little or no cleaning. Due to the stone's durability and hardness (coming in at 7.5 – 8 on the Mohs Scale), they need very little care. The best way to care for the beautiful gemstone is by simply using some warm soapy water and gently scrubbing the stone with a soft cloth.
Once cleaned, it's very important that all of the soap is removed from the gemstone. We also suggest storing it in a separate place to other pieces of jewelry because the gemstones can easily get scratched amongst one another.
We also recommend you keep it away from any harsh chemicals like cleaning products. Make sure you remove your precious morganite jewelry before you clean the house!
Where are morganites found?
A morganite is commonly found in two places around the world including Madagascar and Brazil.  More recently, other places that morganites can be found include Russia, Namibia, Mozambique, China, Afghanistan, and the USA.
Gorgeous Morganite Jewelry!

These gemstones are a truly spectacular option no matter what item of jewelry you are looking for. From earrings and necklaces to bracelets and rings, the bright and soft colors that can be found in morganites are sure to provide you with an elegant piece of jewelry to suit any occasion.
1. Pendants
Dazzlingrock Collection Halo Pendant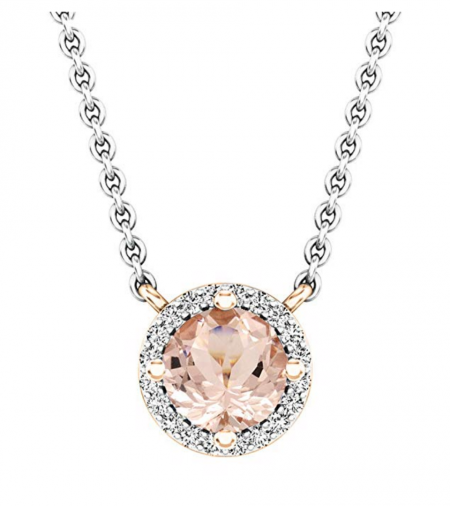 This stunning necklace from Dazzlingrock will be sure to amaze you. If you're looking for a pendant that will add a touch of sparkle to your day, this one will certainly get heads turning.
Though quite small and petite in size, this circular pendant makes up for this in pure beauty. When it comes to the color of the stone, it embodies a soft light pink gemstone that has been beautifully cut into a circular shape.
To give you an idea of the size of the pendant it is approximately 6mm in diameter. Framing this lighter palate of morganite with a set of clear diamonds adds an infusion of sophistication to the pendant. What's great about these diamonds is that they are 100% natural and give off a gorgeous sparkle, what more could you ask for?
This lovely pendant is made using a 14k rose gold metal that complements the lights pink stone. It features the center stone securely in place via a prong setting and comes with an 18-inch sterling silver rope style chain.
Gem Stone King Peach Morganite Pendant Necklace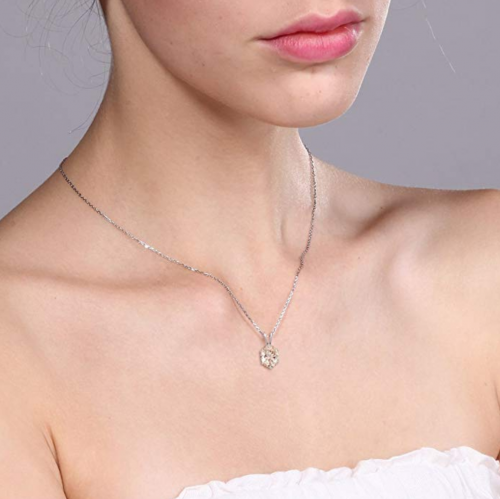 This necklace created by GEM STONE KING is a great alternative if you prefer the peach colored version of the stone. Beautifully cut into an oval shape, the design of this necklace focuses more on the stone itself rather than the inclusion of any diamonds.
This gemstone which has been cut into an oval shape is approximately 7mm by 5mm in size and weighs approximately 0.65 carats. As expected, the stone has been heat-treated to enhance its beautiful shade.
The stone has been positioned in a 6 prong setting which looks extremely classy. What we love about this piece is that the designer has put a lot of thought into how to best show off this gorgeous stone without over complicating the design. The stone simply speaks for itself!
The gorgeous gemstone has been positioned within a sterling silver setting and includes a complimentary 18-inch cable chain. When it comes to GEM STONE KING they are known for putting a lot of thought into the design of their jewellery to make the pieces stand out and make a fantastic gift for family and friends.
This stunning necklace will arrive in a lovely branded jewelry box. Not only will the packaging keep your necklace safe but will prevent you from having to spend those extra dollars on gift wrapping.
It's important to note that GEM STONE KINGS packaging ranges from a sleek cherry wood box to a cardboard box with a foam insert. Sold for a medium price we believe you're definitely getting this necklace for a bargain price!
2. Rings
Pompeii Morganite & Diamond 3-Stone Ring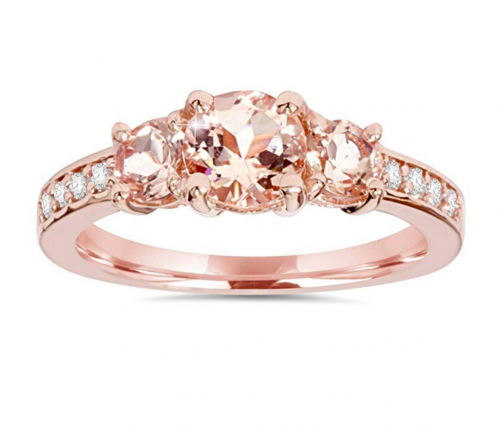 What better way to appreciate your morganite than in the setting of a ring. Not only do rings hold a lot of sentimental but they also look and feel amazing on your finger!
You may already be familiar with the timeless 3 stone ring, if not, where have you been? If you're looking for a ring that has a classic feel to it but has a slightly modern twist then look no further than this 14k rose gold ring (this would also make a fantastic engagement ring for the special lady in your life).
This special piece of jewelry has been designed with three stones, the larger of the three positioned in the center of the ring, while the other two have been positioned either side, complementing the center stone.
If you're not already familiar with the meaning behind a three-stone ring like this one, the diamonds are actually meant to represent the past, present, and future. These gemstones can also mean love, fidelity, friendship. Either way, this style of ring is a fantastic option if you're looking for a more traditional piece that holds a deeper meaning.
The three striking gemstones positioned in the center have been beautifully cut into a round brilliant shape. To add a bit of extra sparkle, the jeweler has decided to incorporate some clear diamonds. These have been elegantly positioned along the band of the ring to create a seamless display.
Rose gold style jewelry continues to stay bang on trend and this ring is a prime example of how incorporating it within a classic style ring like this, it really works!
The rose gold consists of 14k and gives off a luxurious smooth shine to the metal.  Your ring will arrive in a stylish navy blue jewelry box and a navy ribbon. You'll also be pleased to hear that it comes with a lifetime warranty, however, we doubt you'll need to use this.
Rjewelry Carat Antique Design Princess Cut Engagement Ring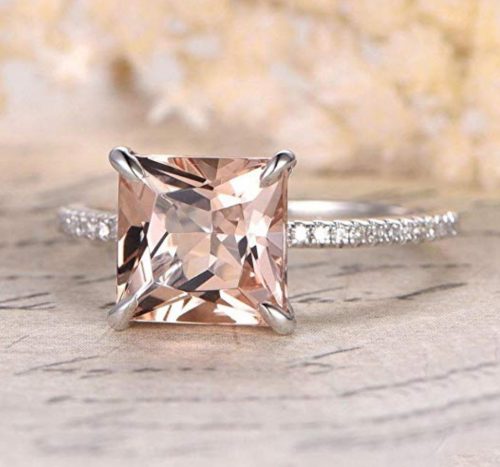 The main focus of this piece is the large 1.25-carat morganite gemstone. The striking princess cut has to be one of the best ways to show off the beautiful gemstone.
The straight lines and pointy corners make this stone a prominent part of this ring. It's important to point out that the design is similar to that of an art deco bohemian style ring so if you like the sound of this, you'll love this option.
It features a four prong setting like no other that you've seen. The elongated prongs grip the gemstone in place and give you a real peace of mind that your gemstone isn't going anywhere. The white gold prongs are simple and elegant and mean that the borderless profile of the ring keeps all attention on the main gemstone.
The entire band features dozens of white diamonds that create a beautiful shimmer throughout the ring. This also gives a modern feel which you'll love.
3. Earrings
Sparkle Bargains Stud Earrings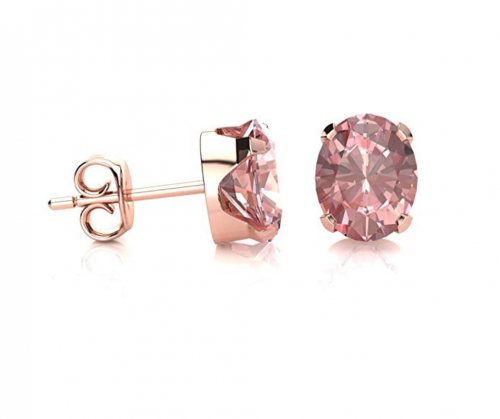 On first viewing, these stud earrings you'll be forgiven for thinking that this is a simple design however upon closer inspection you'll quickly see that these feature a much deeper design.
From above these morganite studs show off their simple yet elegant oval cut. Weighing in at 2 carats, these gemstones are very large and sure to sparkle effortlessly.
Measuring 8mm by 6mm you're getting two very large gemstones for your money. Held in place by a simple four prong setting, these earrings are all about the gemstone.
What's more, you've got the ability to select your choice of either yellow gold plated silver, sterling silver or rose gold plated silver. However, our favorite has to be the rose gold plated silver, which offers the ultimate backdrop to this beautiful gemstone.
Perhaps our favorite feature with this set of earrings is the side profile where you see how the gemstone meets the rose gold plated silver. The soft hue of the gemstone works really well with the light rose gold and the textures of the gemstone add another depth to these earrings.
It's important to point out that these are non-allergenic which means that they are suitable for you to wear if you have sensitive skin. The pair of earrings will also arrive in a lovely jewelry box ready for you to give them as a gift for someone special.
Hoops & Loops Sterling Silver Climber Crawlers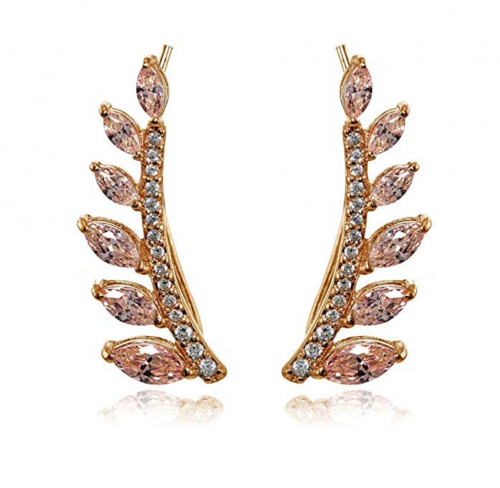 Earring climber crawlers continue to be bang on trend amongst celebrities so when we found that these earring featuring out favorite gemstone we just had to feature them!
These trendy climber crawlers feature five pear-shaped gemstones along with each earring. The beautiful gemstones have also been positioned in a lovely prong setting. As you would expect these gemstones have been heat-treated which certainly work in enhancing the peach color.
What we love about these earrings is that the design of them is extremely striking so they'll definitely catch your eye and grab everyone's attention. The foundation of the earrings has been crafted using a sterling silver material.
The choice of metal gives these earrings a modern boost that you'll simply love. The use of sterling silver also gives these earrings a high polished finish to them.
To give you an idea of the size of these climber crawler earrings, they're approximately 1 inch long which is a great size. When it comes to the fixing, they are studded and feature a hook which allows them to be easily secured to your ear.day!
4. Bracelets
Dazzling Rock Tennis Bracelet

We've saved something rather special for the last piece in our shortlist. This elegant tennis bracelet is one of a kind! Featuring dozens of natural gemstones, this bracelet includes an impressive amount of detail which comes together to create a very special piece of jewelry.
These morganites are pink and work really well alongside the rose gold plated sterling silver, which is also very durable. The size of the gemstone is approximately 6.1mm by 6.1mm and come together to complete this 7-inch bracelet.
You'll notice from the underside of this bracelet that it features a very unique design, with each individual stone setting interconnecting by a single joint.
The side profile of this bracelet is also very attractive and exposes the underside of the gemstone. This helps to enhance its beauty and also means that it sits higher above the wrist.