The Ear Crawlers to Stock On This Year!
last updated:
Mar 01, 2021
Ear crawlers have been known to be the perfect accessory for single-hole piercings.
Instead of buying two earrings, you can adorn beautiful single pieces that travel up the majority of your lobe.
They're a youthful, glamorous, and easy-to-wear option ideal for casual and formal outfits alike.
Our Top 10 Picks!
1

. PAVOI Hearts & Arrows Diamond Ear Crawler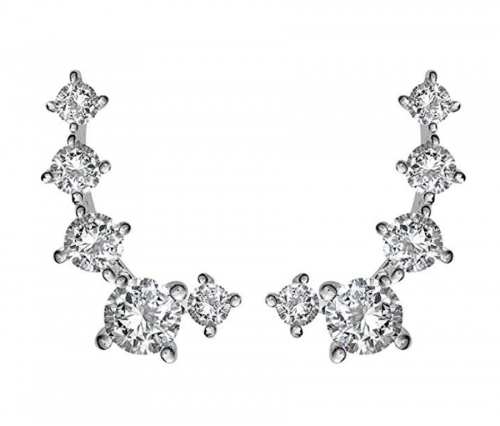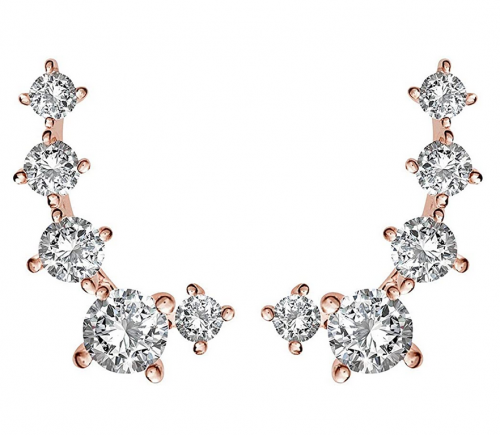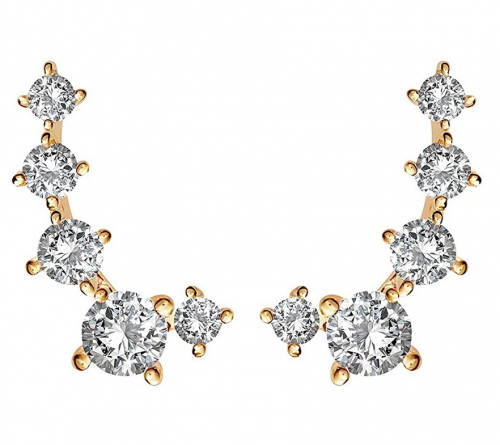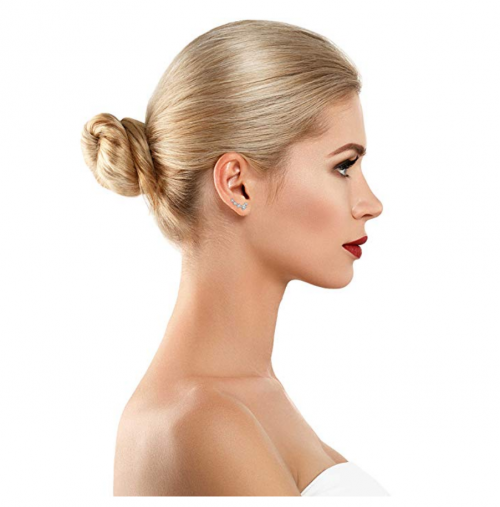 925 sterling silver
Gold plated
90 day money back guarantee
Let's begin our list with a simple pair of ear crawlers. Delicate, feminine and starry - this is the kind of earrings you would expect on a doe-eyed princess, straight out of a fairy-tale. And in case you thought ear crawlers are strictly for the red carpet, let us remind you once again that crawlers come in plenty of designs. Take a look at this pick by Pavoi and you will know exactly what we are talking about.
Read more
Pavoi- sounds like an exclusive jewelry store, reserved for the billionaires of the world, doesn't it? Although the designs and the quality belong up there, with the crème de la crème, Pavoi, is at its heart, built for customers with an eye for style.
The brand believes minimalistic designs which ooze class, shouldn't be far out of reach of customers who know what high fashion is supposed to look like. And with that in mind, Pavoi brings timeless designs with an affordable price tag; classic royalty regalia for the woman of today.
The Heart & Arrows crawler comes in 3 color options - rose gold, 14k yellow gold or white rhodium. Choose whichever you like because all 3 of them are exceptionally beautiful.
The crawlers are studded with dazzling white cubic zirconia stones, 5 of them in each earring, set with 4 prongs. The stones gradually increase in size, as they curve down the ear, and finally make an inward turn, completing the move with a smaller stone.
It is made from 925 sterling silver and then gold plated for a beautiful sheen. The plating is twice as thick as the industry standard, taking this pair a notch above the rest.
With the Heart & Arrows item, Pavoi lives up to its promises. They've put in work to make these crawlers shine bright and so it does.
2

. Humble Chic Geometric Crawler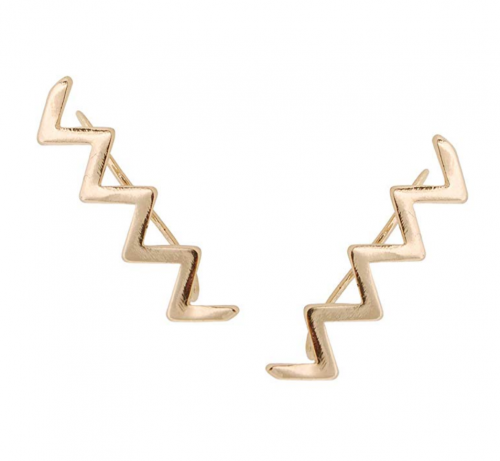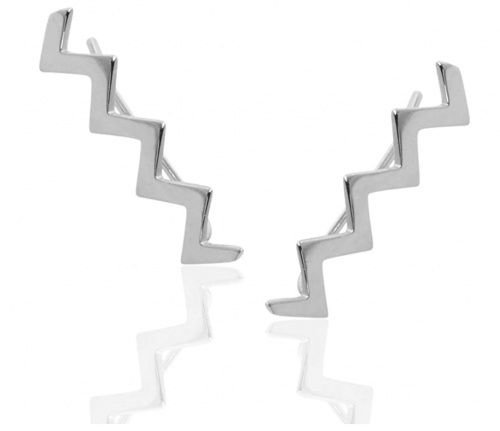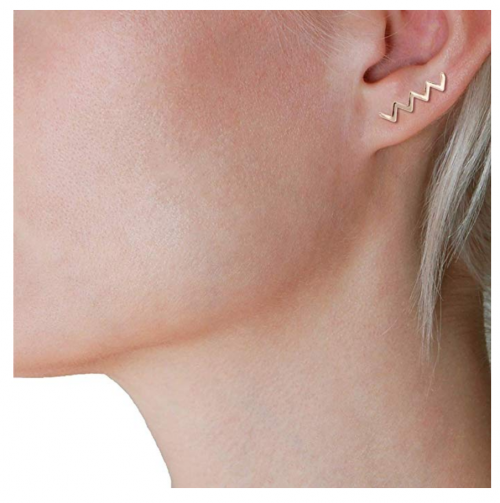 Clip ons
Gold plated
Very lightweight
Geometric funk is the best kind of funk. Which is why we are loving this geometric crawler by Humble Chic. While we are fans of the dazzling stones and glittering jewels, we also believe in injecting a bit of fun hipster vibe to our look every once in a while; after all, it is the "it" style of the season. So, if you want people mistaking you for a supermodel, this is the right pair of earrings for you.
Read more
Humble Chic does its name proud. A classy chic note they never overdo style; subtlety is their best suit. Their designs ooze New York street luxe. And it's not just us; Vogue, Cosmopolitan, Seventeen are just a few of the fashion critics who are raving about the brand.
These ear crawlers are available in a bunch of amazing styles. To start off, there is the tone bar design, available in gold, rose gold and silver. This is basically a straight thin bar, a trendy pick for the unique girl.
Then, there is the zigzag style, which is exactly what it sounds like; a zigzag wave up the earlobe. It is available in the same color options as before and has a nice schoolgirl tone to it.
Lastly, there are the triangles - three upward pointing triangles stacked on top of each other, in a gradually increasing size. These are also available in the rose gold, gold, and silver color selections. All the designs are a funky take on what it means to be street chic.
You don't need piercings to rock the geometric climbers. These are adjustable clip-ons; just slide them up and pinch so they fit your ears perfectly.
These are made from high-quality base metal, plated with gold, rose gold or silver, and have a glossy shine to them. They are also very lightweight; you can wear this graphic piece for hours without feeling a thing.
3

. Black Bow Jewelry Pointed Crawlers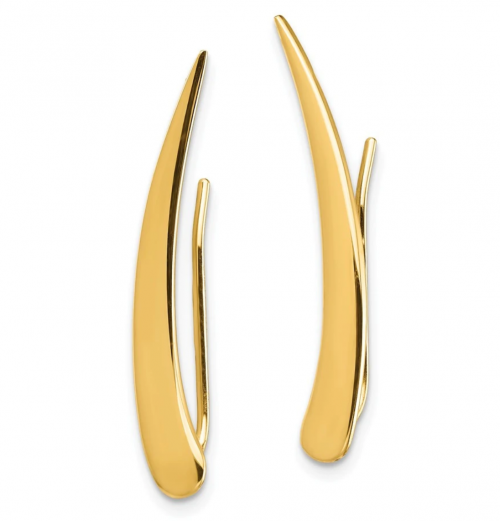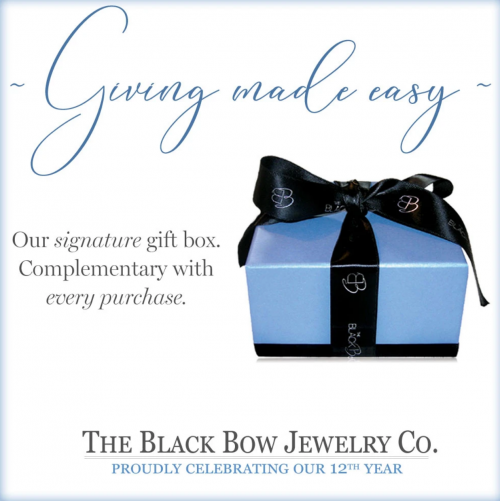 14k solid gold
Tapered style
Upward French ear wire
Lightweight
If you're looking for a pair of earrings to act as a statement piece, these 14k yellow gold pointed ear crawlers are the answer. With a fashionable display of dominance, they're sure to set the perfect appeal for any event. They have an exceptionally trendy style with an elegantly polished exterior, perfect for any wearer.
Read more
The simplistic and feminine detailing of these earrings makes them the perfect choice for your everyday outfits. They effortlessly climb up your earlobe, offering a sophisticated and sparkling display of confidence. You could even go as far as to say they have a strikingly slender shape perfect for small and large ears.
They are crafted from solid 14k yellow gold, which is perfect for those with metal allergies. You can guarantee the precious metal will withstand plenty of wear and tear so that you can wear them daily. They also boast a French ear wire, which makes the lightweight metal comfortable throughout the day.
The superior tapered design of the glamorous earrings will make them the focal point of any outfit. They're four millimeters wide, small enough to be comfortable for all piercings. Also, they're 28mm long so that they will fit comfortably along the curve of your earlobe.
When worn, the crawlers are supportive. You won't feel like the earrings weigh down your piercing, even though they look suspended on your ear.
.
4

. Dazzlingrock Collection Diamond Crawler Earrings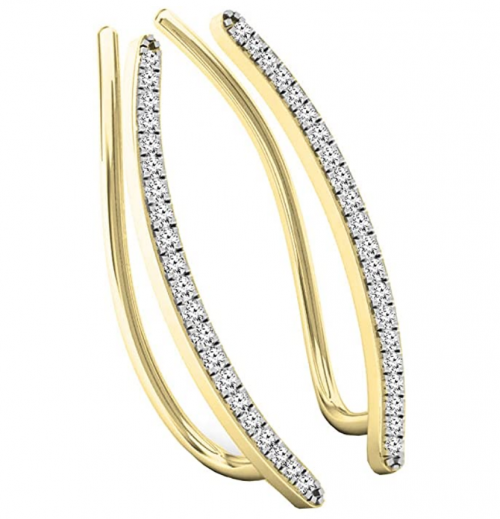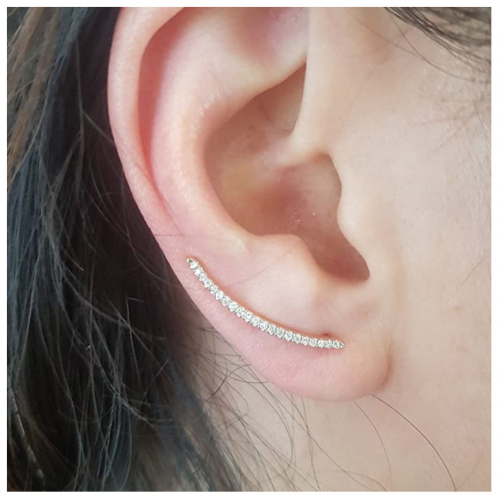 .16 carat diamonds
10k gold base
Conflict-free diamonds
Thin and lightweight
The Dazzlingrock Collection diamond crawler earrings are blissful.
hey capture the true beauty of standard diamond crawlers, offering a bejeweled and brilliant design. If you're looking for a pair of intricate earrings with a dainty appeal, these are a great pair to consider.
Read more
These earrings are an exquisite fashionable upgrade for formal occasions and everyday wear. They have perfectly placed diamonds set in 10k yellow gold for added luxury. The sparkling and streamlined style of the minimalistic crawling bar will fit comfortably along the length of your lobe.
You'll immediately realize just how flattering these earrings are, especially as they're flawlessly designed with a feminine touch. With fancy and exciting elements, they transition a simple accessory into a strikingly elegant piece.
If you're searching for a timeless heirloom that can be passed on for generations, these crawlers are ideal. They have a glamorous and gorgeous style that contributes to a whimsical high-class appeal.
925 sterling silver
White cubic zirconia
Long wire back
Lightweight
The Jeulia earrings are another fresh and youthful option for a funky pair of accessories. They also capture a hint of glamour with the eye-catching star design complemented by cubic zirconia stones. You'll love the exquisite styling and attention to detail that has gone into these earrings, making them look expensive and comfortable.
Read more
These earrings can help you transform an ordinary bland outfit into something flirty, flattering, and stylish. With a delicate display of ascending stars along with a thin minimalistic band, these crawlers are sure to be one of your favorite pieces. At the bottom, you'll notice the piece's focal point, a large start with perfectly set stones that work their way up the ear.
With each level, the stones get smaller until a tiny delicate setting sits at the top of your lobe. You can easily use these earrings to compliment a pair of jeans and a sweater. Alternatively, they can be the perfect pairing with wedding jewelry or for a romantic outing.
Compared to other crawlers, these earrings have a more snug fit, making them ideal for smaller lobes. The thin and gentle curvature of the piece adds luxurious femininity that won't take away from your other accessories. You can wear these with confidence, knowing they'll stay in place once secured in your piercing.
The Jeulia earrings are easy-to-where with long wire backs that add enhanced stability. If you've found traditional French ear wires aren't structured enough, the long wire is a far better option. The sophistication of these earrings cannot be understated, as they have the perfect hint of sparkle.
They're one of the more structurally-appropriate crawlers we've come across for superior wearability. You can guarantee you'll barely notice they're there with their flattering minimalism. Regarding quality, the earrings are crafted from 925 sterling silver, which is hypoallergenic and water-resistant.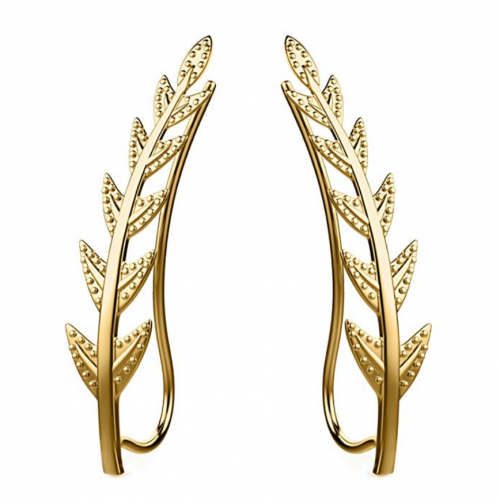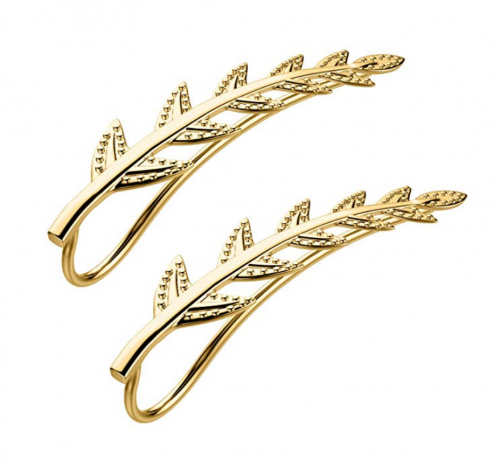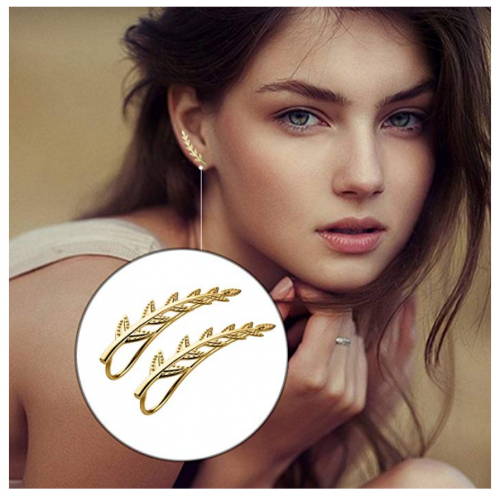 24k gold-plated
Free gift box
Lifetime guarantee
Unique motifs always intrigue us. For those of us afraid to turn the quirk on full blast mode, a bit of an unusual touch to an accessory can make a lot of difference. The Olive Lear crawler is a tastefully designed piece with its own message. It's suitable for all kinds of personal styles - casual, dressy or funky - and for ladies of all ages.
Read more
Feramox is an online jewelry retailer and they definitely know the name of the game. If a new trend has just hit the scene, Feramox is already onboard, experimenting with possibilities, giving roots to what may seem like a short-lived fad. Have a look at their collection and you will be spoiled for choices.
From Illuminati signet rings to holographic studs, this brand takes on any challenge and emerges a winner every time. The Olive Leaf crawler is not their wildest work but among ear crawlers, it is certainly a favorite, as the raving reviews tell.
The symbolic meaning of an olive branch is known to us all. Peace, unity, harmony - in today's wacky world, such gestures are always appreciated. And then, there's also an ancient Olympian tradition from Greece; decking the victor with a crown made from olive leaves.
There is just so much significance in a lone olive branch that you know it makes for meaningful jewelry. The crawler imbibes what we love about it, presenting beautiful ear accessories which are so much more than just that. It is available in two colors - gold or silver.
Although they are both beautiful, the golden ear crawler, in its own olive toned shade, makes sure that the olive leaf design is not missed.
The crawlers are made from 925 sterling silver and the golden one is 24k gold-plated while the silver is coated with rhodium. For the design, it is shaped like a twig of an olive branch, dotted with veins and decorative lumps.
7

. The Black Bow Jewelry Lightning Bolt Earrings
Sterling silver earrings
Rhodium plating
Cubic zirconia stones
French ear wire
Lightning bolts are an incredibly trendy style for earrings, especially for young adults and teens. The rhodium-plated sterling silver bolt climbers are an iconic modern staple you'll wear every day. They have a unique design that's meant to be worn anywhere with a hassle-free closure.
Read more
If you've been on the hunt for the perfect wardrobe-friendly pair of earrings, these are highly recommended. They have a high-class styling that also speaks to your more youthful side with the lightning bolt climber. When worn, the tip of the bolt fits seamlessly at the top of your lobe without any overhang at the bottom.
You'll love the French ear wire that's specifically mounted upwards to support the earring's weight. Compared to other ear climbers, these are far more lightweight as they're sterling silver at the core. For an added elegance, they boast a rhodium plating which helps to withstand plenty of wear.
You'll be able to wear your near earrings in water and expose it to perfume without destroying the metal. We love the idea of having a pair of everyday earrings that you can customize to match your other accessories. There's a timeless appeal that makes them an iconic option for trendsetters looking to amp up their style.
8

. Bling Jewelry Crawlers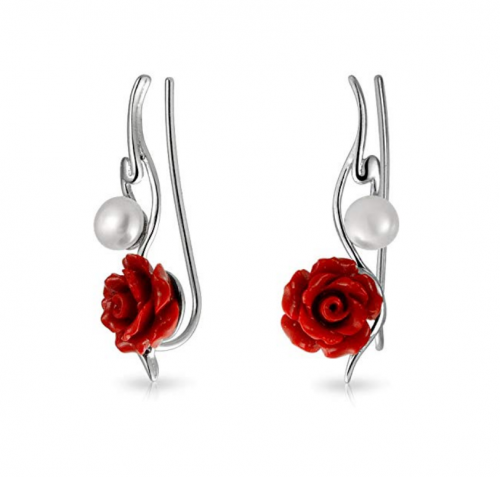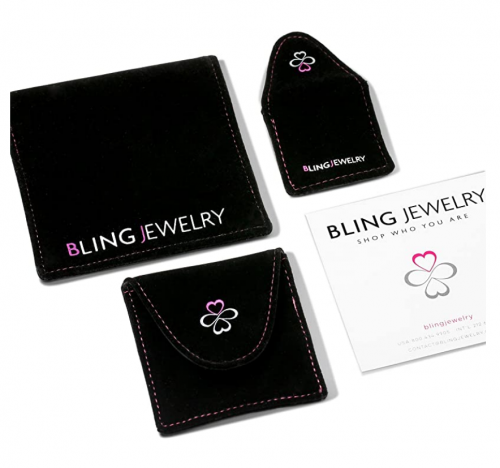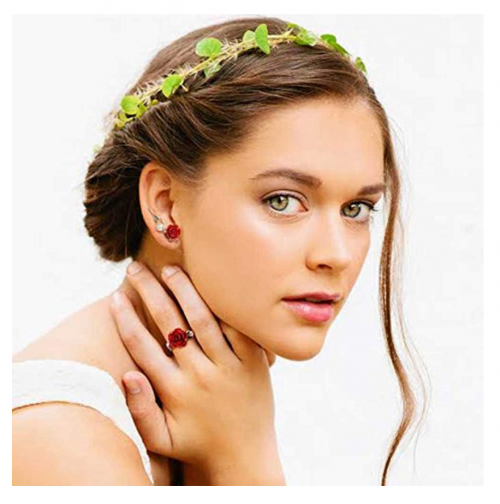 925 sterling silver
Freshwater cultured pearl
Velvet jewelry pouch included
We can never leave out pearl earrings from any list. These droplets of paradise are essential in every woman's jewelry box, the crown jewel in her regalia. The Rose Pearl crawler brings together our love for pearls with a statement style and the result is even more fabulous than we'd have imagined. This piece by Bling Jewelry is set to be our go-to accessory for the fanciest events.
Read more
Anyone who has delved into online shopping will have heard of Bling Jewelry; these are giants in the business. The brand believed in jewelry as a form of self-expression and that mantra has certainly worked for them as they skyrocketed from being in a one-room apartment to a globally recognized name.
If there was a piece that could define Bling Jewelry, it has to be the Rose Pearl crawler. Ear crawlers, which have set the fashion scene abuzz, with a touch of the classic pearl, in one beautiful piece - although it may sound like an unlikely union, it all comes together tied in with an ethereal charm.
They are made from 925 sterling silver, rhodium-plated against damage and polished for a smooth finish. The frame of these earrings is a thin curve, intricately designed to showcase the elements of the piece. As the curve sweeps forward, it holds a beautiful pearl in its nook. Freshwater cultured with a diameter of 3 mm, this lone pearl holds the gaze in its simple elegance.
At a length of 1.06 inches, the crawler is just big enough to hold everyone's gaze. It is designed for pierced ears and the hook wire is slightly curved to grab onto the ear without fuss. These crawlers come in a gorgeous black velvet jewelry pouch with the brand logo on it.
9

. Jeulia Snake Design Earrings
Sterling silver
90 cubic zirconia stones
Diamond white stone coloring
Gold-colored plating
It's time to reach into the exotic recesses of your mind when wearing these immaculately designed earrings. The Jeulia snake design earrings have an elegant style that's also edgy and modern. They're the ideal option for date night, weekend errands, or if you're interested in breathing some life into your accessories.
Read more
These earrings are an iconic staple to shake up your wardrobe compared to traditional studs and hoops. The ornate snake embellishments slither up the entirety of your lobe without being too overbearing. It's the perfect complement to an alternative style with a more sophisticated approach than with other pieces.
These earrings are crafted from genuine sterling silver, which helps to ward off skin irritation and allergies. You'll also find the material is more resilient to water compared to lesser-quality metals. With a gold-colored plating, you'll find they're easy to pair with gold and silver jewelry alike.
Our favorite component of this piece is the beautifully placed cubic zirconia stones. They delicately trace the entirety of the snake embellishments to add the ideal amount of sparkle. When your ears hit the light, the stones will glisten impressively, speaking to the earrings' elegance.
There's a minimal overhang with this design, as they'll comfortably hug the curvature of your ear lobe. You'll find they're bold, brilliant and show your incredible confidence in every way. The long ear wire is exceptional for daring activities, as it helps to add structure and stability to the earrings.
If you're looking for a piece that will convey the ideal amount of charm and flirtiness, these are a fantastic choice.
You can guarantee they'll be the most eye-catching accessory in your whole jewelry box.
10

. MoonliDesigns Earrings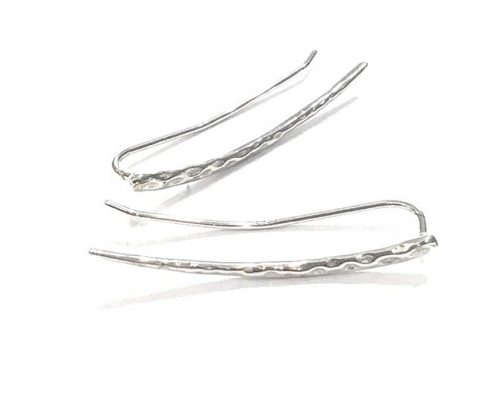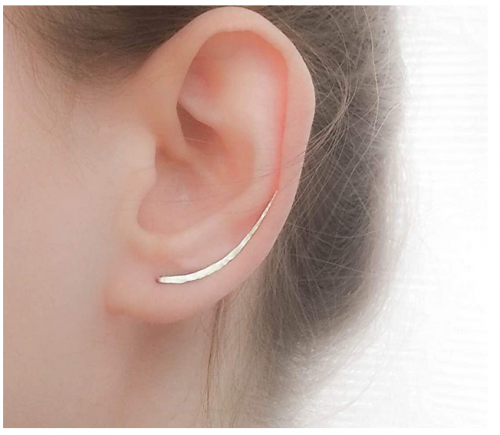 Sterling silver
Tarnish-free
Hypoallergenic
Long earring back
The MoonliDesigns option is the ideal minimalistic touch you've been searching for. You'll love the material's thinness, which makes the earring's gentle curvature match your ear's contours. With a gentle elegance, there's something genuinely glamorous about these subdued pieces.
Read more
A unique element of these earrings is that they fit into the folds of your ear. You'll have a clear view of the thin metal band from the bottom to the middle of your ear lobe. It then transitions into the unique curvature of your ears for a smooth and sexy style.
The funky texture of the metal speaks to the adaptability of the earrings, especially for stylish wearers. This design is exceptional for first-time wearers and ear crawler enthusiasts alike. It's glamorous, flexible, and flattering for anyone looking to upgrade their everyday jewelry.
These look expensive, and they boast exceptional quality. The material is nickel-free and tarnish-resistant, so you can easily wear them every day in and out of water. You'll also find they withstand scratches without compromising the integrity of the material.
Above all else, these crawlers are hypoallergenic, which is ideal for sensitive ears. The straightforward honesty of the earrings makes them delicate yet detailed. With expert craftsmanship, they delicately encase your ear while still maintaining an edgy aesthetic.
You could quickly pair these with professional outfits, casual jeans, and rocker-style gear for edgy events.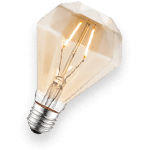 Ear cuffs are the same as earl crawler?
For the fashion newbie still struggling to make sense of all the terms, here's a fact you wish you'd known earlier: ear crawlers and ear cuffs are not the same things. They are often mixed up which makes us groan because of the seasoned eye, they could not be more different.
Ear cuffs are typically rings that wrap around the earlobe while ear crawlers coil upwards. Both of them burst into popularity around the same time but that is, where the similarity ends.
Why choose ear crawler earrings?
Ear crawler earrings are the statement of the moment. Pulling off almost any look you can name, these pieces never fail to stand out every time. Besides, those of us with delicate earlobes are aware of how difficult it is to wear statement earrings without them hurting.
Luckily, ear crawlers are not just show-stealers - they are awfully comfortable too. Nestling up your earlobe, crawlers defy gravity in a stylish way instead of pulling down your ears with big old danglers.
Frequently Asked Questions
q:

What is an ear crawler?

a:

Ear crawlers are an exceptional type of earring that's designed to travel the length of your ear. They feature an earring post that you put through your piercing, and you then adjust the crawler vertically.

When the earring is secured, it covers most of your ear lobe instead of requiring two separate piercings.
q:

How to wear an ear crawler?

a:

You can choose to wear ear crawlers vertically or horizontally, although they're designed for vertical wear. With this method, you can ensure the earring is adequately secured and structurally comfortable. Use these steps to put on your first pair of ear crawlers:

1. Insert the climber into your bottom piercing as you would with any other earring.
2. Using your other hand, adjust the earring so that it's standing vertically, traveling up your ear.
3. When the piece is correctly positioned, fasten it in place with the backing.
q:

How many piercings to you need in one ear to wear crawler ear?

a:

One of the most significant benefits of crawlers is that you only need one piercing to wear them! They help to take away the stress of getting a second piercing to display a larger and longer earring.

Typically, they are worn in the bottom hole on your lobe but can also be worn in second or third holes.
Finally...
So, there goes our top 10 ear crawlers, the crème de la crème of statement accessories, and the must-haves in every lady's style arsenal. To be completely honest, even with 10 of the best, you can never satiate your craving for this gorgeous statement.
If you find yourself spiraling into a crawler spree, well, we don't blame you. But we're not quite done yet! Take a glance at our styling tips to help you ace your ear game.
✓ Outfits with a boat or Nehru's neck or just any high neckline can bring out the best in your ear crawlers.
✓ For the more glamorous crawlers, wearing your hair up shows off the majestic ear accessory. If you want to bring a bit of subtlety to your style, you can also try wearing your hair down, sleek and pulled back à la Zendaya.
✓ For simple pieces, you can style your hair any way you like. Or not. Even in your natural hairdo, these beauties won't go unseen. With our favorite ear crawlers and a few styles tricks up your sleeves, you are now ready to unleash your obsession with this hot trend.