Mix / Women
The 10 Best Ear Crawlers to Stock On This Summer!
Marianne 11 Jul 2018
3173
Call them ear crawlers, ear climbers or ear sweeps, one thing's for sure: these majestic ear accessories are here to stay. Necklaces, rings and every other piece of jewelry are, of course, not going away anytime soon. But some variety is much needed. Especially in the case of earrings, while we do love our studs, hoops, and chandeliers, it's about time we switch it up a little. Enter ear crawlers and you are now looking at one of fashion's finest prodigies.
If you don't know what ear crawlers are, climb out of under your rock ASAP. Ruling runways and the streets, it is just one of those little things that are poised for world domination. Ear crawlers begin at the bottom of the earlobe, much like any other earring, but then they crawl up the ear, forming a gorgeous statement piece. If they sound familiar, it is because you might have seen them on countless Hollywood A-listers. Jennifer Lawrence, Rihanna, Emma Watson, Gigi Hadid- the fans of this hot trend reads like a Who's Who of divas. Grab yourself a pair of ear crawlers and you too could be well on your way to becoming a celebrity.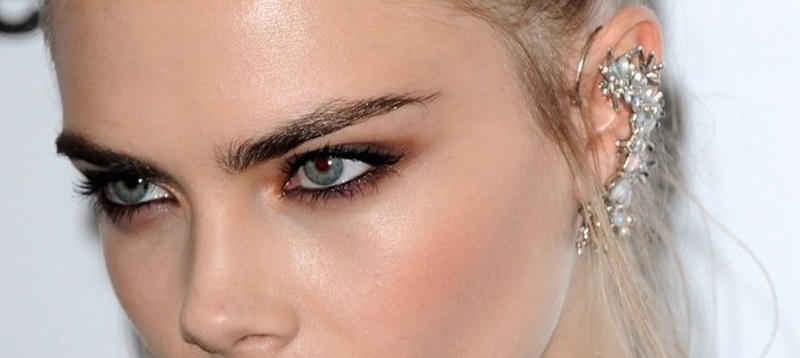 For the fashion newbie still struggling to make sense of all the terms, here's a fact you wish you'd known earlier: ear crawlers and ear cuffs are not the same things. They are often mixed up which makes us groan because of the seasoned eye, they could not be more different. Ear cuffs are typically rings which wrap around the earlobe while ear crawlers coil upwards. Both of them burst into popularity around the same time but that is where the similarity ends.
Ear cuffs are usually for an edgy look, a great accessory to the biker outfit – but there is little else to it. Sometimes, they have long looping chains attached to them and that's about it. There is also another type of earrings caller ear jackets in which the bling is behind the lobe, peeking out. Again, these make for funky jewelry. Ear crawlers, on the other hand, cannot be boxed into any particular look. After all, it is, structurally, a canvas. Bohemian, edgy, chic or glam- ear crawlers can do it all.
Ear crawlers are the statement of the moment. Pulling off almost any look you can name, these pieces never fail to stand out every time. Besides, those of us with delicate earlobes are aware of how difficult it is to wear statement earrings without them hurting. As much as we love our flashy ear-wear, even the simplest drop earring can be a painful price to pay for fashion. Luckily, ear crawlers are not just show-stealers – they are awfully comfortable too. Nestling up your earlobe, crawlers defy gravity in a stylish way instead of pulling down your ears with big old danglers.
Ear crawlers are just one of those trends which truly work like a charm, on and off the runway. As anyone who follows the fashion charts knows, most runway trends often fall flat in real-life scenarios. Who could pull off duvet ponchos, right? Not the case with ear crawlers though. As you look like a supermodel yourself, these beautiful accessories can turn onlookers green with envy.
Think you're ready to steal the spotlight? Check out the 10 ear crawlers that you absolutely must have to own the show.
10 Best Ear Crawlers That Are Absolute Fan Favorites!
1. PAVOI 14K Gold Plated "Hearts & Arrows"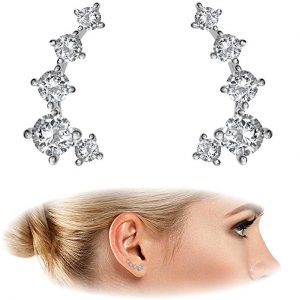 Let's begin our list with a simple pair of ear crawlers. Delicate, feminine and starry – this is the kind of earrings you would expect on a doe eyed princess, straight out of a fairy-tale. And in case you thought ear crawlers are strictly for the red carpet, let us remind you once again that crawlers come in plenty of designs. Take a look at the Heart & Arrows Ear Crawler by Pavoi and you will know exactly what we are talking about.
Pavoi- sounds like an exclusive jewelry store, reserved for the billionaires of the world, doesn't it? Although the designs and the quality belong up there, with the crème de la crème, Pavoi, is at its heart, built for customers with an eye for style. The brand believes, minimalistic designs, which ooze class, shouldn't be far out of reach of customers who know what high fashion is supposed to look like. And with that in mind, Pavoi brings timeless designs with an affordable price tag; classic royalty regalia for the woman of today.
The Heart & Arrows crawler comes in 3 color options- rose gold, 14k yellow gold or the white rhodium. Choose whichever you like because all 3 of them are exceptionally beautiful. The crawlers are studded with dazzling white cubic zirconia stones, 5 of them in each earring, set with 4 prongs. The stones gradually increase in size, as they curve down the ear, and finally make an inward turn, completing the move with a smaller stone. The sequence, to be exact, begins with a CZ stone of 2.5 mm diameter, followed by a 3 mm, 3.5 mm and 4 mm and lastly, a 2.5 mm CZ stone once again. On the ears, it looks just like a tiny piece of a constellation, broken off and carved into a gorgeous pair of ear crawlers for you.
It is made from 925 sterling silver and then gold plated for a beautiful sheen. The plating is twice as thick as the industry standard, taking this pair a notch above the rest. The CZ stones are rated AAAAA, which is the highest grade given to simulated diamonds. The earrings themselves are quite small and dainty. At 0.7 inches, it is perfect for the everyday princess look.
With the Heart & Arrows item, Pavoi lives up to its promises. They've put in work to make these crawlers shine bright and so it does. Pair this finery with a pretty little dress or wear it with your regular clothes as you go about doing your errand s- these ear crawlers will make you feel like an off-duty princess, every step along the way.
2. 
Humble Chic Geometric Ear Climbers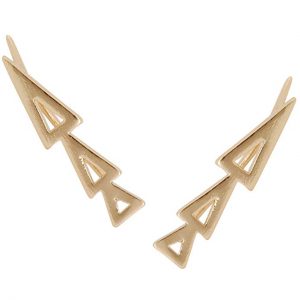 Geometric funk is the best kind of funk. Which is why we are loving the Geometric Ear Climbers by Humble Chic. While we are fans of the dazzling stones and glittering jewels, we also believe in injecting a bit of fun hipster vibe to our look every once in a while; after all, it is the "it" style of the season. So, if you want people mistaking you for a supermodel, this is the right pair of earrings for you.
Humble Chic does its name proud. A classy chic note, they never overdo style; subtlety is their best suit. They've got everything you would need to kick-start the new you, the chic "you". Clothes, jewelry, accessories, handbags and more – their designs ooze New York street luxe. And it's not just us; Vogue, Cosmopolitan, Seventeen are just a few of the fashion critics who are raving about the brand.
These ear crawlers are available in a bunch of amazing styles. To start off, there is the tone bar design, available in gold, rose gold and silver. This is basically a straight thin bar, a trendy pick for the unique girl. Then, there is the zigzag style, which is exactly what it sounds like; a zigzag wave up the earlobe. It is available in the same color options as before and has a nice schoolgirl tone to it. Lastly, there are the triangles – three upward pointing triangles stacked on top of each other, in a gradually increasing size. These are also available in the rose gold, gold, and silver color selections. All the designs are a funky take on what it means to be street chic.
You don't need piercings to rock the Geometric climbers. These are adjustable clip-ons; just slide them up and pinch so they fit your ears perfectly. These are made from high-quality base metal, plated with gold, rose gold or silver, and have a glossy shine to them. They are also very lightweight; you can wear this graphic piece for hours without feeling a thing. They are of moderate length, approximately about 0.85 to 0.98 inches long, the ear crawlers can be worn anywhere, with regular outfits or to a party.
Geometric patterns are a smash hit. Bring in ear crawlers, a statement unto themselves, and you are ready to take over the world. From the runways to the streets to New York, the Geometric climbers are killing everywhere.
3. Ear Climbers Gold Leaf Crawlers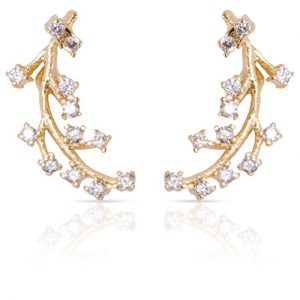 New to the world of statement earrings? Perhaps you'd like to start slow, gradually build your taste for it. If there ever was a perfect pair of ear crawlers to break your way into them, it has to be the Gold Leaf Ear Crawlers by Benevolence LA. At first glance, they are like any other earrings. But take a closer look and you will notice the characteristic upward crawl that makes for a tasteful pair of crawlers.
Fashion that plays its part in social goodness – initiatives like these make the world a better place. And with Benevolence LA, every purchase tells a story, makes a difference. A portion of any purchase you make from the brand proceeds to their charity partners. Thus far, they have helped so many people in need; giving 2,500 Africans access to clean water is just one example. These ear crawlers, in particular, are part of their mission to stop child sex trafficking, an inhumane reality in many parts of the world. Together with their charity partner Thorn, Benevolence LA seeks to shed some light on it and you too can do your part by just purchasing these beautiful ear crawlers.
Yes, the social benefits are enormous. But we are not forgetting the style payoff either. They are, simply put, classically beautiful. Made from brass plated with real 14k yellow gold, the quality is outstanding. You don't have to worry about these chipping off or breaking apart anytime soon. It is stylized like the branch of a tree, branching off further with sparkling cubic zirconia stones, bezel set into place, for leaves.
This pair is certainly smaller than the average pair of ear crawlers. But that is part of its charm. Dainty little things to turn on your feminine charm, it blends into your outfit, never overpowering your look. Besides, when you know your earrings are helping the world, the glow from within will be priceless.
The Gold Leaf Ear Crawlers are a bit different from any other ear crawlers. For starters, they are not statement pieces, the kind that stops the traffic. These are simpler, dainty little pieces to wear when you just want to glow, the golden iridescence making a subtle play of light on your face. And when you remember the fight it represents, against child trafficking and sex abuse, well, that is a cause that needs to be worn.
4. EVER FAITH Women's 925 Sterling Silver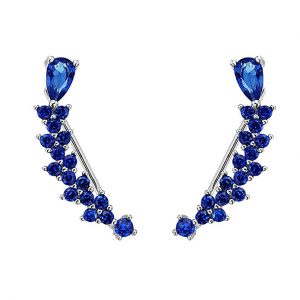 A splash of color can brighten up any look. And when it's on your ear crawlers, you bet this bright piece is trending on every fashionista's must-have list. The Sweep Ear Crawlers by Ever Faith is bound to breathe life into the drabbest of outfits, making you look ready for Christmas even in a hot mid-June.
Ever Faith understands women's jewelry. Rhinestones, pearls, and zirconia in classic styles, jewelry which makes you feel like a queen; Ever Faith believes jewelry is a woman's best friend and they spare no effort in proving it. Every single work of theirs is a lesson in artistry, crafted with intricate detailing and elegant themes. These sweep crawlers are yet another masterpiece from the brand.
If there ever was a pair of ear crawlers which are festive yet not gaudy, the style statement every modern woman is searching for right before the holiday season begins, this is it. And even when the Monday blues start kicking in again, well, these sparkling crawlers will surely brighten up your mood as well as everybody else's. The crawlers are available in 3 colors – blue, pink and clear. The standard length of these is about 0.8 inches although the clear ear crawlers are available in 1.30 inches too. So, if you want to make sure nobody misses your gorgeous new earrings, maybe the 1.30 inches crawlers in clear is the right pick for you. But if it's vibrancy and color you seek, the one in blue, a beautiful zaffre shade, is the one you've been looking for all along.
These gorgeous ear accessories are made from 925 sterling silver; the SGS Professional Certifications attests to their fine quality. They are stylized into flowers, with zircon stones of the color you choose, bezel set with prongs. These zircon flowers sweep upwards, finally topped with a teardrop zircon. Flowers of sparkling zircons against a backdrop of silver – it sure makes for classy jewelry to ring in the New Year in.
The signature classic style of Ever Faith is not lost on this piece. The flowers and the colors simply add delightful layers to this elegant pair of ear crawlers, a sparkling combination that we are in love with. An instant mood lifter, the Sweep Ear crawlers are the sliver of happiness we all need in our lives.
5. Happiness Boutique Statement – Full Ear Cuff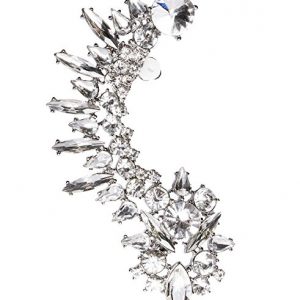 Once you've made your deep dive into ear crawlers, it's time to bring out the big guns. Ear crawlers hit the scene as statement pieces; the runway model's favorite gear, the fashion blogger's tack to hold the gaze of the crowd. And now, you too can score all the style points with the Statement Full Ear Crawler by Happiness Boutique. This is crawlers at its best.
Yes, jewelry is great but it's even better when there's a soul to it. Happiness Boutique creates beautiful jewelry – necklaces, bracelets, rings and more – in the trendiest of styles; their collections are always up to date and you will always find rare gems at an affordable price, impossible to find anywhere else, at least not without shelling out a couple of thousands. But that's not enough. Happiness Boutique believes in purpose, the missing piece in even the best of brands. And their purpose is already in their name. This brand creates with the vision to spread happiness, bring a smile to people's faces and just share positivity. Jewelry made from the heart, Happiness Boutique shows, is the most beautiful of them all.
If you ever wondered what a crown for the ears would look like, you've got your answer in these pair of crawlers. This isn't what you wear when you want to gently tuck your hair behind your ears, with a dainty accessory peeking out; this is indeed a statement ear crawler, a full 7 centimeters of blinding glory. It is designed for the right ear, for an asymmetric pop which turns any look into rockstar glam.
Made from silver, a fine canvas for the ornate work all throughout the frame, it is completely encrusted with clear and sparkling rhinestones with not an inch of anything else to be seen. Round and oval rhinestones line up while larger oblong and teardrop cut rhinestone line above them like sharp shards of glass, ready to pierce. The crawler engulfs the ear, all the way from the upper earlobe, curving its way down to the end and finally, forming a circular cluster made of rhinestones. It is like a sheath for your ears, an impossibly glamorous and glassy stoned sheath.
While it gloves in your ear, perfectly cradling its curve, you know you are ready to conquer the world. It is not a light piece but unlike regular earrings, the crawler doesn't weigh you down but rather presents your best angle. So, gear up with the Statement Full Ear Crawler because this is armor for the fashionista.
6. Feramox Earrings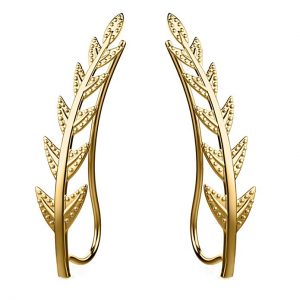 Unique motifs always intrigue us. For those of us afraid to turn the quirk on full blast mode, a bit of an unusual touch to an accessory can make a lot of difference. The Olive Lear crawler is a tastefully designed piece with its own message. It's suitable for all kinds of personal styles – casual, dressy or funky – and for ladies of all ages.
Feramox is an online jewelry retailer and they definitely know the name of the game. If a new trend has just hit the scene, Feramox is already onboard, experimenting with possibilities, giving roots to what may seem like a short-lived fad. Have a look at their collection and you will be spoiled for choices. From illuminati signet rings to holographic studs, this brand takes on any challenge and emerges a winner every time. The Olive Leaf crawler is not their wildest work but among ear crawlers, it is certainly a favorite, as the raving reviews tell.
The symbolic meaning of an olive branch is known to us all. Peace, unity, harmony – in today's wacky world, such gestures are always appreciated. And then, there's also an ancient Olympian tradition from Greece; decking the victor with a crown made from olive leaves. There is just so much significance in a lone olive branch that you know it makes for meaningful jewelry. The crawler imbibes what we love about it, presenting beautiful ear accessories which are so much more than just that. It is available in two colors – gold or silver.
Although they are both beautiful, the golden ear crawler, in its own olive toned shade, makes sure that the olive leaf design is not missed. The crawlers are made from 925 sterling silver and the golden one is 24k gold plated while the silver is coated with rhodium. For the design, it is shaped like a twig of an olive branch, dotted with veins and decorative lumps.
The simple elegance of the design and the offbeat charm of an olive branch- this pair of crawlers is a complete win. You can wear it anywhere you like, to the office or to a party, and even pair it with any outfit you have. These ear crawlers prove that when you have style, you don't need to shout it out; you just pick the best.
7. EVERU CZ Vine Jewelry Sweep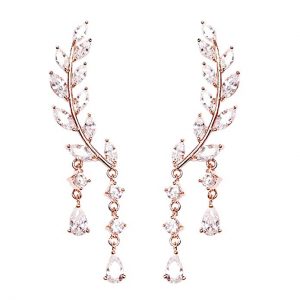 If there is one thing to take away from this review, let it be just how pretty ear crawlers can be. Yes, its ticket to fame is the showstopper statement it is known for and the sheer glam factor it lends to any look. But can we just take a moment to process the prettiness of these little things? Because our hearts just can't handle the Crystal Vine crawlers by Everu. These crawlers are all you need to make a girl feel like a queen.
When it's Everu, it really should not surprise us anymore. Because if there's one thing that they have mastered, it is the art of dainty jewelry, the kind which can make girls swoon.  Everu stands for a simple truth of theirs, "forever with you" and when you've made a purchase from them, it will definitely stay by your side for years to come. Besides, Everu was brought to life by French designers of the highest caliber. For those of us have been starstruck with French artistry, this is our chance to bask in it.
The Crystal Vine crawlers take a page from drop earrings and that has worked like a charm for them. The crawlers are designed like a twig, soft and curved, with marquis cut cubic zirconia for leaves. At its end, from the two lowest "leaves", it trickles down into a drop earring with two strings of CZ stones holding onto little hoops. If you are worried about them weighing down your painfully, you brush that aside because even the drop string part of it is very small and light. These crawlers are indeed the best of both worlds.
Don't think it's all that cute? Wait till you see the box it arrives in, a beautiful baby pink velvet; so soft you will want to hold it close all day long. The earrings are made from 925 sterling silver and rose gold plated, which lends a soft glow to the accessory. The glimmering stones are cubic zirconia, artificial diamonds just as gorgeous as the real thing. The length of the crawlers is about 0.8 inches.
Ladies, we all need to listen to our feminine selves every once in a while. And what better way than a pretty trinket with a streak of trendy chic? If it had to boil down to one accessory to bring out the fun little girl in every woman, we know this would be our pick.
8. Gold Tone Statement Healing Crystal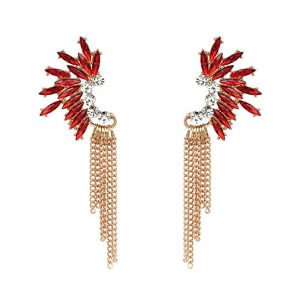 Bold, flashy, impossible to miss – ear crawlers are meant to turn heads. And the Long Fringe Crystal Flower Ear Crawler certainly does not shy away from doing so. This piece by Isaacsong is a magnificent vision, sparkling with crystals and rich in splendor.
The international online jewelry retailer, Isaacsong, has grown to be adored all over the world. Simple designs, crafted in the spirit of love and sprinkled with creative energy, ranging from the vintage to ultramodern; fantastic work and dedication have brought Isaacsong a long way. And as we look at the Long Fringe Crystal Flower Ear Crawler and its bold artistry, we know that this brand deserves the limelight.
Large sparkling crystals draping across the entirety of your ears, exuding a glorious beauty reserved, until now, just for the royalty- these ear crawlers are designed to dazzle. And in its quest to stop our hearts, it brings in another statement, the fringe tassel, creating an amalgam of the hottest trends in a majestic framework. It is made from high-quality alloy and is heavily gold-plated. It is shaped like a section of a blooming flower, the inner earring is decked with clear spherical rhinestones which sweep out to hold large diamond-cut rhinestones, placed in a glass shard-like fashion with a touch of the Navajo style.
You can choose the color of the diamond-cut crystals, each color holding a special significance. The black rhinestones are for power, red for passion, blue for loyalty and yellow for hope. In the midsection of the crawlers, right between the diamond-cut and round crystals, 6 gold-toned chains of different lengths dangle down into tasseling drapes.
These ear crawlers are about 3.75 inches long, including the tassel. It comes in a gorgeous black jewelry box, designed by Isaacsong. If you don't like what you paid, the company's 30-day full refund policy has got your back.
You might want to steer clear of this pair if you don't think it's up your alley. Because this is not for the faint-hearted. The Long Fringe Crystal Flower Ear Crawler is for the glamazon, with an eye for style and an unwavering attitude. Rest assured, with this electric piece, you are bound to cause a stir.
9. 925 Sterling Silver Red Resin Rose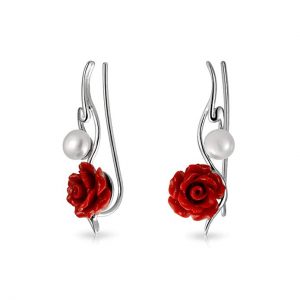 We can never leave out pearls from any list. These droplets of paradise are an essential in every woman's jewelry box, the crown jewel in her regalia. The Rose Pearl Ear Crawler brings together our love for pearls with a statement style and the result is even more fabulous than we'd have imagined. This piece by Bling Jewelry is set to be our go-to accessory for the fanciest events.
Anyone who has delved into online shopping will have heard of Bling Jewelry; these are giants in the business. The brand believed in jewelry as a form of self-expression and that mantra has certainly worked for them as they skyrocketed from being in a one-room apartment to a globally recognized name. With designers who can create magic with their hands and keep an eye on the latest trends, Bling Jewelry churns out unique jewelry, always stylish and never ordinary.
If there was a piece which could define Bling Jewelry, it has to be the Rose Pearl crawler. Ear crawlers, which have set the fashion scene abuzz, with a touch of the classic pearl, in one beautiful piece – although it may sound like an unlikely union, it all comes together, tied in with an ethereal charm.
The crawlers are made from 925 sterling silver, rhodium-plated against damage and polished for a smooth finish. The frame of these earrings is a thin curve, intricately designed to showcase the elements of the piece. As the curve sweeps forward, it holds a beautiful pearl in its nook. Freshwater cultured with a diameter of 3 mm, this lone pearl holds the gaze in its simple elegance. The frame draws to an end, delicately curving inwards for the final touch, a shining red rose made from resin. The rose is detailed to perfection; even the petals softly drape around each other as they bloom in glory.
At a length of 1.06 inches, the Rose Pearl Ear Crawler is just big enough to hold everyone's gaze. It is designed for pierced ears and the hook wire is slightly curved to grab on to the ear without fuss. These crawlers come in a gorgeous black velvet jewelry pouch with the brand logo on it.
For a fresh-faced look, perhaps to a day event such as a brunch or whenever you want to pull off a quiet elegance, the Rose Pearl Ear Crawler is the one accessory you need. As everybody knows, pearls are old-world beauty, synonymous with class. And when they come in the statement style of the season, you know this piece is made for blue-blooded ladies.
10. Silver Phantom Jewelry Women's Silvertone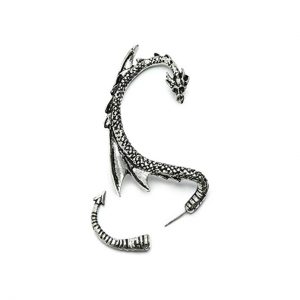 Who wouldn't want to channel the spirit of the Mother of Dragons? To fill yourself with the fierce power of Khaleesi, we've got the perfect earring for you- the Dragon Ear Crawler by Silver Phantom Jewelry.
Silver Phantom Jewelry is one heck of a badass brand. They pride themselves on their edgy style, a dash of punk thrown in creative designs. Dragons, skulls, cheetahs, there's even a collection about body chemistry- Silver Phantom has us all geeking out.
This is a single-piece design. Just one dragon perched on an earlobe is enough to send the message. But Silver Phantom does let you choose which ear you would like it to wear it on. The antique silver alloy from which the Dragon Ear Crawler is made is the perfect canvas for the elaborate detailing. Scales, wings, a ridged spine and fletched tail – this piece does the whole shebang.
The tailpiece is separate from the rest of the crawler. The dragon is the part of the post and as it goes out through the ear, the tail, with its rubber backing, makes a secure fit. The length of the crawlers is about 1.6 inches which will fit most ear sizes with some slight adjustments on the earlobe. But in case it doesn't, Silver Phantom is ready to reimburse.
This is, by no means, an ordinary accessory. For Game of Throne fanatics which is basically the whole world, this is the holy grail. Wear it with precaution; because with the Dragon Ear Crawler, you might just breathe fire.
Ear Crawlers: You Can Never Have Enough of These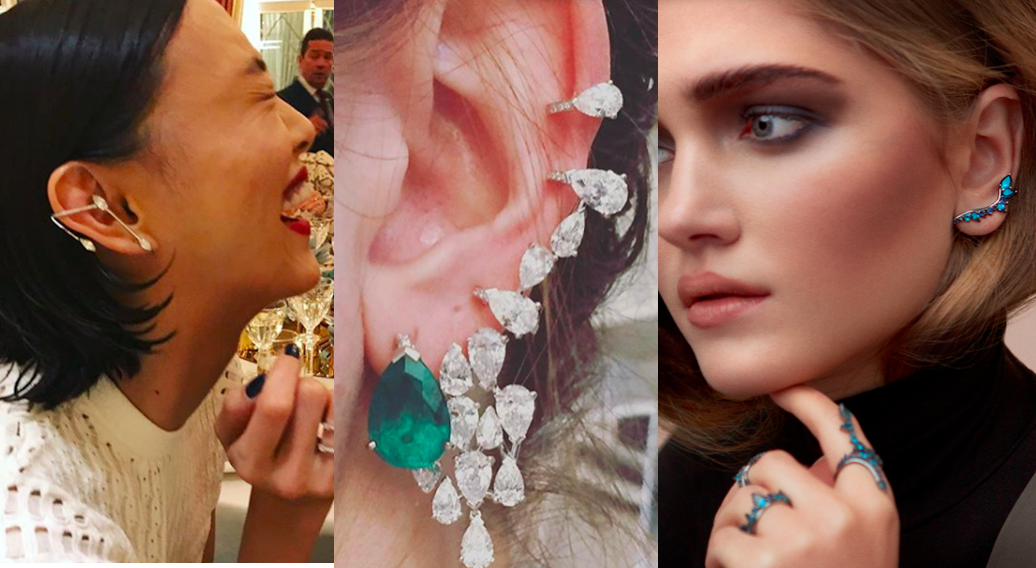 So, there goes our top 10 ear crawlers, the crème de la crème of statement accessories, and the must-haves in every lady's style arsenal. To be completely honest, even with 10 of the best, you can never satiate your craving for this gorgeous statement. So, if you find yourself spiraling into a crawler spree, well, we don't blame you. But we're not quite done yet! Take a glance at our styling tips to help you ace your ear game.
✓ Outfits with a boat or Nehru neck or just any high neckline can bring out the best in your ear crawlers.
✓ For the more glamorous crawlers, such as the Statement Full Ear Crawler (5th on the list), wearing your hair up shows off the majestic ear accessory. If you want to bring a bit of subtlety to your style, you can also try wearing your hair down, sleek and pulled back à la Zendaya.
✓ For simple pieces, you can style your hair any way you like. Or not. Even in your natural hairdo, these beauties won't go unseen. With our favorite ear crawlers and a few styles tricks up your sleeves, you are now ready to unleash your obsession with this hot trend.