Other / Women
Beads Aren't Just for Mardi Gras! Here's 10 Multi-Tasking Bead Necklaces To Prove It!
We admit it.  Here at Jewelry Jealousy we have gotten all caught up in the tidying up ruckus. We have greeted our office and all its adorable mess. We have sorted every paper and gotten rid of the things that do not bring us joy. (Although our accountant insists that joy-bringing or not, we still have to keep the receipts.)  Our t-shirts back at home are folded impeccably and stacked nicely. Everything is in tiny boxes and those tiny boxes are in slightly less tiny boxes. We are KonMaried out and loving it.
The only exception, however, is our jewelry collections. All our pieces bring us joy. We promise. Just because some pieces do not get worn much anymore does not mean we love them any less.  If we are being totally honest we admit maybe a few pieces from that one regrettable fad a few years back could go, but if the plastic net chokers from the nineties can come back, it is proof that pretty much anything can come back.
Luckily, we have settled upon a comfy compromise though. If we cannot bear to part with any of our current collection, the least we can do is be extra choosy about our new additions. Besides, if we can get a piece or two that can multi-task, that's perfect, right? We add one piece instead of two or three or sixteen. Versatility in one piece definitely sparks all the joy.  
Celebrities Rocking the Multi-Tasker Beads
Taylor Swift (TAY-TAY) rocked the heavy layered look along with the all-natural wood beads. Additionally, we spotted a couple of wrapped numbers we are confident could work perfectly as chokers!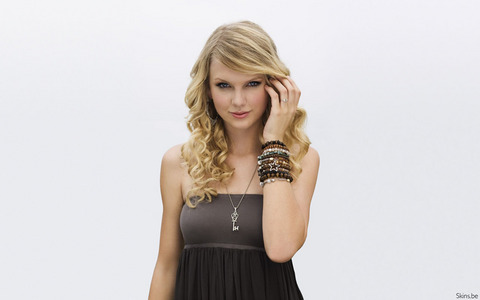 We adore Ginnifer Goodwin in this long piece of beadwork. Plus it is a multitasker! It can be styled in several ways. She chose looped and knotted, lariat-style, but this piece has endless possibilities for us! And, sidebar, that girl's eyes are looking fierce; a far departure from the doe-eyed Mary Margaret she plays on ABC's Once Upon a Time.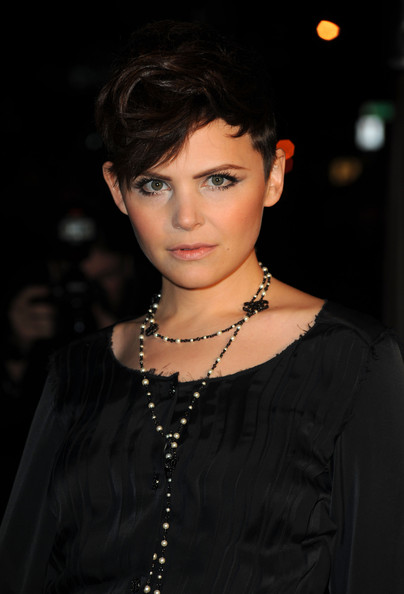 Max Factor model Stella Maxwell found her max wow factor and absolutely slayed at the 2018 Cannes Film Festival. She strutted out in a silver dress cut dramatically down to below the sternum.  She paired a looped beaded necklace with a crystal brooch assym detail that stole the jewelry show for sure. It dripped alluringly down into that beyond plunging neckline like butter.  But we could not help but notice that piece just a little higher. Her beaded choker was a finishing detail but we always notice the details. That little multi-tasker would have looked just a perfect in her hair as a headband.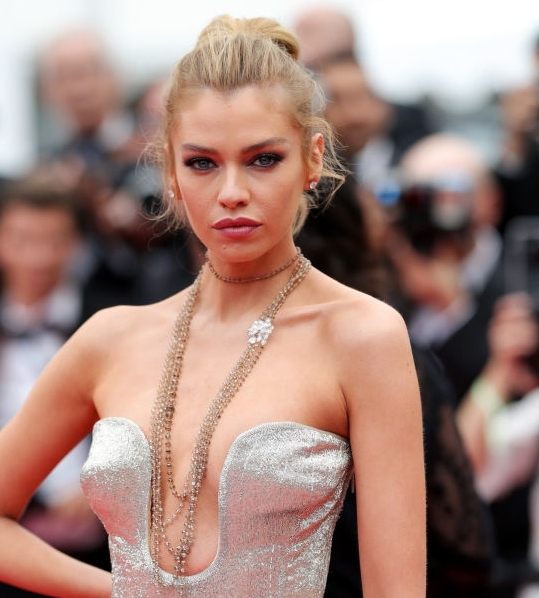 Our final celeb in the multi-tasker is none other than her royal self, Kate Middleton. She was spotted out and about with a knotted single strand of pearl beads over a flowy, belted top. She combines the classic with the modern, the elegant with the casual and absolutely pulls it off. Kate really is #goals.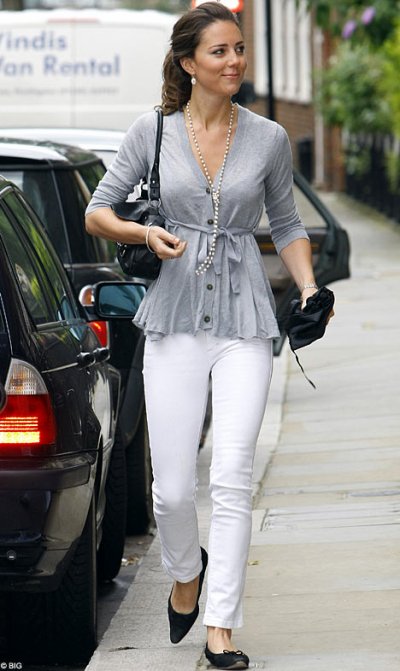 Borrow Kate's, Ginnifer's, Stella's or Taylor's look or find something of your own. The options are limitless. Just so long as they bring you as much joy as ours do us! Here are our top ten picks of beaded numbers that multi-task beautifully!
Our 10 Favorite Picks!
1. Single Strand Beads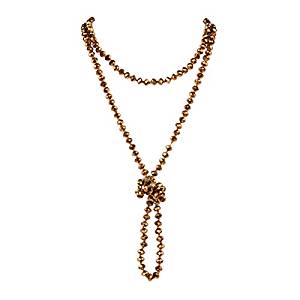 We will start with our Kate Middleton inspired pick. Our selection is offered by Riah Fashion. They offer a generous sixty-inch strand of beads in a wide variety of colors and finishes, thirty-eight options to be exact. We've selected the white howlite beads to most closely mirror the royal look but you can choose your favorite color. Our style tips will work for it as well.
Single strands of beads are probably the most versatile multi-tasker in the arsenal.  Wear it long and knot it at the sternum for Kate Middleton's look. Wear it at full length with your slinkiest little black dress for a touch of flapper-inspired drama.
Double wrap it for an automatic layered look – a built-in choker and a longer loop below. Add a few more gold pieces in varying lengths for a bold layered look. Or keep the loops the same length and add a brooch along one side, pinning the two lengths together for an asymmetrical statement necklace.
If another necklace is not going to meet your need, this also works as a bracelet.  Simply wrap it around your wrist for as many loops as will comfortably slide down your hand. It is easily turned into an adorable flourish of elegance wrapped around the base of a top knot messy bun. Use a length of pretty ribbon or bobby pins to secure it in place.
At the excellent price, you might consider choosing a few colors. Long beads are always perfect for adding a pop of color to a layered look either as necklaces or bracelets.
2. Fishnet Scarf Necklace Hybrid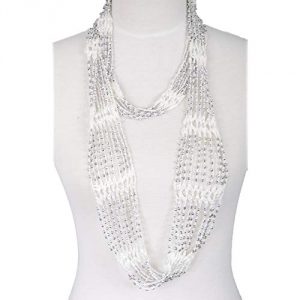 Sometimes simple is best. This multi-tasker is, all at once, a necklace, a scarf, a belt, a headband, and a hair wrap. It bridges the gap between jewelry and apparel so perfectly we had no choice but to include it on our list of multitaskers.
A loose fishnet weaving loops in bright, shining crystal cut beads. From a distance, the beads almost look like they could be rhinestones. Up close they add texture and visual appeal to the simple scarf. We prefer the infinity cut of the hybrid creation but there is an option for a strand scarf if that is your preference. Either come in a variety of colors.
Worn as a necklace, this piece will absolutely thrive looped up twice for a choker and long loop. Pair it with some a big necklace or a larger, chunky statement piece to add a bit of boho flair. Plus your bigger pieces get to have a little layering action, something they likely rarely get if you tend to style on trend.  
Naturally, you can loop it up three times for a fluffy infinity scarf. Add a little more bulk to the look and shine to your existing scarf game by wearing this over top a second cotton, rayon or silk infinity scarf in a complementary color. Once more the texture and color pop can only enhance the pieces you already have.
As a belt, simply slip this down over your waist or hips. Tie off and fluff any remaining end into a little floret. You can also clasp it with a faux buckle created with a broach or hair barrette.
Speaking of hair, this will wear two ways, tie back a ponytail with it or wrap it around a top knot bun for a fun net style covering. Create your own dramatic headband as well and once again channel your inner boho free-spirit.
3. Rasta Beads Smart Watch Holder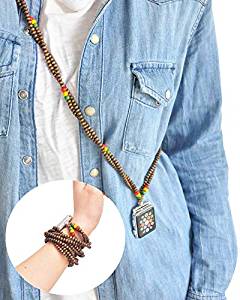 We love this one so much more than we probably should. Miss Marie would be blown away by our spark of joy with this piece. This piece can be worn as necklace, cross-body, or bracelet all while toting your smartwatch face. Not only is an original take on rasta beads, but it is also a refreshing treatment of wearable technology.
Influenced by the Ethiopian flag, rasta beads are typically some combination of red, green, yellow and black. Rooted in Jamaica, the Rastafarian celebrates black culture. Often included in afro-hair styling, rasta beads and bracelets rose to prominence in the United States on the wrists of the iconic Bob Marley.
This beaded chain keeps it simple with pops of Rasta beads interspersed among collections of wood beads. The feel stays very natural and rooted in the earth as a result.
This necklace is designed specifically for the Apple Watch (Sorry, Samsung users!). The case on the beads holds your watch face in with a magnet. Two sizes are available so be sure you check the specs when ordering to be sure you are getting the case appropriate for your Apple Watch version.
You can wear this cross body like the tiniest, cutest, most functional little purse ever. Wear it as a super long chain necklace. Consider pairing this look with other wood bead pieces and chunky layers for a very put-together, thematic look.  Worn this way it will look best with a very casual look. Consider a t-shirt with a loose, flowy plaid overshirt and a pair of boyfriend jeans. A nice heavy pair of sneakers will cap off the look as well.
This bead chain will also wrap around your wrist for a very stylish smartwatch worn on the wrist. Forgo the boring band and buckle ensemble in favor of this layered chain look, all together in one piece.  Since the beads are wood you can rest easy knowing that they will be hard pressed to scratch up the face of your smartwatch.
4. Baby Teething Necklace for Moms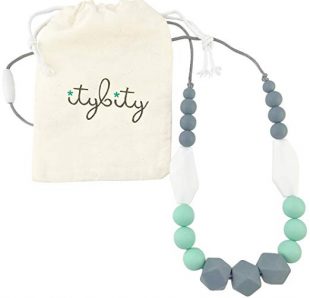 From one functional piece to another, this one is way lower down on the tech scale but perhaps more important on the working piece scale. A simple satin cord holds chunky silicone beads in cool grey, trendy turquoise, and white. This is not a typical descriptor for a jewelry piece but this is not a typical necklace. This necklace is designed with the express purpose of giving your baby something to gnaw on during those awful months of teething.
This piece by Itybity can be worn as a necklace or coiled loosely around the wrist as a bracelet. As a necklace, this piece is stylish and modern enough to pass as standard, adornment-only jewelry. To the untrained eye, this is simply a fun, clunky piece. But while you are holding, carrying, or baby-wearing your little one, they tend to grab at your necklace, collar, hair or anything within range and attempt to shove it into their mouths. This necklace is purpose made for this.
If you choose the bracelet styling, be sure one loop is nominally loose so your wee one can get purchase on it. This is perfect if your babe prefers to be facing outward. You spend quite a bit of time with your arm around their middle, which puts your wrist within range of their tiny mouth. Wearing this as a bracelet is perfect for this application.
A note of caution on this piece. The teething necklace is for moms, dads, and other grown-ups to wear. A necklace like this, or any other variety for that matter, should not be placed on a baby. It presents a choking hazard and is not recommended by pediatricians or safety experts.
5. Suede and Gold Bead Wrapping Necklace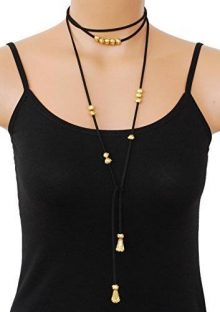 Our next find is handmade in Istanbul, Turkey by a clever artisan with an eye for versatility. Smooth, black suede cord holds a minimalist collection of gently patterned gold-plated beads. Each end of the cord is capped with beautifully detailed finials.  Overall the piece is stunningly simple and stunningly beautiful.
As a wrapping necklace, the ends are not joined or necessarily even designed to be so. We were inspired by Ginnifer Goodwin's look when we included this one on our list. Wear it like the ABC star in a lariat arrangement. Wrap the fifty-nine-inch length around your neck a couple of times, leaving one longer loop. Finally, gently tie the ends together, leaving the gold finials in the front as a final flourish.
Alternatively, this piece will work wonderfully as a back-draping piece. Repeat the same steps as above but this time leave the two end loose, draped over each shoulder. This is wonderful for a backless dress or low cut summer tank.
Wear this wrapped and tied in a bow around your wrist, tie it around a low slung ponytail or top knot bun. You can even loop it around your head as a headband, leaving the lengths underneath your hairline or draping out, down your back.
Overall we love this piece for your everyday looks, professional attire and, perhaps most especially, as an integral part of your festival look. The combination of the brilliant yellow gold-tone and contrasting black cord just screams Burning Man and Coachella in every way.
6. India Agate Leather Wrap Choker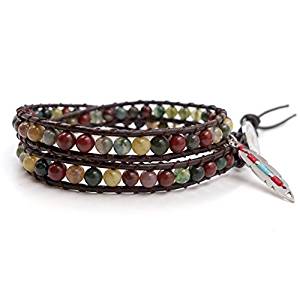 Speaking of festival looks, that brings us right up to this piece by Blueyes Collection. Borrowing for Tay-Tay's style cues, we love this rainbow of India agate beads, enshrined in a leather woven wrap.  You can wear this as a double wrapped bracelet to get your Swift look on. Or wrap it around your throat as a choker to really bring the kaleidoscope of colors to the forefront.
India agate is a type of volcanically created quartz said to have healing properties. Perhaps most importantly, agate is purported to bring the bearers peace and tranquility. Beads in this work are beautifully striated which adds visual interest to an already fascinating piece. Everything from nearly translucent spring green to warm tiger eye orange may be included in your necklace. Because natural stones are used, the colors, arrangement, and variation in your necklace will vary. Translated: you'll get a completely unique piece!
Beyond festival season, we love this as a punch of color to everyday outfits. Choose a neutral palette to really let the agate stones shine. We also love wearing natural stone in the summertime. On a particularly hot day, pop this necklace in the fridge while you are getting ready for a cool treat when stepping outside.
7. Beaded Coil Choker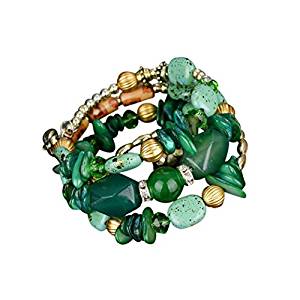 This piece is absolutely wonderful as a triple threat. Three applications in one space-saving piece and we are smitten. A wide range of beads clings to a wire coil with adorable little flower charms capping off the ends. You can select from green, red, neutrals, or rainbow. Honestly for the absolute bargain price, just go ahead and get all four.  
Wear this as a throat hugging choker for a whimsical, natural addition to a layered look. It also works wonderfully as a statement bracelet to add a pop of color near your hips. Carry a complementary colored clutch in the same hand for an added little detail. (For instance, if you select the green one, just imagine the pop of green against a lovely little orange clutch with gold accents. Both will make the other stand out just a little more.)
Our favorite application though is as a ponytail band. Toss your hair up in a high ponytail and wrap this piece around the base. It will add a little lift to your locks and pump up an otherwise plain jane style. It takes you from gym-ready to dance-floor ready in an instant with the right outfit. Any piece with that kind of power is a must-have for us.
8. Crystal, Pearl, and Bead Ribbon Choker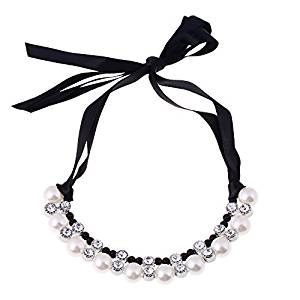 We are right back to a piece that can be worn as a necklace or a hair accessory. We know we are a little obsessed, but rightly so. Given any mood, every outfit is made a little better with beads, pearls, and crystals.
Simulated pearls are ensconced by dainty duos of silver encrusted crystals. Spaced by shining black beads, this piece finishes with strands of black satin ribbon. Wear it with the beads around the front and a lovely trail of ribbons hangs down your back. Spin it around and tie a bow on one side of your throat for an adorable assym look we love.
Finally tie this piece around your hair to add sparkle, shine, and class to a bedhead look. Wear a headband like this with a ponytail and it instantly takes it from shortcut to updo. Be sure to secure the ribbons with bobby pins if you are going this direction to keep from readjusting and retying the piece all day.
9. Mala Bead Tassel Necklace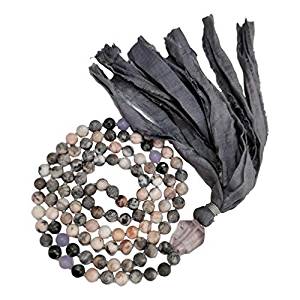 While this one is the close cousin of the single strand, it stands apart from it dramatically both in material selection and the inclusion of a sari silk tassel and chunky crystal on the end. Pink zebra jasper, labradorite, and lavender jade stones come together for this very Earth-tone necklace.
Mala beads are beads used in the practice of meditation. Often used to count how many times you've repeated a mantra they can also be used for those who tend to fidget as an object to focus that excess energy on. This necklace includes one hundred and eight mala beads.
Wear this piece as a long necklace or double it up for a choker and chain layered look. If you are hoping to use mala beads in your meditations, this will also work wonderfully as a forearm bracelet. Wrap it high on your forearm and allow the tassel and crystal to hang down for motion and texture.
10. Rainbow Mala Beads Necklace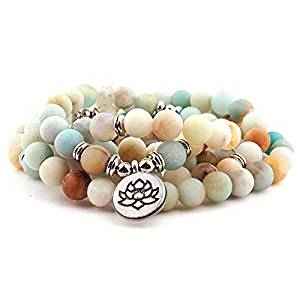 Our last offering is a return to mala beads. Typically we try to avoid multiple offerings of the same type of item, but these are distinct enough and appeal to differing style aesthetics. Plus, we really love mala beads. The whole idea of them goes right along with all that peace-finding we have been doing while tidying up.
Offered by GVUSMIL, this one includes a far more subtle charm featuring a lotus flower. Available in a variety of colors and stone types, our favorite feature of this version is that all one hundred and eight stones are strung on a stretchy cord. This means it can be worn as a bracelet, choker, or necklace, long or layered.
This version of mala beads lacks the tassel, which is a bit unusual for traditional mala beads. We do not mind as it makes the piece that much more versatile for styling. Interestingly, mala beads typically come in one hundred and eight or two hundred and sixteen. The smaller quantity is recommended for people starting out with a mindfulness practice using mala beads.
Caring for Your Beaded Pieces
Be they stone, plastic, or glass, caring for beaded pieces can be a bit tricky. We all know oils from our skin and dirt from the environment can harm our favorite pieces over time but we are not always great at remembering to remedy this. Besides, cleaning beaded pieces can be a little daunting. Costume jewelry and polyresin pieces tend to be a little more finicky. Gold and gold plate is easy to tarnish but a quick dip and light scrub are typically enough to shine them right up.
Polyresin, plastic, and stone pieces are more prone to noticeable scratching, however. Key to preventing this is a good wipe down with a microfiber cloth after every wear and proper storage. No matter how you chose to wear the piece, return it to its original state after wearing. If you have knotted a bead strand, untie it before hanging. If you've adapted a choker into a headband, be sure to give it a rinse and dry it well to clean any hair product off the beads.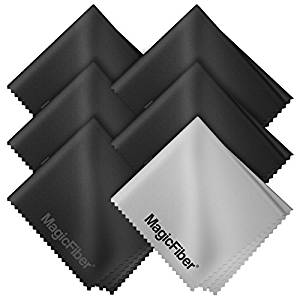 Plastic beads can often be hung together without much in the way of consequence. However, stone bead pieces should be hung separately. Stones are prone to scratching, either themselves or other pieces, depending on the hardness of the stone in question.  Hang as often as possible on its own hook. If hanging every piece simply is not an option with your current jewelry storage solution, lay them out at least away from your gold, silver, or plated pieces to preserve everyone.  
No matter what the bead material, washing is simple. A quick dip in warm, soapy water, a once (or twice) over with a soft-bristled toothbrush and a thorough drying will do the trick.  Most importantly, be extra sure to dry pieces hung on cotton thread very well. While the chances are slim, any sort of natural fiber can be prone to mildew and no one wants that.  
A Note on the History of Beads
Today beads get a bit of a bad rap.  Sometimes maligned as cheap, too costumey, too indecent exposure in New Orleans, beads are not often a go-to in jewelry styling. However, for the greater part of history, beads were the jewelry of choice. Go back far enough through history and beads were the only jewelry of choice. Beyond aesthetics and self-expression beads were valuable commodities for centuries.
Made from bone, stone, amber (a resin made of tree sap) and even insects (think Egyptian scarabs), the earliest beads made use of easily procured materials. By the time of the Romans, glass beads created intricate patterns. The Venetian millefiori beads stand out in that they are still crafted today. Amazingly, a single Venetian bead with a chevron pattern went at auction for $5,000. The number might seem small to some but that is for one, single, kind of smallish bead.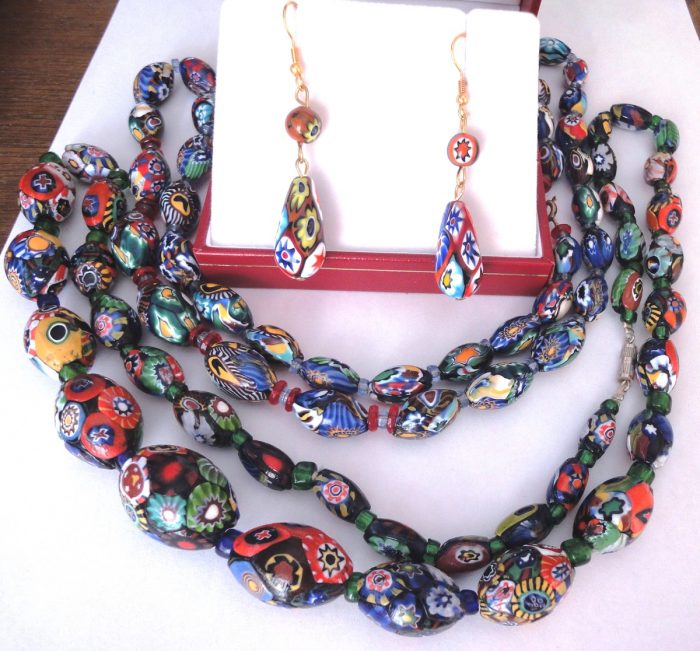 Beads became so valuable they were an actual form of currency, especially between European and African traders. Sadly, while beads were used in the spice, tea, and tobacco trade, we must remember beads were also popular in the slave trade. Human lives were traded for bits of pretty glass. This is not okay therefore it is important we remember so we do not repeat.
Beads have played important roles in negotiations for hands in marriage and passage rights. They've shaped and reshaped styles and monarchies, mores and borders. Although not enjoying high demand in the fashion world at the moment but they've played a role to be sure.  They will come back around. Something as important as beads will always come back around.