10 Bull Nose Ring Picks That Look Stunning!
last updated:
Mar 25, 2021
Today, more and more extreme piercings are becoming popular. From embedded facial jewels to bull nose rings through the septum, if you can imagine it, there is probably a piercer who is capable of creating it for you.
Body modification is one of the oldest forms of humans adorning themselves. There is evidence of both tattooing and piercings that pre-date written history.
Certain archaeological digs have unearthed evidence that species before humans entered the historical record. 
Don't you think this fact is fascinating?
We do, and we love bull nose rings not only because of their long-standing tradition in different cultures but also because these accessories are quite edgy while also being feminine at the same time.
We picked 10 bull nose rings that we simply love and we think you will love our choices too. Time to start browsing!
Our Top 10 Picks!
1

. Pearl and Steel Bull Ring Clicker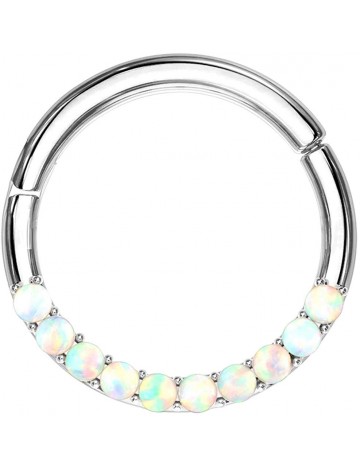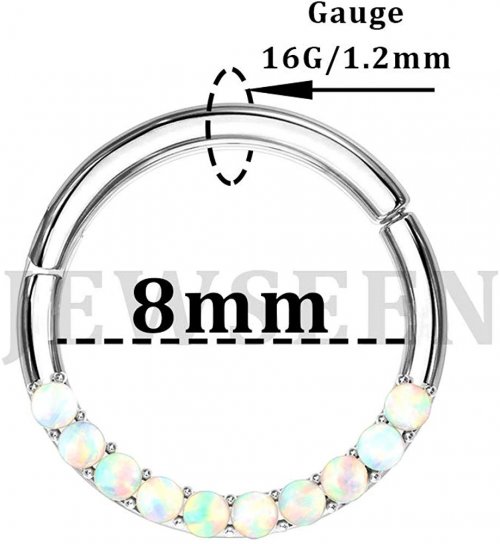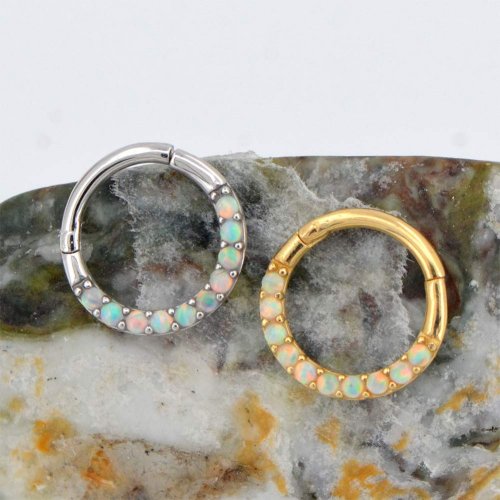 We will start with a lovely bull nose ring that combines shining steel and a gorgeous set of simulated pearls.
Read more
Seven creamy stones stand out brilliantly against the high polish surgical grade stainless steel. A straight bar passes through the piercing and clicks safely closed.
This is a fairly dainty piece so it is not overly flashy. It makes for a great pop of edgy look for daily wear without crossing into overly punk territory. We can absolutely see this one as part of a progressive professional look.
Of course, not all businesses will accommodate facial piercings, but if your company does, this is a perfect choice.
Pearls and silver are a wonderful combination that adds a touch of both shine and elegance to your look. It will transition wonderfully to your evening styles as well.
The pearls are polyresin, which is industry jargon for plastic. Normally this might be a detractor but since this is facial jewelry, polyresin is a good choice for the sake of caring for your piece.
Gems must be cleaned to protect them from oils and daily grime. Since your bull nose ring is going to be exposed to the facial oils as well as any makeup you choose to wear, cleaning your facial jewelry is of paramount importance.
Cleaning the polyresin pearls is much easier as you can dip your entire piece in warm soapy water and wipe dry.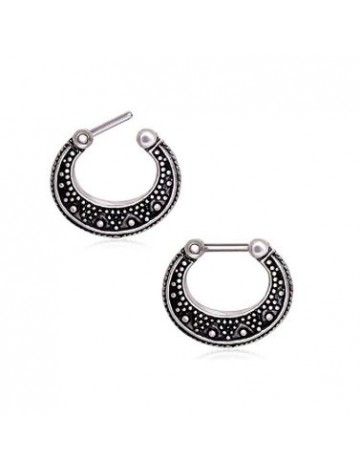 Our next pick for pierced septums is this very vintage-inspired bull ring by Pierced Owl. Made of 316L surgical grade stainless steel, this clicker does not need beads or gems to sparkle and shine.
Read more
Dots of polished steel glisten from a burnished, blackened background. It has texture but not overwhelmingly so.
The designers may have drawn inspiration from a few different eras from art deco to Elizabethan and Victorian. Depending on how you style it, you can highlight those.
To us, it feels very art deco. Art deco was all about lines and architecture and interesting shapes. This gently curved fan shape manages to give dots a very geometric feel.
Even the shape of the bullnose ring itself reminds us of all the decorative fan and shell shapes you saw all over the 1920s decor and fashion.
At just a quarter of an inch, this is another daintier piece. It feels refined enough to be incorporated into your daily wear look without forcing the punk rock aspect.
We can absolutely see this with denim and sterling silver ensemble. It is also a piece that is absolutely festival ready.
It may have a vintage feel, but styled right you absolutely have the tribal charm as well.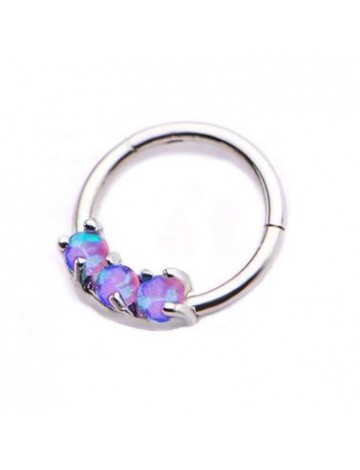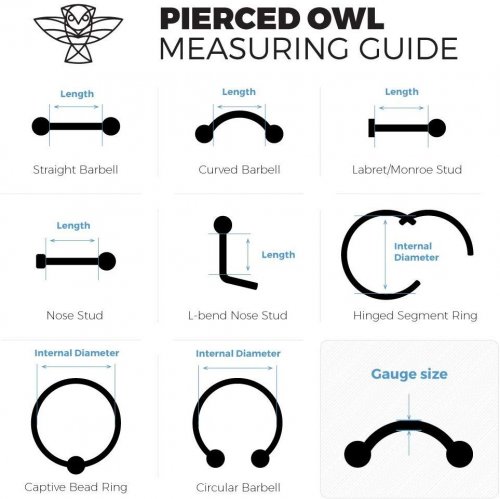 This pick takes a simple bull nose ring design and adds a pop of brilliant prismatic color. Three beautiful, lab-created opals shimmer from prong settings underneath your nose.
Read more
Choose from three base colors for your opal. The classic white with all its iridescent shimmer is available, as well as a bright blue variant and a purple variant. All three options offer the striking play of light opal is most known for.
The warmer color is great for cooler skin tones. It picks up on the oranges and greens beautifully.
The blue is perfect for warmer skin tones with more reds and ruddy undertones.
The white is a beautiful mix of both spectrums and appropriate for just about everyone.
Slashes of red, orange, green and yellow will add a full rainbow of visual interest to your look.
We really love this bull ring for pairing with particularly feminine looks.
The juxtaposition of the edgier piercing with the traditionally airy looks of a feminine dress just strikes our fancy.
Consider adding this bull nose ring to an outfit in blue or purple pastels with lots of whites.
A white pair of linen slacks paired with an airy, flowing blouse and dainty sandals would be perfect!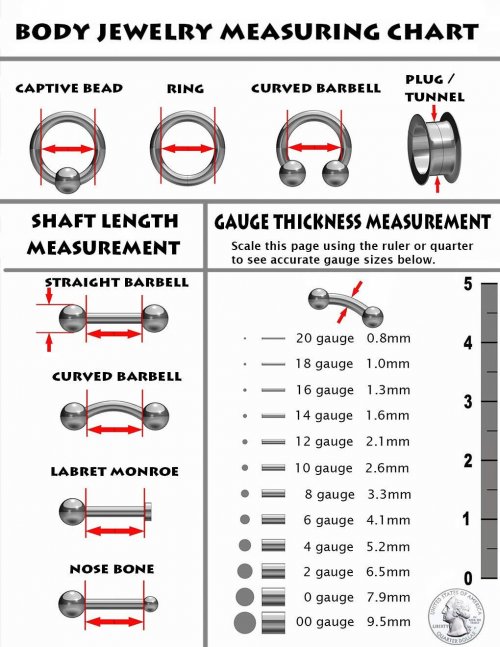 This next one touches on the Hindu and Indian history of the bull ring septum piercing. It is also the first on our list to combine gold tones.
Read more
This is one of our favorite trends in jewelry wearing. That said, it's also one of our favorite pieces on this list.
A 316L surgical grade stainless steel ring holds in place a bead that features a gold-toned elephant head.
Aside from the elephant figure being ultra-popular in fashion and jewelry right now, it is also a symbol of luck. Elephants in Indian and other Asian cultures represent wealth, good fortune, and luck.
In African cultures, they are a symbol of family, strength, power, and longevity.
This particular elephant on a bull ring is an African elephant.
That is indicated by the shape of its ears. Asian elephants are smaller with rounder ears. African elephants are larger with ears shaped similarly to the continent of Africa.
Whether you need luck or power, this is a wonderful bull nose ring with a lot more unique visual interest than others available on the market.
It's not every day you see a beautiful piece of elephant jewelry successfully used in facial piercings.
5

. Silver Scrollwork Clicker Ring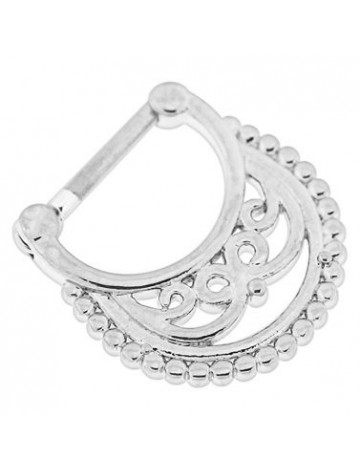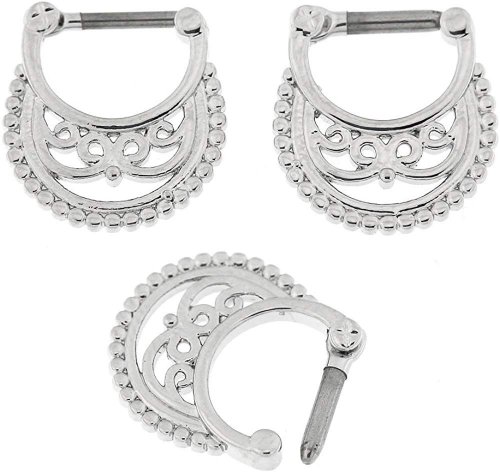 For us, this bull ring definitely pulls on some Indian or perhaps Morrocan influence. Overall it is simple, 316L surgical grade stainless steel is styled into beautifully dainty scrollwork in a half-moon shape.
Read more
A straight clicker bar inserts through the piercing. As far as design elements go this is a get what you see, see what you get the type of accessory.
We love it because it absolutely takes the guesswork out of styling.
This is a wonderful piece for a concert or festival look. It is also a prime candidate for wedding jewelry if you have a more extreme aesthetic taste and are carrying that vibe through to your wedding styling.
It will evoke Indian wedding styles but remain appropriate with even the most haute couture dress.
Pair this one with the bright vibrant colors typical of Indian and Morrocan inspiration.
A bright fuschia, the sari-inspired blouse will work really well with this piece.
Or consider a near-floor-length flowing sheer vest with blousy linen pants and a sandy-colored top to get that desert Bedouin feel!
6

. Classic Bull Ring Five Piece Set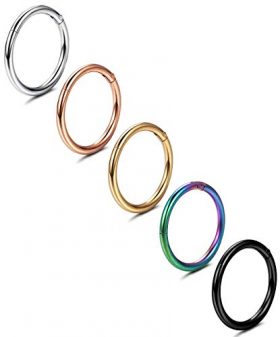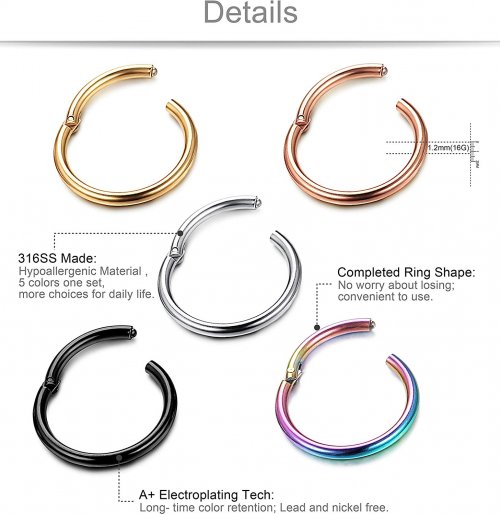 These bright, elaborate, decorative pieces are wonderful. Every jewelry lover knows you need your basics and you need your classics. This is both.
Read more
Aside from the horseshoe bar, the bull ring is a standard look for septum piercings. This set of five is perfect to add to your collection to cover that base.
One silver, one gold, one black, one rainbow, and one rose gold-toned hoop in your choice of three sizes are included in this set.
You can match any look, outfit, ensemble, or occasion with one of these. Plus, it keeps your piercing present but subdued.
This set is great for times when you do not need to necessarily hide your facial piercing but you are not exactly wanting to draw attention to them either. As a bonus, these are multitaskers as well if you have multiple piercings.
You can wear these anywhere you can wear a hoop piercing. From lips to ears and everything in between.
7

. Lacey Opal & Silver Bull Nose Ring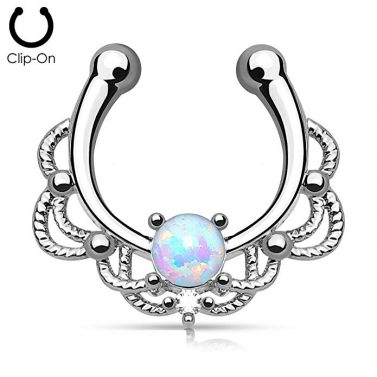 This clip-on reminds us of Madonna's bull nose piercing with all the frilly lacey metalwork and shiny feature stone.
Read more
The septum hanger bull ring is brass plated with stainless steel. It comes in your choice of white, pink, blue, or purple simulated opal.
We love how the stone stands out brilliantly from the high-polish silver. The look is perfect for a daily wear piece. Plus, as a clip-on, you can simply add or remove it as needed.
This makes it ideal for that killer outfit you have that transitions effortlessly from day to night.
8

. Jeweled Spike Four Piece Bull Ring Set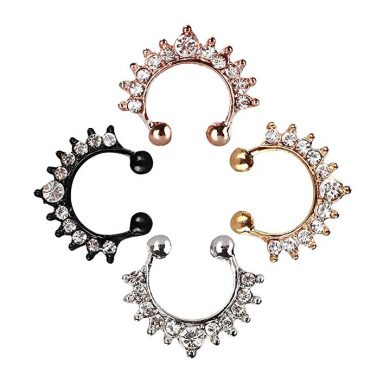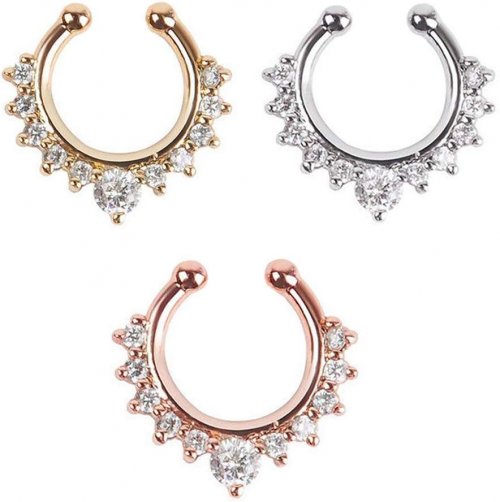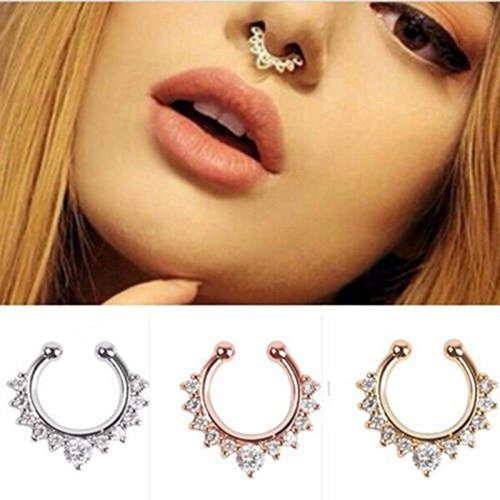 Our lists typically tend to feature a lot more sparkle and shine. When we found this one we had no choice but to include it.
Read more
Brilliant rhinestones bedazzle this four-piece set, adding glitter and glitz to the otherwise hard-edged spikes of these bull ring clip on.
This set includes yellow, white, black and rose gold-toned nose bull rings.
They are alloy metals which means they may not be ideal for folks with metal sensitivities.
But for those who can wear them, you have one that will match pretty much every look and jewelry collection.
The stones are in varying sizes which adds a bit of texture.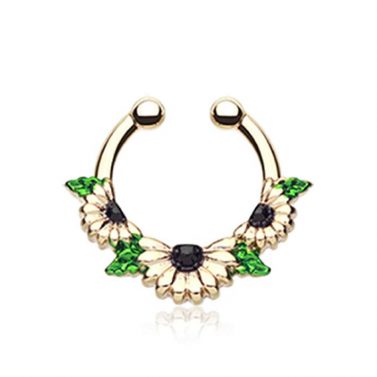 This is our favorite selection on the non-pierced section of the list. Yellow gold-toned alloy is sculpted into beautiful, blooming sunflowers.
Read more
The leaves and eyes of the bright yellow flowers are tinted to green and black, offsetting the gold petals perfectly. We adore this for a boho look or even a daily wear look!
The iconic flowers of summer and happiness will add such warmth to any outfit. It feels so lighthearted and cheery. We cannot get enough of it!
It is a very clever design for a piece of jewelry often styled with a bit more of a rebel with a cause feel.
Sunflowers could not be more perfect to add a whimsical fun look to a facial piercing piece.
10

. Silver Twenty Piece Bull Ring Set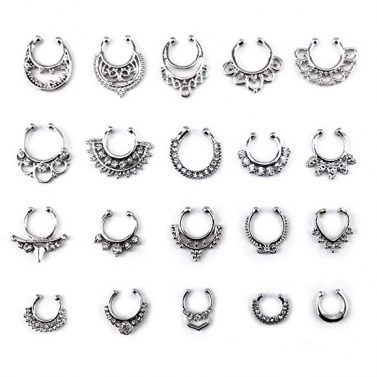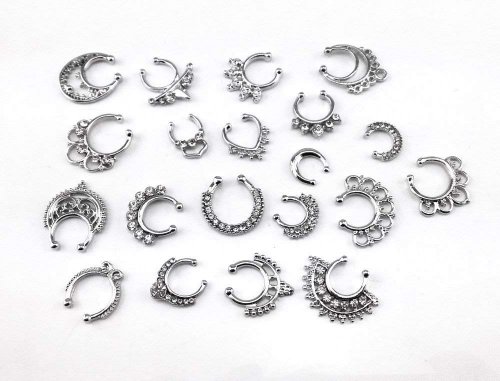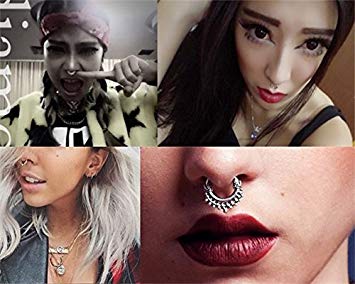 Finally, this last set has something for just about everyone. While it only comes in silver, it has everything from complex scrolling designs to simple bull ring hoops in clip-on.
Read more
You can keep it simple and subdued or you can get dramatic and wildly alluring depending on which of the twenty you select.
Several of these are very clearly inspired by the Indian Natori styles. Others have more of a biker chick look.
This set also offers a bit of multitasking as several rings can be used as a clip-on for a nostril piercing, cartilage clip-on, or orbital clip-on.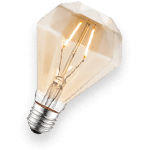 History of Bull Nose Rings
Bull nose rings were often part of the body modifications made by warriors. Evidence of septum pierces dates back to biblical times and before.
The Aztecs, Mayan, a variety of African cultures, Indian and Bengali peoples, Aborigines, and nearly every island-based culture show evidence of nasal and septum piercing.
Several tribes have histories that include giving a bull nose ring to a young man coming of age.  
Often these rituals involved surviving an unaccompanied stint in the wilderness. Upon the young man's return, his septum would be pierced as a sign he had achieved manhood.
History of Bull Nose Rings
In Indian tradition and Hindu religion, the septum is a popular piercing location. Hindu god Vishnu and one of his consorts Radharani are often depicted wearing bull nose rings.
The particular way these celestial beings wear their septum and nasal rings are called Nathori style.
Most often Nathori styles are oversized hoops that pass through the septum and one nostril. Nathori style piercings are often used at Indian weddings to this day.
Warrior cultures often used piercings to add fierceness to their appearance. Nasal and septum piercings were sported by the strongest, most fearless warriors.
A bone through the septum was often a sign of a highly victorious warrior. This is particularly true for several African tribes and Aboriginal warriors.
Types of Septum Rings
Clickers - Most bull ring piercings are clickers. They typically feature either a straight or curved bar that actually slides through the piercing.  

The hoop or decor then snaps into place using pressure. When secured it makes a little click, hence the name. Typically these are stainless steel.
Horseshoe Ring - This piece of steel, shaped in a curvy U or sideways C shape, capped with two threaded balls, is the most common of septum piercings. Each side of the ring hangs underneath each nostril.
The beads are sometimes decorated with gems or silicone.These can be made of acrylic or silicone as well.
Types of Septum Rings
Pressure Cuffs - These is a bullnose ring for people who do not wish to get an actual piercing. These can be made out of any number of materials as they do not have to pass through a piercing.
While fine metals such as silver or gold, or hypoallergenic stainless steel are recommended, especially around the thin tissue inside your nostrils, pressure cuffs can have a little more leeway.
Septum Retainers - This is a thin piece of metal shaped similarly to a staple. Some are curved while others are straight. They add a subtle touch.
One of the best features of this style of bullnose ring is that it can be flipped inside your nostrils to preserve the piercing for events are locations where you may not want to display your facial piercing.
A Note on Metal Choices
Normally we are big fans of choosing those pieces you love for the look and not just the name, material, or stone choice.
However, with facial or non-traditional piercings, we recommend only using 316L surgical grade stainless steel.
This type of metal is designed and forged specially for this type of use. It is incredibly durable.
Difficult to break, even under pressure and nearly impervious to rust, if cared for properly, it is the safest metal for piercings.
It is especially for piercings through or around mucous membranes such as the nasal cavity and mouth.
Extra adornments on your facial jewelry may feature other types of metals but any piece that must pass through the piercing itself should be of 316L surgical grade stainless steel for your health and safety.
Celebrities Rocking Bull Nose Rings
Scarlett Johannsen, Avril Lavigne, and Chloë Grace Moretz all rock a pierced septum. For the most part, they keep their body mod fairly subtle.
But there are some stars that really notch it up at every opportunity.
2015 saw Rihanna taking her septum piercing very seriously. She was out and about with it on a regular basis. 
She even posted a dramatic look featuring a charming bull nose ring. We love the styling that looks both edgy and a little boho. 
Celebrities Rocking Bull Nose Rings
Of course, Lady Gaga, who we firmly believe will try anything once, rocked the septum piercing with a curved barbell studded with gems. She is proof you can make it both glamour and rock depending on the styling.
Candice Swanepoel paired a lovely, bright white gold bull ring with a very fashion-forward layered look.
Lots of mismatched earrings and a chunky layered look would have been great. But the addition of the septum ring added a bit of bite to the already fierce style.
Finally...
A bull nose ring is such a unique accessory with a long-standing history. We think this type of piercing is perfect to accentuate femininity while making a statement of personality.
We made sure to include in our list bull nose piercing rings as well as clip-on options; this means that even if you don't have your septum pierced, you can still wear a clip-on bull bullnose ring and no one will notice the difference.
Time to shop ladies!