Men / Mix / Personalized
10 Engraved Bracelets that Every Guy Will Love!
Jewelry has classically been the domain and love of women. While no period in history saw men reject jewelry altogether, there is no denying, women tended to wear the bulk of it. Of course, jewelry of all types has been an iconic part of the ruling classes. From the pharaohs of Egypt who wore jewelry as part of ceremonial celebrations as well as for their burials to the high courts of Europe, men in all manner of jewelry are not unheard of throughout history.
But those are the great men of wealth and power. The every day Joe was not always so blinged out. In fact, throughout most of history, jewelry was a luxury reserved for the upper classes outright.  A family signet ring or pendant might be passed down from father to son. A bride may come with a dowry that includes a few gold jewelry pieces or else a strand of pearls but jewelry was few and far between for the common folk well into the seventeenth century.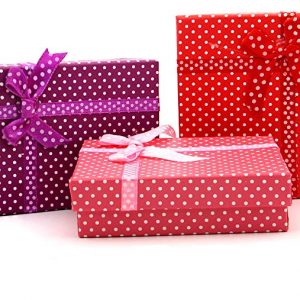 By the eighteenth century, production methods and materials availability moved the jewelry from the heads, hands, and necks of the rich to the common folk as well.  Costume jewelry trends emulated the adornments of the rich and famous, turning it into affordable options for more modest means. Men began sporting rings beyond just their wedding bands.  Necklaces, picture lockets, pocket watches, and small pins were a common sight on any well-dressed bloke through the Edwardian and Victorian periods.
However, by the early twentieth century, no man's ensemble was complete without a timekeeper of some sort.  Tie pins, hat pins, brooches, and chains were considered must-haves. Women's jewelry, of course, stayed far more complex in design and flashiness, but both genders could sport some level of bling.
With the exception of watches and a handful of necklaces, the trend faded by the late twentieth century. These past two decades of the new millennium have seen a resurgence and even encouragement toward men wearing more jewelry.  Most exciting to us is the hot trend of bracelets.
Name a male super-celebrity and there is probably a paparazzi shot of him wearing a bracelet or twelve. Layered looks with a wide variety of materials and textures are ultra-trendy on male wrists today. Mala beads and red string bracelets are paired with leather cuffs and engraved bracelets to great success.
We have decided to create a list of our ten favorite engraved bracelets we think any guy would wear proudly.
Our Top 10 Picks!
1.Dual Tone Personalized ID Bracelet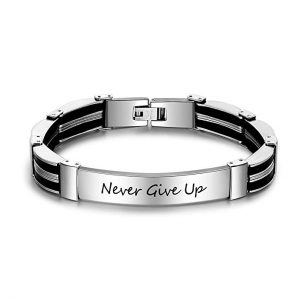 Offered by Lam Hub Fong, this ID style bracelet features a silver and black tone stainless steel is an elegant addition to a bracelet line up.  The bracelet is a broad link style bracelet. It features subtle stripes of silver slashing through black stainless steel. It will add texture and weight to a look without being overly heavy or flashy.  
The makers offer one line of engravable text in a casual font. It does not leave a plethora of options but one line does leave room for a short phrase of encouragement, a religious text reference, or a name. This makes it a wonderful gift for a new father. Engrave it with the name of his new infant son or daughter and watch his heart soar when you gift it to him.
It is also perfect for grandfathers. If they have more than one grandchild, have it engraved with the first initial of each one.  Bonus points if you can get it to spell a word!
We also love this for a celebration bracelet. Select a significant date in your life and have that added to your bracelet. It might be an anniversary or the date of a major accomplishment professionally or personally. This will give you a constant reminder of that special day in your life. Additionally, it will be a conversation starter so you can share your celebration with other folks.
2. Layered Leather Bracelet with Engraved Bar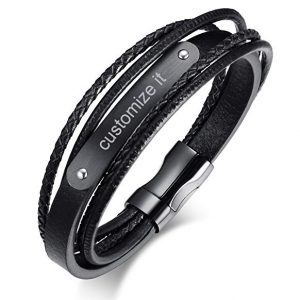 Right now men's bracelet styles lean hard into the layering.  Several bracelets of varying materials and textures all combined have been spotted on everyone from Chris Hemsworth to Colin Farrell. This personalized bracelet is almost tailor-made for that type of look.  Bands of leather combine with braids of the same. All of it join together with a single clasp.
The widest strap of leather has your choice of a gold or black stainless steel plate screw mounted on. This is engravable with up to twenty-five characters in your choice of eight different fonts. We always appreciate makers who offer font choices as it makes it feel just that much more personalized. Of course, the engraving is wonderful but the more elements you can have in a personalized piece, the more it feels as if we are the designers.
We believe this would be a wonderful gift from groomsmen. Engrave it with their initials or name to really make it unique to them. We do caution against using your wedding date as the engraving. While it is one of the most important dates in your life, the siginficance of that date may be lost over time to your groomsmen.
This is also a great bracelet to be shared by brothers. Especially if life keeps you living distantly, a brothers' bracelet can help you feel close to one another. Engrave this with a short message of brotherly love.
3. Engraved Brown Leather Strap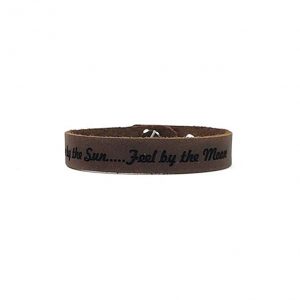 This is a wildly simple and stylishly uncomplicated leather strap bracelet.  Brown rough edge leather with two silver snaps will wrap around your wrist. That's it. No stylized clasps or beaded, bejeweled metalwork. Just a strap of raw finish leather and your engraved message. It is as straightforward as it gets but we love it for its simplicity.
This leather engraving allows for forty characters in your choice of four fonts. That gives quite a bit of room for a motivational quote or a name and birth date. Where the true personalization comes in is through the regular wear of this piece, though.
As you or its recipient wears its, the leather will smooth and burnish. The wear pattern will add a one of a kind patina. That is one of the most beautiful things about leather. Not only does the material start unique, with its one patterns and textures, but your wearing of it will shape it to you. The leather will, inevitably, garner small scratches, bruises, and stains. Typically this would be a detractor. But for this leather cuff, it will develop personality and memory. We love this!
This is a wonderful piece for someone with an active lifestyle. Leather is notoriously durable and hearty if cared for properly. It will work well as a solo piece or coupled with other bracelets in a layered look. Great for someone who is particularly outdoorsy or prefers a rather down to earth style aesthetic.
4. Rubber Watchband Style Bracelet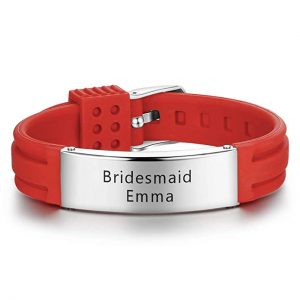 We love this one for all the options. A rubber watch band holds a stainless steel engravable bar. Choose a black, yellow, blue, orange, red, or grey band. Then pick your preference of silver, black or gold-toned steel. The engraving offers three lines of up to eighteen characters each in your choice of seven different fonts.  Jewel Ora, the purveyor of this highly customizable piece also allows you to select from special symbols for inclusion: A heart, a cross, the twelve astrological signs, and the medical symbol if you choose to style this as a medical alert bracelet.
The look is clean and modern. It is a wonderful piece to wear opposite a watch. The rubber means it will hold up to just about any abuse you could put it through with little wear and tear showing.  
This is a piece that we do not prefer as a part of a layered look. This is more of a solo piece. Another great choice for a groomsman's gift, it is also great for dads. Particularly if they do work with their hands, the rubber and steel is a better choice to protect it from the daily grind of their work.
5. Leather Watch Band Cuff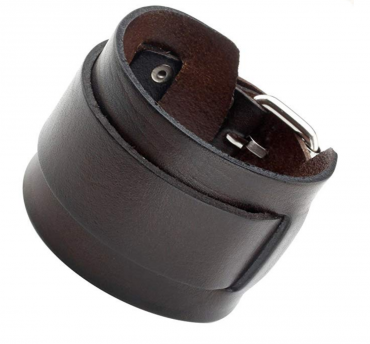 Staying with the watch band style, we do return to leather. This time it is a less rugged feel, edging toward a more refined look.  The finished leather is available in black or chocolate brown with a fawn interior. Finishing stitches are dyed to match the top color of the leather. Your choice of silver or black stainless steel is fixed with leather loops.  
Overall it is a very elegant, masculine bracelet. Three lines of up to twenty characters is available for personalization. Eleven distinct fonts are offered to create the look and feel you need.
We love this for a layered or a solo look. Chris Hemsworth has been spotted wearing something very similar. The piece is a bit chunkier than others available on the market. This makes it a very bold look. The leather and steel is a beautiful combination of nature and industry, a combination typically associated with a traditionally masculine look.
If your guy is not typically a jewelry or bracelet wearer, this is a great choice. It looks and feels like a stylish watch but allows for a personalized touch in bracelet form.
6. Matching Braided Rope Engravable Bracelets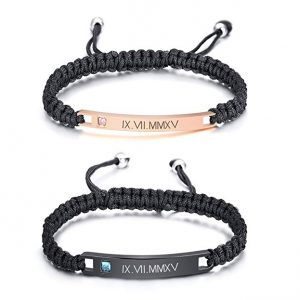 This is labeled as a "his and hers" set but we love this for a father and son set or a brother's set as well. One rose gold toned bar and one black toned bar of stainless steel are each bound to the wrist with knotted rope. Each plate is inset with a cubic zirconia for just a touch of elegance and shine.
You can choose to engrave both the inside and outside of the bar with up to twenty characters per side. The creators offer seven different fonts with which to do this. Choose a name and birthdate. Alternatively, you could use this as a memorial bracelet to commemorate a loved one who has passed on.  Engrave their birthdate on one side and the date of their passing on the other.
We also adore the survivalist touch on this one. In a pinch, the rope of this bracelet could be unraveled for emergency use. The knot style means you have a a signficant length of rope when unknotted. Typically made of paracord we like this smaller, lighter weight rope for the purpose of the styling of this bracelet.
7. Cuban Link Engravable Bracelet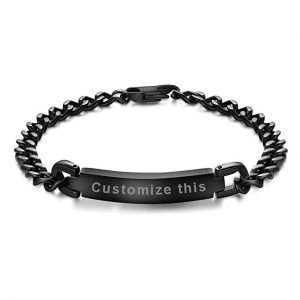 This is probably the pinnacle of "classic" men's bracelets. Potentially topped only by the presidential style link bracelet, the cuban link features a heavy loop chain, hammered to lay flush against this skin. It holds a beefy engravable plate to personalize the otherwise traditional bracelet.
Select from black, silver, rose, or yellow gold-toned stainless steel. Two lines of text of up to twenty-two characters are offered for both the inside and outside of the bar plate. Eight classic fonts are avaible to choose from.
In every way this is a daily wear piece. It is substantial enough to wear as a solo piece. Hugh Jackman and Kanye West have both been spotted wearing cuban link bracelets as they go about their daily lives. It will also look great as part of a bold layered look, choosing a wide variety of shapes, weights, and materials for both hands. This has been a styling trend on the runway most recently. So you or your guy can channel their inner model with this piece.
8. Braided Leather Engravable Bracelet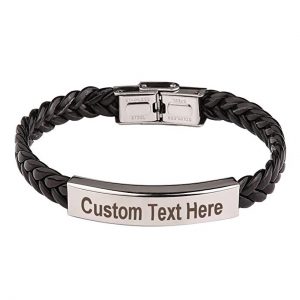 Leather makes its return to our list in yet another version. A leather plait, or braid, wraps around to join an engravable steel bar plate. A safety clasp in silver finishes the rather polished bracelet.
The creators offer leather in black, brown, red and rose. While a slim single line with only eleven characters available, you will be slightly limited to names and dates. However, there are thirteen fonts available. Several of them are classics but others are very fun with adorable details that take your short message to a whole new level.
This is a great piece as an anniversary present. Engrave it with your anniversary date and do not be afraid to choose one of the colored leather braids for your guy. It will add a wonderful pop of color. Red is considered a lucky color and what guy could not use a bit more luck. If you so choose, grab a second one for yourself for a matching pair in coordinated or matching colors.
9. Tiger EyeBracelet
Beaded bracelets have long been the rage among men's jewelry fashions. Be they prayer beads or elements of texture to a layered look, Leonardo DiCaprio, Chris Evans, and pretty much every rock star ever routinely wear beaded bracelets. This find takes it to the next level, combining tiger eye beads with an engravable bar plate for personalization.
The adjustable bracelet allows twelve tiger eye beads to frame the personalized bar of matte finish stainless steel. Two more beads cap the adjustable ends of the bracelet. Thirteen different fonts can be selected for the single line of up to twenty character. The rope base of the bracelet keeps it lightweight and fluid on the wrist.
Tiger's eye is a natural mineral tat is incredibly reminiscent of wood. The layered rock features colors of brown, sepia, caramel, and taupe with flashes of reds and golds that add depth. We adore the wood feel of the stone beads. It is an interesting textural element we really appreciate.
This is a wonderful bracelet for a guy who loves nature but may not be big on jewelry. The smooth stones are a wonderful introduction into a regular jewelry wearing habit while the personalized bar gives him even more reason to love the piece.
10. Hidden Message Leather Cuff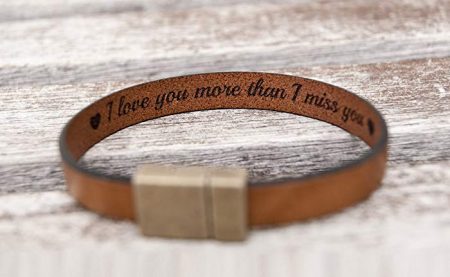 Our final find is another simple leather cuff, this time featuring a zamak clasp as opposed to snaps. Raw-edged brown leather is all you will see when this bracelet is being worn. It is traditional, walks the edge of masculine and feminine stylings, and simple.  Great for pairing with just about any layered look.
The best part of this handmade bracelet is the secret message engraved on the inside of it. Six leather colors are available and the Portugal based artist, BeGenuine, will engrave your hidden message in your choice of fonts. You even get to choose from silver or bronze for the clasp color.
We love this as a couples gift, either just for one or order a matching or coordinated set. A special way to say I love you just for the two of you. It is also a wonderful memorial bracelet. Choose a saying or phrase that reminds you of your lost loved one and keep it close to you and just for you. To everyone else, it is a stylish leather cuff bracelet. But you will know its secret and that makes it all the more special.
Wear What You Love
For most of this post, we have discussed men wearing these bracelets. These bracelets are definitely geared toward a traditionally masculine style aesthetic.  However, here at Jewelry Jealousy, we believe you should wear what you love, no matter who it is supposed to be "for."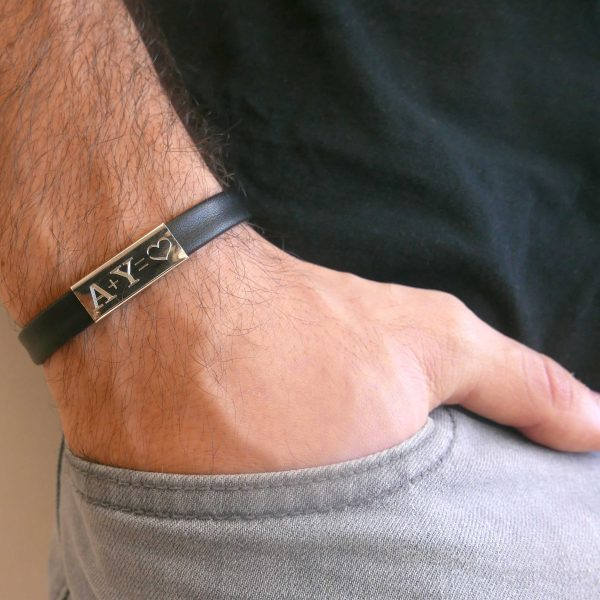 Even if you typically wear a more feminine look but adore one of these bracelets, buy it, customize it and slay all day.  Just because it says "Men's" on the label does not mean you cannot wear it if you do not identify as a man. Wear what you love and let no one say otherwise.
History of Engraving
Engraving is the process of cutting into a surface to create a pattern, design, or picture. A multitude of surfaces can be engraved from metal to wood to leather. Even glass etching is considered a form of engraving.
Humanoids have been scratching designs and patterns into surfaces for the last five hundred thousand years, give or take. Etched and engraved shells were located in Java, Indonesia at the Trinil site. Consequently, this is also the site of the discovery of the earliest known Homo Erectus settlement.  
Examples of engraving techniques have also been discovered on a fragment of ostrich shell in South Africa. These samples date back to 60,000 BCE. Carving and engraving on shells, bones, and ivory begin to dot the historical timeline around this point. Metal engraving begins to appear around the first millennium, BCE.  Even then the techniques managed to produce only shallow lines in soft metal jewelry pieces. They were only details and not significant features in the designs. However, they are repeated patterns so archaeologists are as certain as they can be the designs were intentional and not a result of age or damage.
By the first century CE, the technique had refined and early Roman jewelry and pottery featured engraved designs. The earliest examples of significance in large urban centers make their arrival sometime in the fourth century in places like Rome.  These earliest examples of engraving tend to depict Greek and Roman mythologies. Thus it is a little unclear as to whether the artisans were actively working in the urban centers en masse or if the art had simply been transported there as a spoil of war.
Nevertheless, it was important enough to either make or bring home. The trend spread like wildfire and the art began to develop.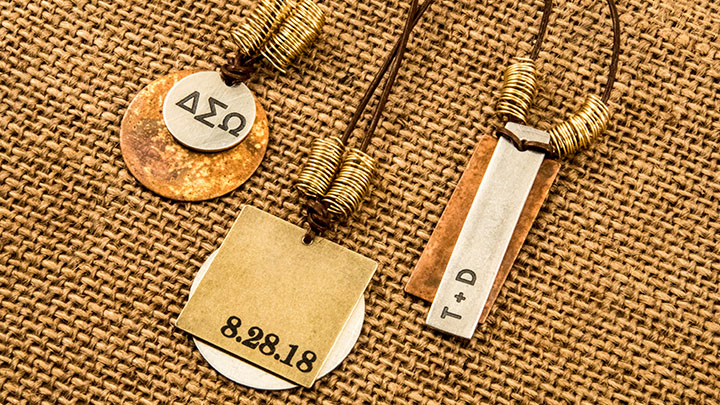 In its earliest practical uses, it was an important form of printmaking. Engraving was used to quickly and somewhat easily replicated prints for publication, maps, and pictures for distribution. An artist's rendering would be painstakingly carved into a slab of wood. This would then be painted with ink or paint before being pressed onto a sheet of paper or cloth. The wood slabs had a limited life for reuse as the ink would begin to fill in the finer details and repeated pressure from the press would destroy the image after repeated use.
Until Gutenberg's moveable type press was invented in the 1440s, the only way to reproduce a book was either copying or illuminating by hand or engraved pressing. Even with the engraved wood slabs, the "speedy" way still took many hours of painstaking craftsmanship.
By the time Gutenburg's press really started to take hold in bookmaking, engraving was slowly replaced with etching. The process of etching was quicker and far more durable. Engraving had faded from practical use by the sixteenth century. The exception to this was music. Music continued to be printed via engraving primarily through the nineteenth century. Some versions of engraving combined with lithography carried on through the late twentieth century. It was not fully supplanted until the 1990s when digital printing became cheaper and efficient enough to replace the old engraved standards.
However, engraving endured in jewelry. Etched gems date all the way back to antiquity with examples found in Rome, Egypt, China, and India.  Gemstones, often uncut and unpolished by today's standards, were carved with intricate designs, faces, and scenes. The art form is known as intaglio and was a popular jewelry element through the nineteenth century.     
Many of the ancient cameos we see, particularly those of Greek and Roman origins, are examples of intaglio. Many royal seals and letter stamps of royalty across Europe were, in fact, engraved gemstones.
Today most engraving is relegated to the jewelry and keepsake industries. Christmas ornaments and picture frames are routinely custom engraved. As to are bracelets, rings, and pendants. While it may have been a high artform at one point in history, it is still a wonderful way to add a very personal touch to a gift.  
Caring For Your Engraved Pieces
Many of these on our list are mixed materials pieces. This always presents a unique challenge in cleaning and caring for your pieces.
Any engraved metal surfaces should be regularly wiped down to remove oil and grit. Even high-dollar platinum and titanium pieces can be prone to scratching if not cared for properly. If the piece is all metal, be it stainless steel or gold, an occasional dip in warm, soapy water and a thorough job of drying the piece entirely we go a long way to preserving the shine and integrity of your piece.
It should be noted that we do not recommend jewelry or silver cleaners, particularly for engraved pieces. The commercially available cleaners often include grit that is likely to damage your jewelry better than it will clean it. Yes, it will shine it up but over time it will wear away at the surface of your jewelry, exposing it to worse damage over time.
For pieces featuring leather, a regular wipe down is a must. As is conditioning it with a restorative oil such as mink oil or neatsfoot. Leather and water are not friends. Leather's absorptive nature mean that regular or prolonged exposure to water will cause it to swell, puff up, and eventually begin to crumble. Do not wear your leather pieces in the shower or while swimming.
While it will encounter moisture from your skin, this is also combined with oil that will help smooth and burnish the leather over time. However, straight up water can and will damage your leather piece if not allowed to dry completely.