Best Moissanite Engagement Rings Selection
last updated:
Mar 09, 2020
Want to buy a moissanite engagement ring, that will go perfectly with you moissante earrings, but not sure where to look?
Commonly referred by scientists as a gemstone born from stars, moissanite is a mineral sourced from silicon carbide. Natural moissanite is extremely rare.
What we have today is laboratory-created moissanite particles synthesized to yield one of the world's most sparkling gemstones that shines with brilliance, luster, and fire that outshines even a diamond. Yes, you heard us right!
Over the years, moissanite has captured the hearts of many for so many reasons. It is gorgeous, super sparkly, and extremely durable.
Yet, moissanite, which is strong as a diamond, is available at a fraction of the cost.
And since these gemstones are lab-created, they are a better choice for conscious customers as well as the environment.
Best Moissanite Engagement Rings
1

. DovEggs Heart Arrows-Cut Moissanite Engagement Ring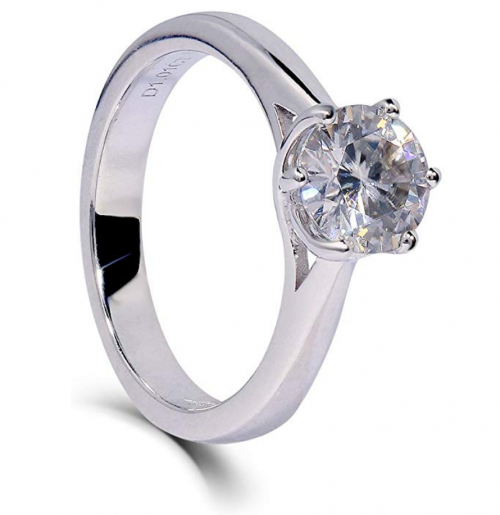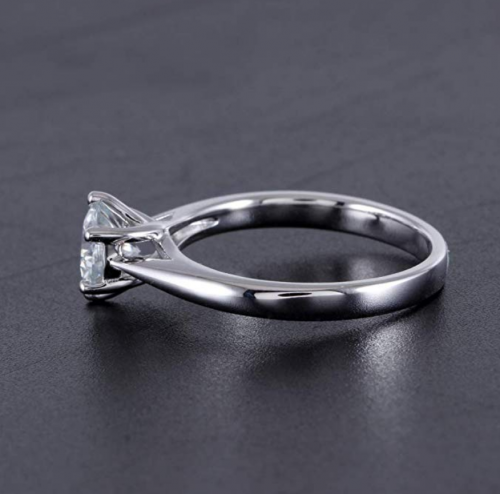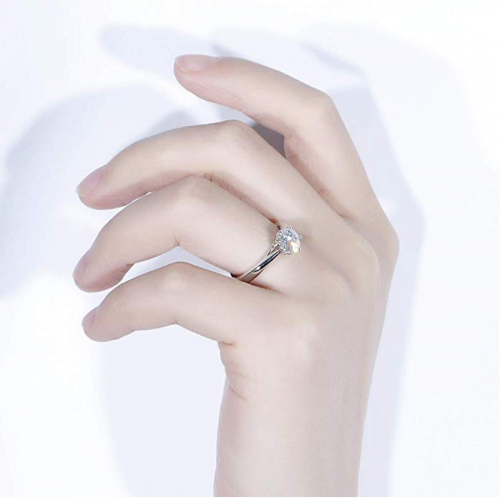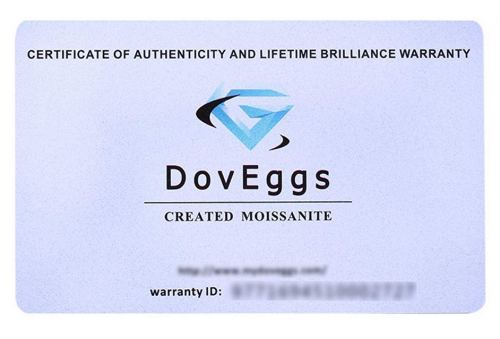 Made of platinum-plated sterling silver
Features a 1.00ct round-cut moissanite stone
Comes with a certificate of authenticity
Our first pick is a gorgeous piece of statement jewelry that is all about highlighting the beauty of a moissanite gem sitting brilliantly at the center. The gemstone takes all the glory and we love it.
Read more
The stone, which weighs about 1.00 carats, is probably the first striking detail you will notice when you see the ring.
It gives it a classy and feminine appeal, and it sure does set off a heartwarming sparkle that will make her fall in love with it instantly.
The round-cut moissanite stone stands out brilliantly and is held in place in a prong setting.
The shank is fashioned from platinum-plated sterling silver. It does not contain nickel so, expect no allergic reactions or skin discoloration.
We love the extra shine emanating from the sterling silver as it complements the gemstone quite well.
If you love the classic solitaire engagement rings, then this round cut platinum-plated option will be an excellent choice that comes with a reasonable price tag.
Be assured that you are getting the real thing as it also comes with a certificate of authenticity from the seller, backed with a 30-day return policy.
2

. Jeulia Heart-Cut Moissanite Engagement Rings
Made of gold-plated silver
Features a primary moissanite stone and 36 round-cut stones on the side
It's customizable
Elegant, romantic, and sweet, this moissanite halo heart-cut gold ring is a stunner! If you want to make a statement of love, we highly recommend this gorgeous engagement ring by Jeulia.
Read more
Moissanite gems have never looked this gorgeous on a ring. We love the detailing showcased in this piece, particularly the way the gems have been positioned around the shank. The design creates a lovely optical quality that is sure to win her heart.
It's crafted in gold-plated sterling silver, which serves as the main structure. The showstopper is the heart-cut stone delicately wrapped in a glittering halo frame of round-cut moissanite stones, while the rest of the gemstones sparkle on the shank.
The ring features a diamond white, primary moissanite stone of 0.8 carats measuring 6mm. It has 36 side stones with a total carat weight of 0.25ct cut in round shape.
Now get this; not only do you get a gorgeously designed ring full of sparkle, but you also get multiple options for personalization. You can engrave it with anything, a date, a name, a few words of love.
In addition, the designer allows you to choose the metal color as well as the stone color. It just doesn't get better than that!
This ring is highly-priced, but we really don't mind because the moissanite sparkle is simply to die for. It gives you a valid reason to spoil that special lady in your life or even yourself.
3

. 6Grape Moissanite Diamond Wedding Band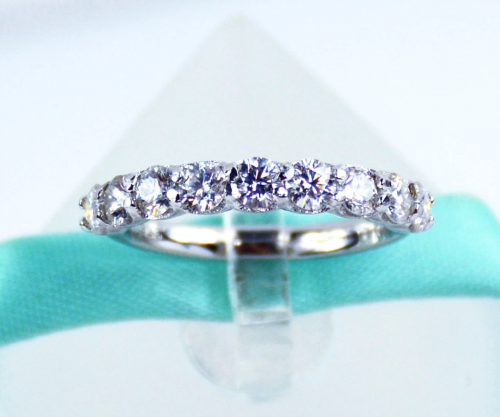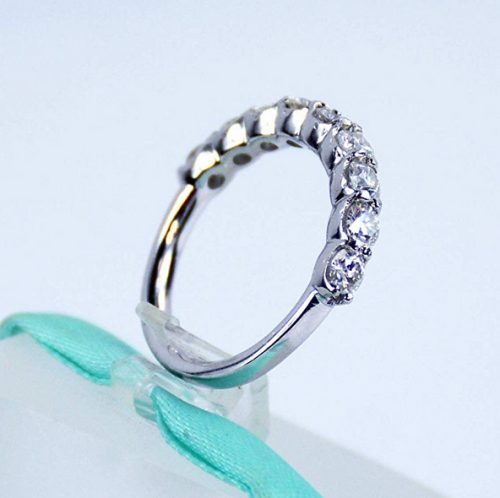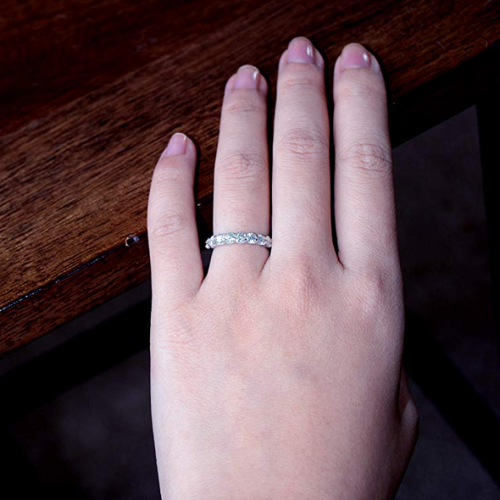 Features genuine moissanite
Made of sterling silver, plated with platinum
Available in different ring sizes
Our next pick showcases moissanite's sparkle at its best. This is a stunning eternity band surrounded by dazzling gemstones. It would make an excellent choice for an engagement ring as well as a beautiful wedding band.
Read more
The lovely ring is made of sterling silver and plated with platinum. We love silver because it's super shiny and feels smooth on the skin.
The platinum-plated finish, on the other hand, adds strength to this ring and also gives it a tarnish-free finish.
We guarantee you that this is ring absolutely safe on the finger and comfortable to wear on a daily basis.
Moving on to the crowning "wow factor." This stunning piece features 0.90 carats moissanite gems with a very good cut.
They are positioned all-round the circle giving the band an excellent continuous sparkle.
The moissanite stones have been cut into a round shape and set on the band in a shared prong setting.
We love the attention to detail and the sparkly rainbow effect emanating from the moissanite gems.
It's also an excellent choice of an engagement ring if you are on a budget because it's upper affordable.
4

. Charles & Colvard Moissanite Milgrain Eternity Band
Band crafted from 14K white gold
It's a stacking ring
Comes with a 60-day return policy
This is a one-of-a-kind eternity band that suits anyone. we just think there is no girl out there who wouldn't be happy with this piece on her finger. Obviously, we love the sparkle, but we must admit we also adore the simplistic design of this fine jewelry.
Read more
This choice is a welcome break from your usual moissanite engagement rings. It's just impressive how the designer made this ring to seem simple, and yet, there is nothing simple about its structure.
It features alternating shapes, and each is delicately centered around a sparkling gemstone.
The seven round-cut moissanite stones are the crowning details for this piece and look fantastic along with the solid 14k white gold band.
The intricate details add a contemporary twist to it and transform what would have been a classic piece to a uniquely modern moissanite engagement ring.
It features a domed design, which means its stackable and does stack pretty well with other bands.
The price tag for this colorless moissanite ring is on the upper side, but for a piece that's backed with a 60-day return policy, it might actually exceed your expectations.
5

. Jeulia Princess-Cut Solitaire Moissanite Engagement Rings
Crafted from gold-plated sterling silver
Features a 3.5ct moissanite stone
Available in three different metal colors
Here is another stunning piece by Jeulia where gold-plated sterling silver meets a princess-cut solitaire moissanite stone to create a ring that is pure class.
Read more
This pick works well as wedding jewelry and as a ring to be given for special occasions (we're thinking anniversaries boys!). And if you are getting it as an engagement ring, then we're sure there will be tears of joy, our word!
Let's start off with the moissanite stone weighing an astonishing 3.5 carats. If we say that this sparkling gemstone that takes center stage for this ring is big, then that would be an understatement.
It's incredibly huge! It's the first thing you will instantly notice in this fine jewelry.
The shimmering stone features a princess cut and sits in place in a traditional four-prong setting. The shank is crafted from gold-plated sterling silver, which gives the gemstone a lovely backdrop.
The presence of the sterling silver accounts for the beautiful shine which looks fantastic alongside the stone's sparkle.
It also gives this ring a super smooth finish so you can be sure it will feel great on her finger.
The designer gives you an option to customize the ring by engraving it with a date or a name or a couple of words for a sentimental message.
We also love the fact the designer allows you to choose the metal color. You can go for silver, or yellow, or rose gold.
This is one of the most expensive options on our list, but what you are getting in return is totally worth the price tag!
6

. GemStone King 925 Sterling Silver Solitaire Moissanite Rings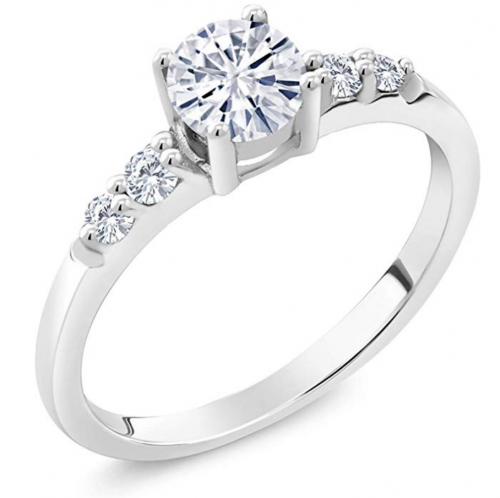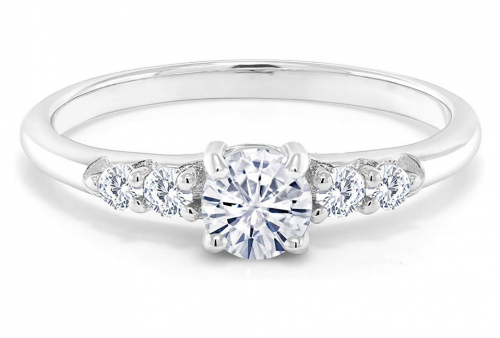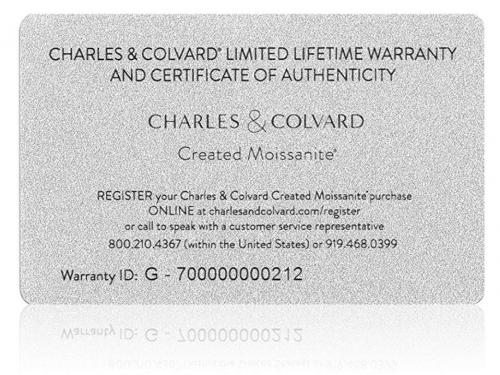 Features round-cut moissanite stones
Created in 925 sterling silver
Here is another classic statement piece featuring a sparkling moissanite stone that takes the center stage. The designer decided to add more sparkle to this stunning piece by adding two similar gemstones on each side of the ring.
Read more
This means that the total number of round-cut moissanite stones comes to six with a carat weight of 0.65. The gemstones are held in place in a traditional 4 prong setting.
This could have been your average traditional engagement ring, but the extra detail certainly makes it unique.
The glittering gemstones look fantastic along with the 925 sterling silver band, which provides a lovely shiny backdrop.
The best part? This option comes available at an affordable price!
It's an excellent engagement ring and also a great gift for anniversary, birthday, Valentine Day, stocking stuffer, Mother's Day, or a thank you gift.
7

. Charles & Colvard Colorless Moissanite Engagement Ring
Comes in solid 14K white gold
Features a well faceted radiant moissanite in solitaire
Backed with 60-return policy
Our next pick features a radiant-cut colorless moissanite solitaire dotted with side accents in 14K white gold. This ring is simply charming and displays perfection at its best. Its a classic piece with a modern twist.
Read more
We can say it has a non-traditional design even though the center stone is held in place in a traditional prong setting.
The designer decided to add more sparkle with two extra gemstones positioned delicately on each side of the moissanite, effortlessly framing it with more dazzle. This brings the total diamond equivalent weight to 0.74 carats.
We think what you get here is a combination of modern and traditional design for an extremely glamorous ring.
You can choose the metal color among 14K white gold, 14K yellow gold, and 14K rose gold.
This excellent piece comes with a higher price tag backed with the 60-day return policy and an impressive warranty.
8

. DovEggs Moissanite Eternity Engagement Ring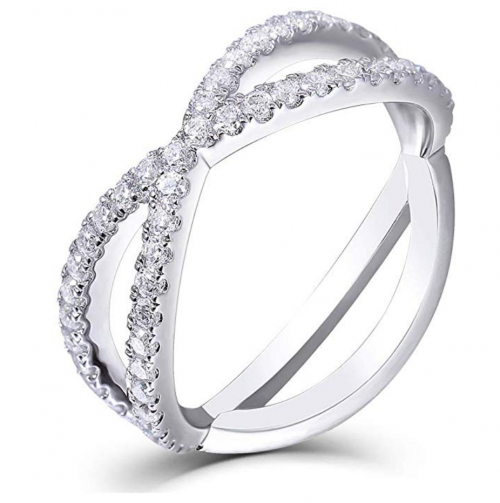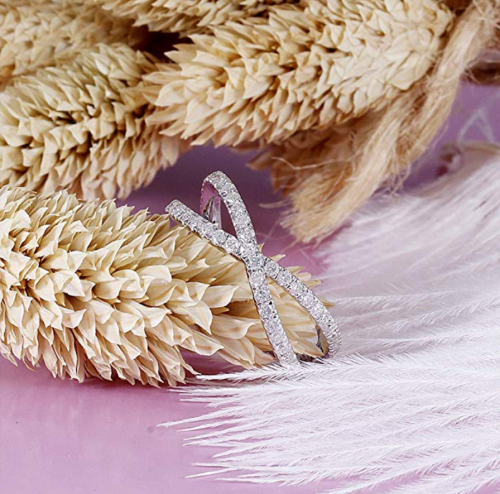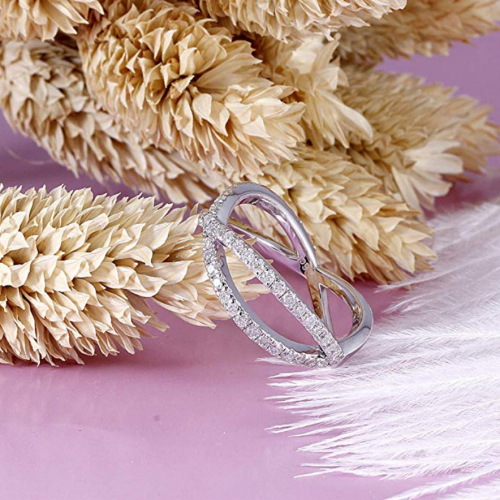 Created in platinum-plated sterling silver
Features brilliantly round-cut moissanite stones
Now this is the true definition of an eye-catcher! It features a highly modern design that oozes glamor and class. This ring right here is an excellent choice for the person who likes to stand out in the crowd.
Read more
Instead of designing a classic band with a single gemstone at the center, the jeweler chose a wider thick band featuring what appears to be a twisted-overlapping design with the two bands crisscrossing each other into a lovely intricate pattern.
To maximize the beauty of this statement piece, the designer surrounds half of the band with brilliant, round-cut moissanite in a prong setting. This beautiful band is created in platinum-plated sterling silver.
The combination of the metal, the unique design, and the sparkle emanating from the moissanite give you a ring that's hard not to spot right away on someone's finger.
So, if you are looking for something different, this would be a perfect choice.
We believe this ring is reasonably priced, keeping in mind what you are getting in return.
9

. Hafeez Brilliant-Cut Halo Moissanite Engagement Ring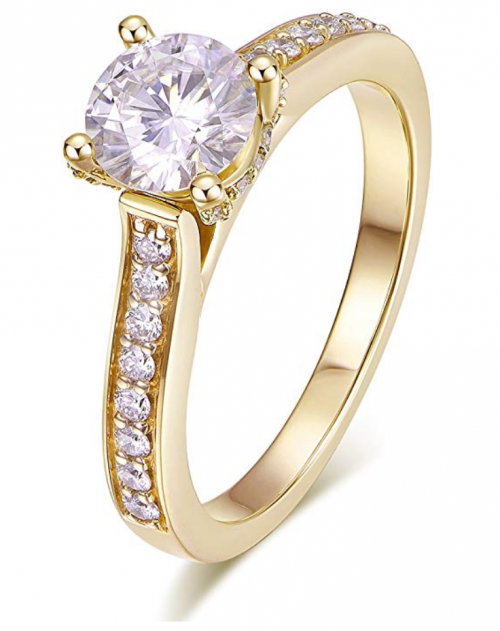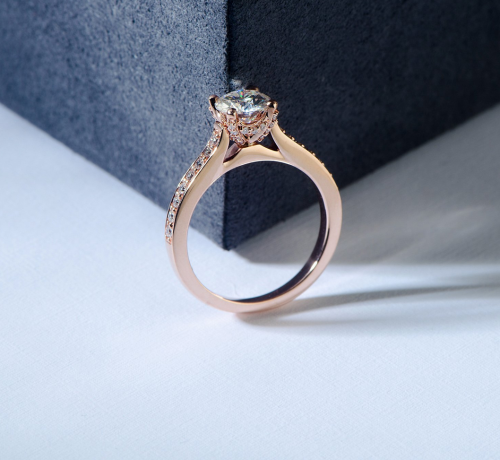 Features a 1.00-carat moissanite stone
Crafted using solid gold
Available in different colors
We just love this dainty solitaire ring that brings all the focus to the round brilliantly cut halo moissanite. This ring is simply gorgeous, and it will make an excellent classic engagement ring. It has a WOW factor that just gets us every time we look at it!
Read more
The round cut is quite attractive, and the elegant pale canary color emanating from the yellow gold gives it an almost vintage feel.
Let's start off with the setting, which is super dainty with a sleek 4 prong setting. It sets the ring at the center with a bit of height.
The sparkle is further extended with the insertion of extra round-cut gemstones in the same setting on either side of the band.
The band was made using a solid 14K gold, which looks fantastic alongside the moissanite sparkle.
The gem weighs approximately 1.00 carats. It's available in rose-gold, white gold, and yellow gold.
If you are looking for a classic statement ring, this one fits the bill.
We're sorry to say this option is among some of our highest-priced picks. But what you get is quality and a lifetime warranty; what more could you ask for?!
10

. Jeulia Moissanite Milgrain Vintage Gold Band
Presented in 14K white gold
Available in the different metal colors
Engravable
If you love vintage-inspired engagement rings, our next ring was designed with you mind. The ring by Jeulia is a lasting beauty amplified with 12 shimmering moissanite stones lined up in leaf-shaped frames. It takes simplicity to another level, yet it's a stunner in its own way!
Read more
If you are looking for a classy but minimalist ring, this is it! It's a vintage band with a slender design that gives it a dainty feminine appearance. It consists of a single band crafted in 14K white gold.
The band is then molded into leaf-like shaped frames that house the sparkling round cut moissanite stones weighing approximately 0.072 ct.
We absolutely love the setting of the stones and how elegant they look against the band.
This lovely little piece is upper affordable. It can be customized by engraving it and you also get to choose among 3 types of fonts!
It also comes with a 30-day return policy and a 1-year warranty.
Criteria for Evaluation
Price
We understand that buying an engagement ring is an incredibly big decision to make, and in most cases, a serious investment. But you don't have to break the bank while at it.
Moissanite is one of your best alternatives to a diamond; its nearly as strong as a diamond and even has a higher refractive index, which makes it the most brilliant gemstone to exist.
Yet, it comes at a fraction of a diamond's cost making it an affordable option for people who are looking for the same appeal and durability that come with diamonds.
Jewelry Metal & Gemstone Quality
An engagement ring should last a lifetime. It's for this reason that we picked moissanite in all our options.
It's one of the most durable crystals. It is eco-friendly and possesses luster, and brilliance that you wouldn't find in any other gemstone.
We mainly picked bands crafted from 14K gold, sterling silver, and platinum-plated sterling silver. These are extremely durable metal options that don't tarnish in time.
They corrode or rust even when exposed to water. Most importantly, these metals are absolutely safe on the skin, so you can count on all our picks not to cause any skin reactions.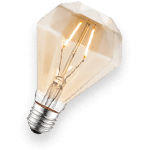 Style tips
Moissanite rings are the latest talk. These fiery gemstones possess brilliance and luster that closely rival diamonds.
The gemstone twinkles and sparkles flashing colored light that is absolutely impressive and almost hypnotizing.
Our awesome selection of jaw-dropping moissanite engagement rings is all the proof you need that you can get a diamond-alternative engagement ring that works for you and comes at a friendly price.
Our list includes stunning pieces in all styles, from statement rings to classic and vintagy options.
Style tips
We listed a good number of classic solitaire moissanite rings. You can never go wrong with a solitaire. These rings are simple and a perfect way to look all sophisticated and classy.
A solitaire engagement ring pairs quite well with a variety of bands. It leaves the band with enough room for extras, and some designers choose to line it with more gems for accents and the glitzy effect.
We also catered for those who love sparkle. If subtlety is not her style, go for halos, extra stones, and don't forget side accents gems.
Let the carats do all the talking. Big and bold rings with extra sparkle and shimmer are gorgeous as long as the lady loves dazzling jewelry.
We didn't leave out women who prefer a non-traditional approach to rings.
Our list includes rings designed with a modern twist such as vintage-deco styles, bejeweled eternity bands, split and twisted shank styles, and different metal colors rather than only going for the classic silvery-platinum color.
FAQs
q:

What is moissanite?

a:

It's a rare mineral sourced from an incredibly durable substance known as silicon carbide.

Because this mineral is rare, what we have today are lab-created crystals fashioned into moissanite crystals through a thermal growing process with the same silicon carbide composition.
q:

Is moissanite a simulated diamond?

a:

No, and neither is moissanite a substitute for diamond. It is a unique gem possessing its own set of optical and chemical properties.
q:

Is it durable?

a:

Yes. Moissanite is one of the hardest gemstones, second only to diamonds. It's scratch-resistant and even more heat resistant than its diamond counterpart.
q:

What are the common shapes for moissanite?

a:

Round cut, oval cut, and cushion cut are some of the most popular shapes with moissanite.
q:

How do I take care of my moissanite rings?

a:

Moissanite can be cleaned the same way you clean a diamond and other valuable gemstones.

Ultrasonic cleaning is recommended for moissanite as with any other fine jewelry with precious gemstones.

You can clean your ring using a non-acid jewelry cleaner. Or, clean with water and mild soap using a soft toothbrush.
Finally..
An engagement ring is a symbol of enduring love and a lifetime bond with your partner that is meant to last forever.
It is one of the finest jewelry pieces in your collection that you are likely to wear every day and for a long time.
So, when you are making a decision on which engagement ring is perfect, you have to consider factors such as durability, style and most importantly the cost.
Diamond rings have been a traditional classic choice, but they are costly. However, we believe that everyone should experience the beauty of owning a beautiful sparkling diamond and should not miss out because of the cost.
Now there is another "forever" gemstone that is capturing the hearts of many these days. It's super gorgeous, sparkly, conflict-free, and comes at a fraction of a diamond's cost.
Meet moissanite, the gemstone that is your best alternative to diamond jewelry! In fact, to an untrained eye, it would be incredibly hard to tell the difference between a diamond and moissanite.
Our fantastic list is enough proof that moissanite rings are quite stylish, and they are available in all shapes, sizes, and styles.
Remember that moissanite is an ethical choice for the conscious lot. Secondly, it's an excellent alternative to a diamond.
This makes it an ideal option for those who want the appeal of diamonds but don't want to dig too deep into their pockets.
Finally, in terms of durability, moissanite is comparable to diamonds. It can withstand the rigors of daily wear for years on end. And it's environmentally friendly!
Time to shop for a moissanite ring as your cart deserves to have one added, at least once in a lifetime!