Our Favorite Rose Gold Engagement Rings Selection
last updated:
Feb 10, 2020
Take a peek at our amazing selection of rose gold engagement rings. Rose gold is unique because of its breathtaking shine and the flair of the rose color against gold, silver, white gold or platinum.
Our selection is stylish and fashionable and can be worn by itself or as part of a stacking ring set.
Rose gold rings make a great gift for any occasion in life, including rose gold rings for weddings, engagement parties, promise rings, Mother's Day, Sweetest Day and anniversaries.
There's something about rose gold that will take your breath away; so will the rose gold engagement rings included in our list!
Our Top 10 Picks!
1

. Pandora Jewelry Sparkling Teardrop Halo Ring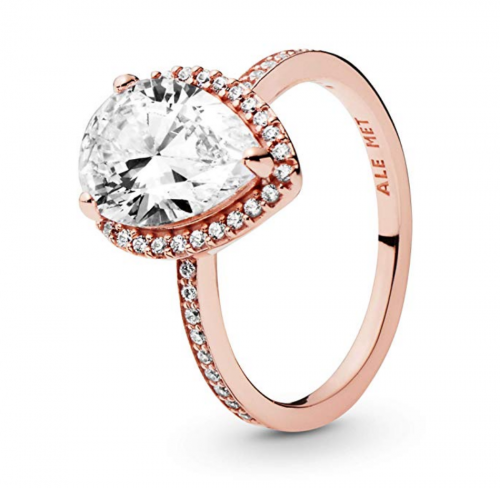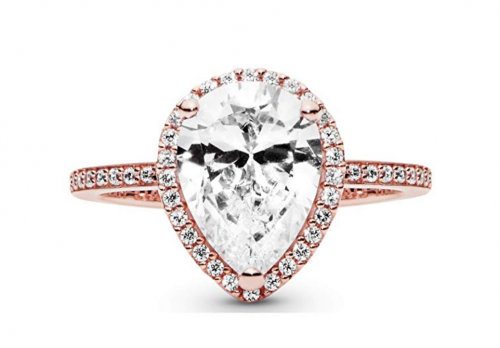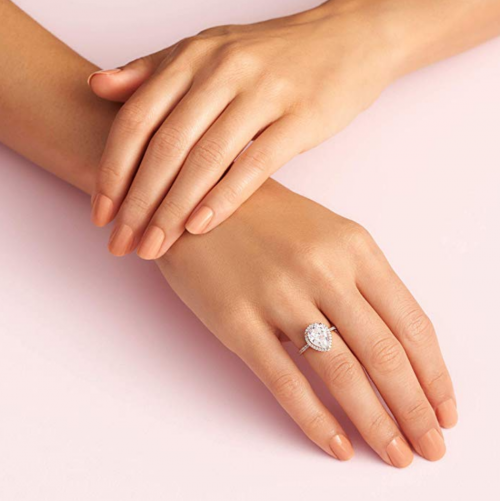 14k rose gold plating
Cubic zirconia
This ultra-glamorous selection makes a sweet engagement ring characterized by a beautiful teardrop solitaire zirconia stone.
Read more
The metal is a combination of silver and copper and this particular combo keeps the ring from tarnishing or losing its shine in time. The ring comes in 14k rose gold plating, making it beautifully sparkling.
Whenever you see the name Pandora, you know nothing but the best gems and metals are used and any of their jewelry is always a gorgeous piece that women will fall in love with at first glance!
Since this is designer jewelry, the price is mid-high, expect to spend a little over $100 for this beauty.
2

. HAFEEZ CENTER Moissanite Rose Gold Engagement Ring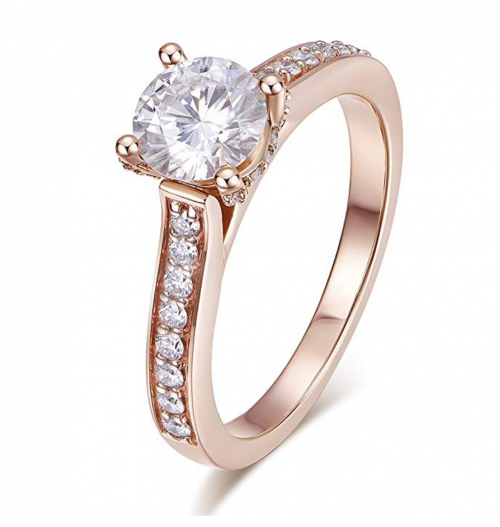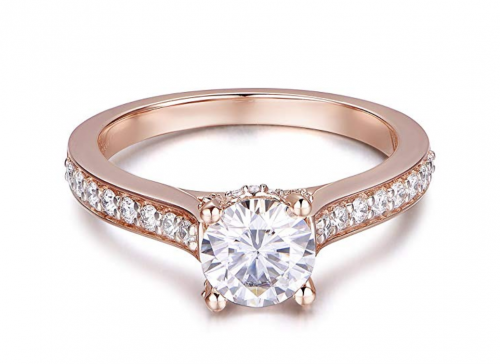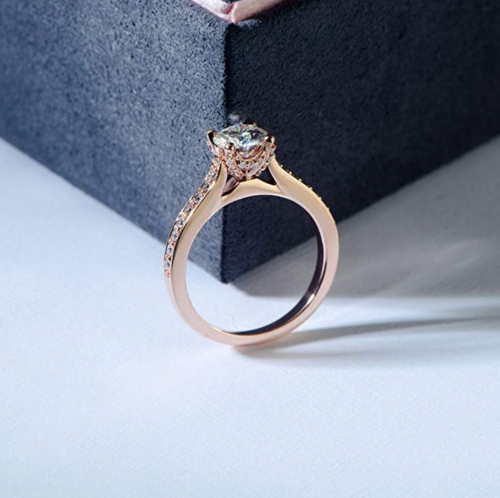 14k solid gold
Moissanite
1ctw stone
This moissanite engagement ring is absolutely sensational! Take a look at this beauty which is a 14k solid gold piece that features 38 sparkling stones, while the center gemstone is a bright 1ctw moissanite.
Read more
This is true colorless moissanite with the highest clarity. The craftsmanship is exquisite with a shine higher than a diamond ring, and the hardness of the stone is pretty much equivalent to a natural diamond. This is by far the most brilliant looking gem on earth!
Even though this is one of the more expensive options on our list, considering the 39 moissanite stones you get, it's worth every single penny.
This particular brand uses recycled gold and conflict-free gemstones made in the US for all of their jewelry!
3

. Pandora Jewelry Classic Sparkle Halo Ring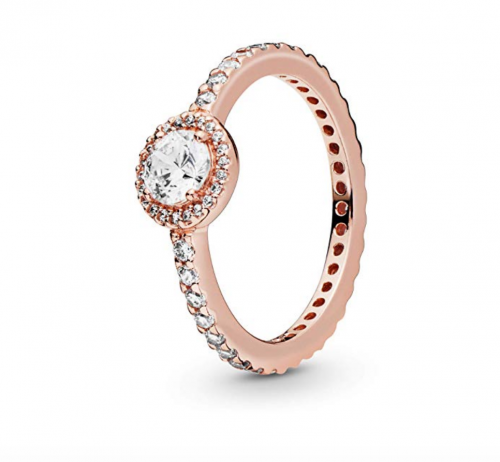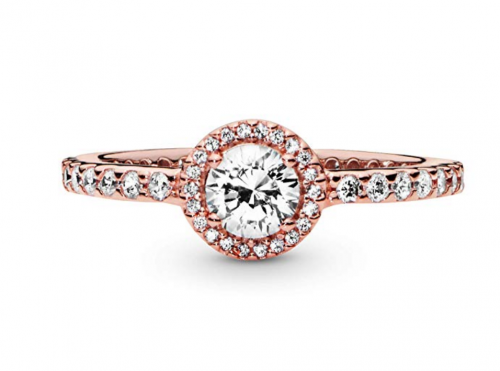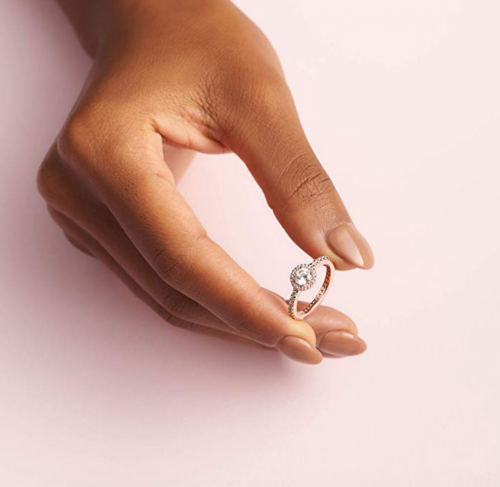 14 K rose gold plating
Clear cubic zirconia
This selection is another halo ring by Pandora that features a round-cut cubic zirconia. The round-shaped central gemstone is surrounded by tiny, super dazzling accent stones which also continue all along the band.
Read more
While the structure of the ring in itself is dainty and classic, the number of sparkling stones makes it impossible not to notice it on someone's finger. This beauty will dazzle every time it catches the light!
The good news is that it comes in 7 sizes, including half sizes, so you will surely find the perfect match for your finger. The best news? It's super affordable!
4

. Gem Stone King 18K Rose Gold White Opal Ring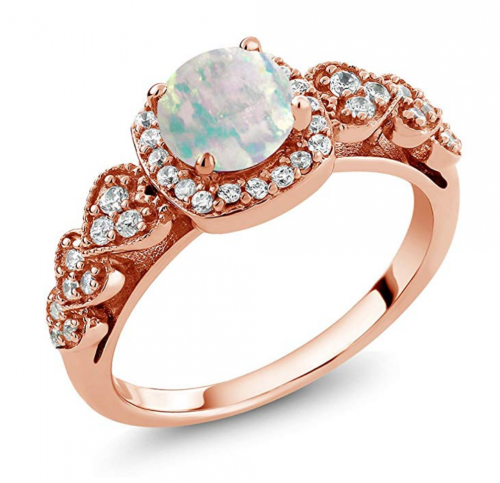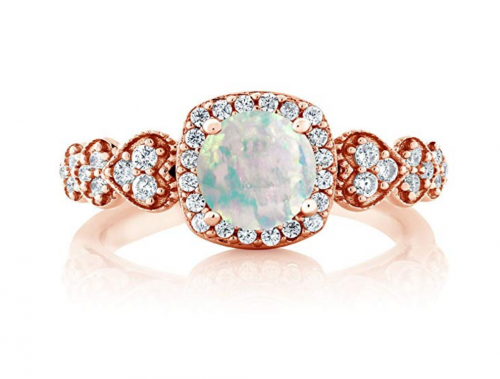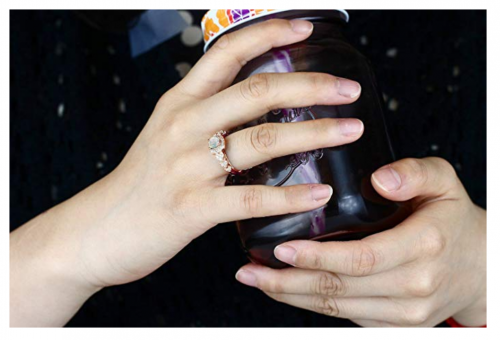 Gold-plated sterling silver
White simulated opal
Cubic zirconias
This vintagy ring is one of the most unique picks on our list. From the intricate design to the astonishing opal which is one of our favorite iridescent stones, this particular ring is not for everyone.
Read more
However, those of you who are looking for something out of the ordinary with a vintage feel, this is your best match!
The white opal is an iridescent round cabochon and measures 6 by 6mm. The total carat weight is 0.62 cttw, and the rose gold-plated silver has a .925 stamp so you know you are getting the highest quality metal.
The opal is surrounded with tiny cubic zirconia stones set into a filigree-modeled band design.
You'll get the ring in a gorgeous gift box and, if you're not happy with your purchase, the brand offers a 100% refund policy!
5

. Charles & Colvard Moissanite Solitaire Engagement Ring
14K rose gold
Solitaire
1 carat
We are pleased to present you with one of our favorite jewelry designers, Charles & Colvard. This ring is simple yet extremely classy. It features a 1 carat, square-cut moissanite in a prong setting.
Read more
The moissanite is nearly colorless and quite large, cut so well it catches and reflects every little glimpse of light. The band is dainty and super smooth, fashioned from 14k rose gold.
It's available in 5 sizes and although the price tag is not very budget-friendly, considering you're getting a high-end piece of jewelry that will last you a lifetime, it's worth the splurge.
You'll get the ring in a cute gift box along with a 60-day return policy.
6

. Black Bow Jewelry & Co. Rose Gold Heart Ring
The Black Bow Jewelry Company is another one of our favorites for good buys and unique designs. This stackable ring has an intricate woven band which makes it different and very modern.
Read more
The milgrain design is well crafted giving texture to the outer edge of the ring, while the inner side remains smooth and polished for a comfortable fit.
It features a 5mm pave heart set with 4 genuine diamonds. The total carat weight of the tiny diamonds is 0.02; just the perfect amount of sparkle for a dainty ring that can be easily stacked with your wedding ring.
A heart-shaped engagement ring is a classic and this one is not only super romantic and cute, but it also comes with a budget-friendly price (less than $100!).
The ring will arrive in a blue gift box wrapped with a black bow; the brand offers a 30-day money-back guarantee on this item.
7

. BERRICLE Pink Swarovski Engagement Ring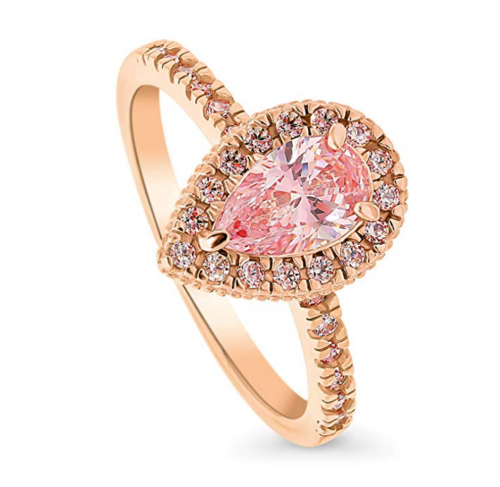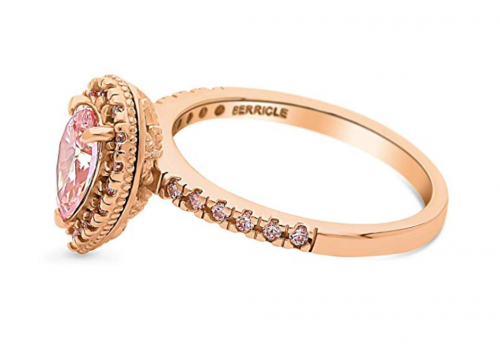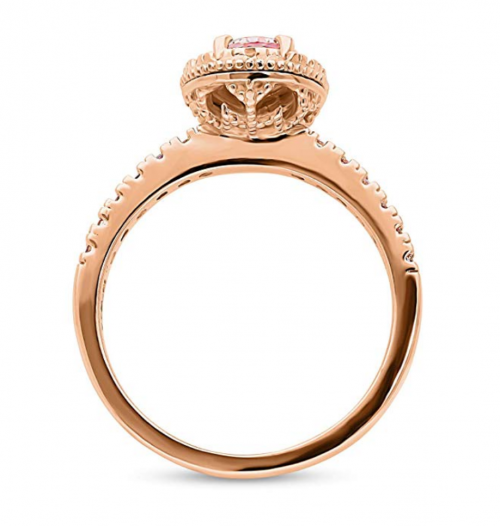 Pink Swarovski zirconias
Pear-cut
Rose gold plated/sterling silver
Our last option is a sweet romantic ring featuring a pink-colored, pear-cut Swarovski zirconia stone. The rose gold engagement ring is crafted from 925 sterling silver and plated in rose gold.
Read more
The teardrop gemstone is cut so well it dazzles from every angle; unlike most of our picks, this one features a 3 prong setting for the main stone while the accent, round cut cubic zirconias are placed in a 4 prong setting.
With this ring you'll get 29 pink cubic zirconias with a total weight over 1 ctw, for less than $100!
8

. Charles & Colvard Accents Engagement Ring
14k rose gold
Colorless moissanite
Now look at this timeless beauty! This rose gold engagement ring oozes with class, simplicity, and elegance.
Read more
Made with sterling silver plated with 14k rose gold, the band features 16 tiny moissanite stones.
At the center of the ring you get a radiant-cut, 0.91 ctw moissanite in a prong setting.
The moissanite gemstone is then surrounded by an additional 26 tiny moissanites set in a halo. This means you get a total of 43 sparkling moissanites with this magnificent engagement ring!
This option is just perfect for anyone looking for a classic, square-cut engagement ring with sparkling, diamond-like gemstones.
Although one of the most expensive picks on our list, we think it's worth the price; this type of engagement ring deserves for you to dig a little deeper into your pockets and we promise you won't regret doing so.
As with all Charles & Colvard jewelry, you get a 60-day return policy.
9

. Ruby & Oscar Cushion Cut Ruby Engagement Ring
Cushion-cut ruby
9k rose gold
Solitaire
Ruby & Oscar bring you another one of their high-quality jewelry designs in the shape of a 14 carat rose gold, cushion-cut ruby solitaire.
Read more
The deep red color of the ruby sparkling against the rose gold makes for a unique piece.
The beautiful gemstone is 7x7mm, so quite large, and 2.5ct in total. The band features a textured design in the shape of a braided rope.
This gives it a slightly extruding shape while the inner side of the band remains polished and smooth.
You get to choose among 5 sizes and while the price tag is not among the most affordable ones on this list, the ring does come with a 30-day money-back guarantee and free insured delivery.
10

. BERRICLE Rose Gold Engagement Ring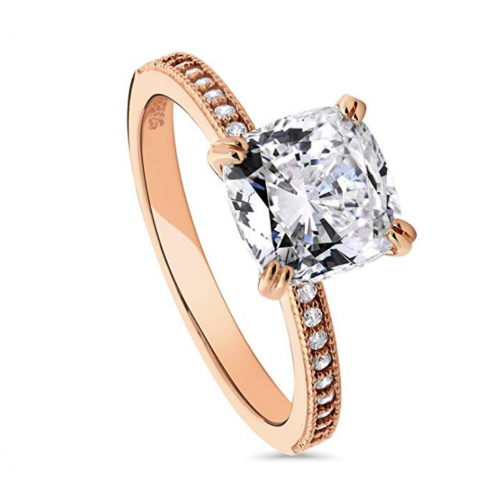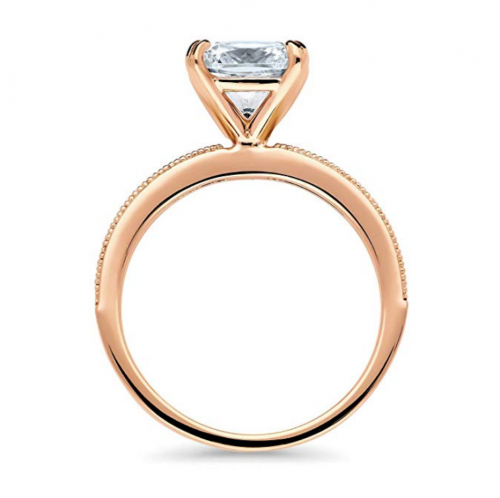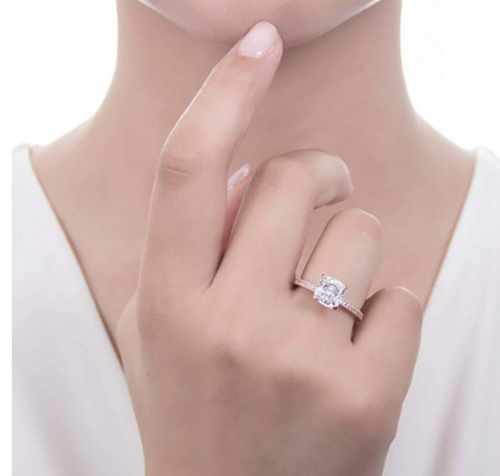 Crafted in sterling silver
Rose gold plated
Gift box included
Berricle's classic solitaire ring is one of the most affordable options on our list and it certainly doesn't look so!
Read more
The ring is made from 925 sterling silver and rose gold plating. The main gemstone is a 3-carat cubic zirconia. The stone is cushion-cut and held in a 4 prong setting.
The band features a filigree design and is accented by tiny round cubic zirconias in a micro pave setting.
The gorgeous ring will arrive in a sweet red gift box and with a 90-day return warranty so you can get a full refund in case you're not happy with your purchase.
Evaluation Criteria
Style
We chose the 10 rose gold engagement rings because each option is beautiful, unique in its own way and not your everyday ring.
Regardless of your personal style or preferences, there is at least one ring on our list that's perfect for you.
Whether you like a more classic gemstone cut, colored stone or dazzling jewelry, browse our list and we promise you will fall in love with one of our favorite choices.
Wear Comfort
We have searched the web for rose gold engagement rings that are available in many sizes and slip on and off with ease. We want people to feel comfortable with their selection.
We looked at the brands, the quality of materials and the ratings each piece received from happy customers.
Customer reviews are important to us and each piece has excellent reviews for comfort and design.
Durability
All of these rings come with either a guarantee or a warranty. We have researched all of the materials used and have found that the metals withstand the wear and tear of everyday life activities.
When it comes to the gemstones in our selection, the choices were either cubic zirconias, rubies or moissanite, stones known for their durability and a surface that's scratch-resistant.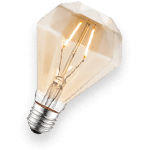 Style tips
Selecting one of these pieces is going to be difficult because all of the rose gold engagement rings look divine with anything you wear. Some of our options allow for stackable rings for accessorizing.
Our favorite options
The pear-cut, pink-hued cubic zirconia in rose gold is one of our favorites. The ruby ring against the rose gold setting is another one of our favorites because the ruby shimmers with the flash of the rose gold. This is another elegant ring that you can also wear for an evening out.
FAQs
q:

Where does rose gold come from?

a:

Rose gold is a blend of pure 24k yellow gold, copper and silver. All gold colors use 24k gold as its base for gold colors. White gold is also too soft of gold to be used in a pure state for jewelry. This is why rose gold has to be blended with other metals to strengthen the gold so people can wear it.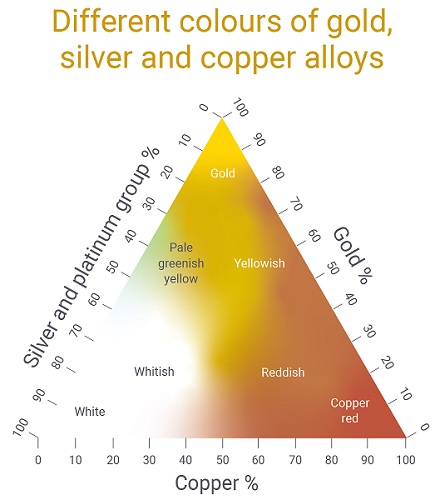 There are many alloy mixtures used to make platinum, white gold, yellow gold, and rose gold. The hue of rose gold depends on how many parts of yellow gold are mixed with copper. If there is a smaller amount of yellow gold and a higher degree of copper, the rose gold appears more reddish rose.
q:

When was rose gold first used?

a:

Rose gold has been used since the early 19th century by a famous jeweler named Carl Faberge. Rose gold was especially used during the roaring twenties for engagement rings and fine jewelry.

Cartier then got into the business and created the , which brought back the interest of rose gold, big time! The Trinity ring was a simple band of the 3 gold colors woven together.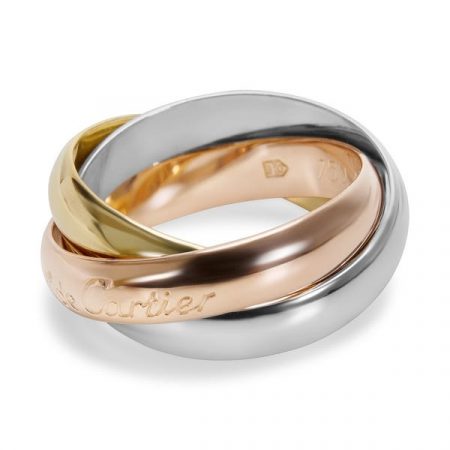 Rose gold is now back on track with simple trendsetters, magazines, social media, and future brides.
q:

How is rose gold portrayed?

a:

Rose gold is a reserved, luminous color of gold and makes for a romantic and elegant engagement ring choice.
Finally...
We hope that everyone enjoyed our selection of rose gold engagement rings. Each piece is absolutely exquisite and well worth the splurge!
All of the customers that have invested in our selection have been very happy with their choice. There is a good 5-star rating on most of the sites which means that 93% are satisfied with their purchase.
We take jewelry seriously and select pieces we know consumers will love. Women love jewelry and that's a fact. There are so many beautiful and interesting pieces in our selection that wear comfortably and look amazing.
Rose gold can be worn with any outfit and these rings look especially smashing at night. This is when the shimmer of the moon hits the gemstone on your band.
The gemstones that are featured in these bands are high quality and with a good cut so you know you are getting a stone that will sparkle and dazzle when hit by light.
Finally, we made sure to include rings for every budget. No matter how tight your budget is, there are options on our list you will be able to afford!