Mix / Rings / Women
The Moonstone Ring Every Girl Should Have in Her Collection!
There is usually this charm that comes with beautiful jewelry, and they are such a delight to behold that you simply want to get yourself one. 2019 has a lot of that in stock for you, and that's just to add something that spices up your looks this year. We have moonstone ring picks to bejewel the finger of every girl.
There is a lot of beauty surrounding the crystal accent used to style the ornament. It creates this illusion of blue clouds with white light and a moonlight sheen.
If you are about to step out for an occasion and need something to complement your hands with a cute look, then get a moonstone ring. Here, we have gone through different articles and found why you should get them, and the ones that will be perfect for you.
Why You Should Choose a Moonstone Ring
There aren't a lot of vintage accessories that still bring their beauty to today's trend. And Moonstone is part of those few that do. They have this vintage feel that comes with a gorgeous look and original build.
There are a lot of them that have been modified with dazzling cuts and set into beautiful materials to complement their aesthetic appeal. It is also available in various sizes for every girl, and you don't need to worry if your fingers are too big or petite.
Like most of the gemstone that we have in our collection, moonstones have been capturing the heart of gem lovers for centuries. With their soft color and alluring sheen, here are is a brief history of the stone.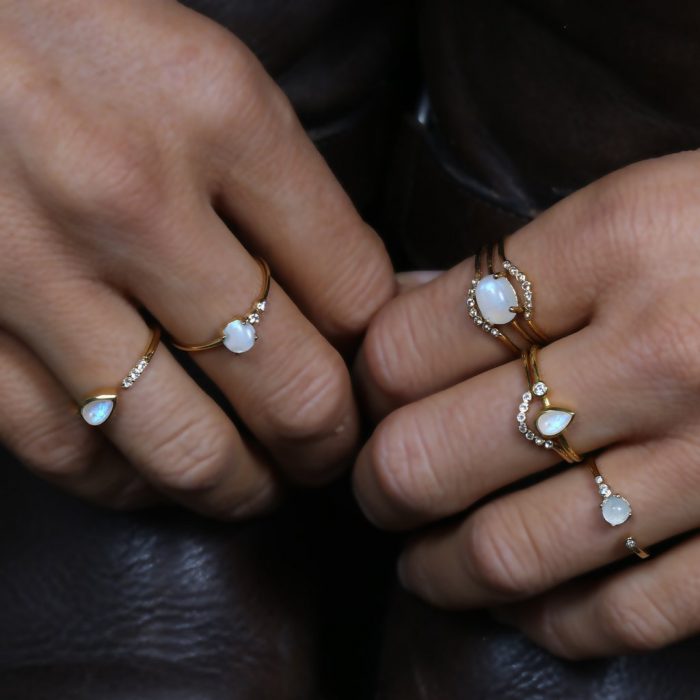 Moonstone is prized for its adularescence which means an optical phenomenon to describe the billowy blue to the white light that appears like a moonlight sheen on the stone.
The first question a lot of people have is that why is it called moonstone. Well, according to Hindu mythology, the moonstone was made from solidified moonbeams.
The Romans also have a similar belief, and together with the Greek culture, they associate the stone to Luna. After, using the stones to honor the 'goddess of the moon' for a while, it was eventually adopted as a fashion piece during the art nouveau movement.
There are also different myths surrounding the stone. Some of them include the fact that moonstone brings good luck and you could see the future if you held it long enough during moonlight on your birth month.
Moonstone was part of the favorite gemstone in the last half of the nineteenth century, and it gave wearers an ethereal look in the 1960s.
Today, moonstone is famous for its unique shape and beauty. It is widely used for hand-crafting several jewelry items and features as the birthstone for June.
We have compiled a series of beautiful moonstone rings for you in this article, and we are confident that you will find them enchanting. Scroll through, have a good look at the properties and have a field day picking the one that appeals best to your heart.
Our 10 Favorite Moonstone Ring Picks!
1. 14kt Rose Gold Vermeil Moonstone – Yonder Glow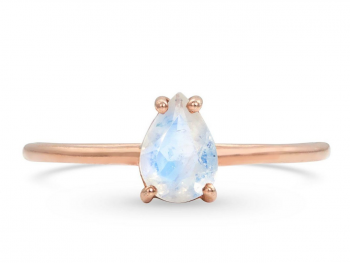 There aren't a lot of pieces that have as much quality as this product. It was genuinely carved from the finest of materials and made with gleaming premium moonstone.
Moon Magic made sure that integrity is top-notch and you can be sure that it will be your best choice for any occasion you choose to attend.
Made with a superior piece of moonstone, the ring has a band formed from one of the best base metal – 925 sterling silver. The materials make sure that your skin isn't harmed in any way even if you choose to wear the ring all day and all night.
There is also a thick 14 kt gold plating, which means it is 50 % better in thickness than traditional gold plating. This combination of perfect crafting makes the ring glow even from afar and turns all negativity away from you.
Additionally, the 7 x 5 millimeters allows it to fit just about anyone perfectly, and it looks gorgeous with its quaint size. You can choose this ring to complement any outfit, and when you buy one, you plant a tree and save the earth.
All these fantastic features don't make the ring expensive, and you can get yours at a very fair price.
Other info: you get a refund within 30 days when you return the ring.
2. 14kt Rose Gold – Iconic Delta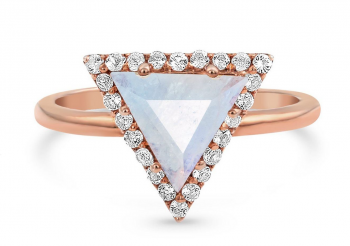 If you love dynamic designs made by combining two aesthetically pleasing materials, then this ring is definitely for you. You will find all the charming features you love in a ring in this one.
Moonstones are symbolic of human existence, so it's like carrying a part of your origin when you wear this jewelry around your fingers.
The premium moonstones sit resplendently in the middle of a band made with 14 kt rose gold vermeil. To make it even more beautiful than it already is, white topaz is embellished in the band at both sides of the moonstone. The jewelry dazzles in sunlight and will attract the needed spark at night parties.
You can wear it with any outfit, and the shape makes it stand out with uniqueness. For gifting, the jewelry comes packaged in a beautiful box that can help you keep it safe or make someone smile at any special occasion.
The price is also affordable, and each purchase you make helps contribute to charity.
Other info: the base metal of the ring was made with 925 sterling silver, and the dimension of the stone is 8 millimeters.
3. Mystic Moon
Spirals are so gorgeous when they are carved with the right set of expertise. Now with a moonstone sitting between these beautiful settings, this ring has a cute look to it.
The ornament represents love and stands as an assurance of finding the perfect one. With the ornate build and fascinating looks, this will be love at first sight for you.
Made with a base metal of 925 sterling silver, this ring has a hypoallergenic feature. There is also an iridescent rainbow moonstone set smack at the center where it can be visibly admired.
All the beautiful carvings used for both sides just makes you crave for it more. And there is no doubt about the quality of the materials used to get this magical ornament.
For those who love to catch as much attention as possible, then this one beckons for you. No nickel, tarnish or lead is available in the composition to give you only the best.
Getting one of these will provide you with a wide array of choices when it comes to dressing since it fits almost all outfits. You can also use it as a gift for Christmas, Hanukkah, and New Year or to celebrate the birthday of a loved one.
Other info: Comes with a free return policy and has a stone size of 3 millimeters. You can order your preferred size when getting one.
4. Squared Flair Ring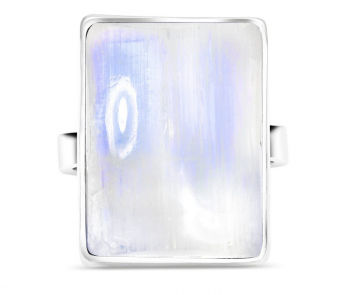 This piece is one of the best products you will find in any store. All the features used in crafting the ring are clean-cut and have this unique quality that makes it the perfect choice. With the characteristic adolescent of the stone and the appealing texture of the jewelry, this will be one of your most prized accessories.
The ring is an exquisite piece featuring a square-shaped iridescent rainbow moonstone set into 925 sterling silver band. All the corners and curves were stylishly designed to reflect beautiful tones of multiple lights. Combined with its pearly glow and entrancing quality, there is so much to recommend in this one ring.
The ring comes in various dimensions, and you can look through the catalog and choose the right one.
Moon magic made the design of the ring simple, but chic. So if you need a ring to gift your loved one this season, then you just might want to look at getting them this stunning pick.
5. 14kt Rose Gold – Poshness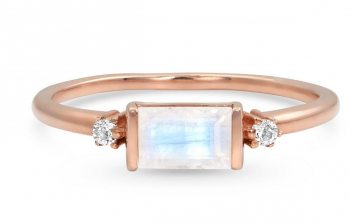 Rings have always been a great way to finish off accessorizing for a beautiful dress. And this moonstone does that and more.
It is a symphony of perfectly blended gemstones to make something that is not only beautiful but grabs a handful of attention with its glimmering effect. Just take a look at its picture. It will be only a matter of time before you are back to order one or more.
Made with a square-cut and genuine rainbow moonstone, the entrancing colors are quite a wonder to the eyes. The stone is placed into a rose gold band that has 14kt rose gold vermeil finish.
Everything about the ring is nicely carved to fit the profile of the energetic and true nature of moonstone. And that's not even all. To make the ring twinkle, white topaz was used on both sides of the stone.
You can't ask for much more than all the features already listed about this ring. Looking at the picture, you see that the stone is a bit elongated to allow optimal energy collection.
If you have a history of allergies, you can still use this ring without worrying about any adverse effect on your skin. The ring is reasonably priced and will add that stylish look that you need to any occasion you choose to wear it to.
Other info: the ring comes in varying sizes and has a stone that measures 0.24″ x 0.16″ (6mm x 4 mm).
6. Eye Wide Shut Moonstone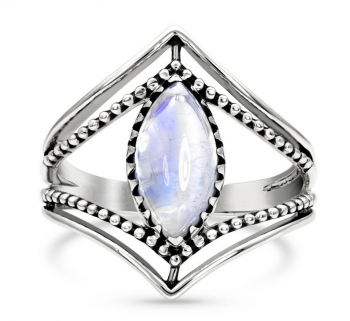 Moon Magic decided to add a little bit more meaning to the already meaningful moonstone ring. They achieved that with this eye wide shut ring. It has a June birthstone set amazingly between two open eyelids, making the stone the pupil. Its boho design is really appealing. The dreamy play of light on a water surface makes it looks phenomenal and a bit ethereal.
Like all the rings in this category, this one also has a moonstone gem and sits inside a 925 sterling silver band. The captivating façade is provided by the marquise cut gem that reflects light
. The stone measures 6mm x 12 mm and fit its profile well. You can get one for yourself to capture the moon's energy with love, guidance, and protection.
With so many alluring charms, you want to get this one. It is also a great idea for gifting during Christmas, New Year, Hanukkah, Valentine and even anniversaries. The ring isn't pricey, and the quality is worth every single that you will spend on it.
Other info: the ring band varies in size.
7. White Passion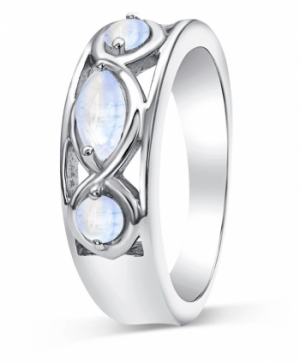 There's nothing better than having a talisman that leads you to your best life. And this is what we bring you from the very best of moonstone rings.
The ring has an infinity-shape to help you discover your soul's true destination. Also, it isn't only full of symbols; it is also rich in aesthetic perfection.
Crafted from premium moonstone and set into a metal band made with 925 sterling silver, the ring contains no compromise. If you have any occasion to attend and you are looking for the perfect piece to accent your fingers, then you certainly want to choose this option.
The whole thing turns heads to your fingers and keeps complement coming your way.
Iridescent is a feature that defines a lot of moonstones, and it means that you will see different colors looking at the same stone from different angles.
This makes the gemstone quite unique and excellent for your fingers. With all its great components, it will make a great fashion statement for your outfit.
Other info: the product is free form nickel, tarnish or lead, and you can get various sizes of this same design.
8. Moon Trance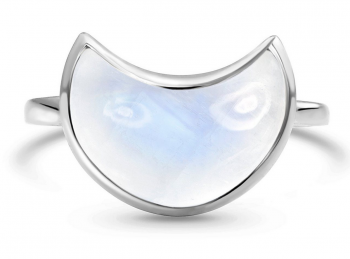 We have seen some pretty fantastic pieces of jewelry in this article and here is another one from Moon Magic.
The ring comes with an excellent design that is achieved by infusing quality materials with a crescent moon-cut gemstone. You can liken the moonstone in this ring to the beautiful effect of light as the clouds drift past the moon at night.
All the wonderful effect described was created with iridescent rainbow moonstone, with a crescent shape, correctly set into the waiting band of 925 sterling silver. To make the piece meet the best standard possible, all the materials used are of top quality.
With features like hypoallergenic and radiant, the ring stays gorgeously on your fingers. We recommend it for its high aesthetic appeal and perfect dimension.
Owing to the different sizes of the band available for the product, you can choose the one that best suits your fingers. There is also a 30-day return policy that comes with the ring in case you are not satisfied with the quality of the product.
Either you are gifting out to a loved one, or you want to add it to your jewelry collection, it is perfectly priced, and you should not have any trouble using it for any of the two.
Other info: the stone has a dimension of 13mm x 10 mm.
9. 14kt Rose Gold Ring with Diamonds – Mirth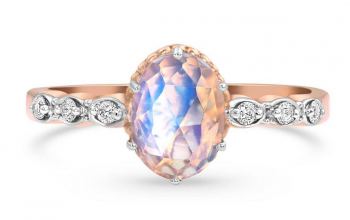 Finding a perfectly crafted piece of jewelry can be very elating, and you definitely will love to get that feeling. With a mix of two stunning gemstones, the effect of this ring is quite mesmerizing. It makes a great fashion accessory but is mainly for those that wish to propose to their better half in the best way possible.
The mirth added to the name of the product symbolizes the embodiment of high spirits. To create the stone, grade AAA rainbow moonstone was used.
There are also six diamonds, with three at each side of the stone. The result is a dazzling hint of glitz and glam, with the various colors that form that amazing sun-kissed effect. To continue the thread of exceptional quality, a rose gold metal band is used to keep all the aesthetic elements perfectly aligned.
The price is excellent for the quality you will get, so shop for yours at Moon Magic.
Other info: the ring weighs 2.55 grams and has diamonds of 0.07 carat. The size is 8mm x 6 mm.
10. Ring with Diamonds – Tear of Joy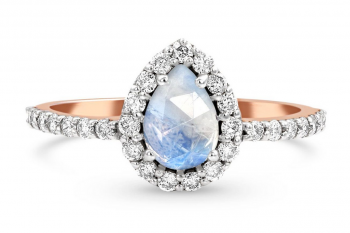 This is a moonstone ring that has all the best elements infused into it. The product was made with June birthstone and accented with 29 diamond spanning all through the band. It is quite a beauty to behold and taking your eyes of this spectacle is something that won't be easy.
We can only describe it, but seeing the picture gives you a taste of the awe-striking effect you will get when you see the real thing.
Crafted by some of the most delicate hands, the stone of this ring is carved from genuine and high-grade moonstone. It fits nicely into the 14 carats plated metal band, making it durable and robust.
You also get to enjoy the twinkle of 0.4-carat diamonds in all their glory. There's so much about the ring that makes it the perfect choice for any occasion you wish to attend.
Befitting all your fashion needs, the pear-shaped beauty will definitely live up to its reputation. It is also perfect for the engagement ceremony, and one look at it will remind you of that inevitable happy ending. With glamorous colors, high-quality and aesthetic perfection, this ring offers excellent value for such a small price.
Other info: the ring weighs 1.69 grams and has a bandwidth of 1mm. It is also available in varying sizes.
Moonstone Ring FAQ
If you still have some unanswered questions about these gemstones, this section can help you with them.
Does moonstone have healing powers?
Several gemstones have been considered to have healing powers, some of them like diamonds, crystals, and ruby are said to have been used for ancient cleansing of ailments. Some gems are even still adopted today for what is called crystal therapy.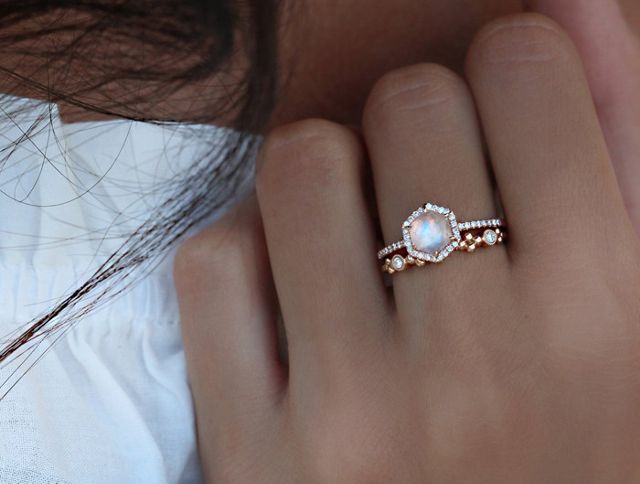 However, moonstone isn't said to have healing powers, but instead brings a profound and sacred feminine energy that makes the wearer have enhanced intuition, calm mood, improved confidence, and emotional balance.
What style is best for a moonstone ring?
These jewelry items are very dynamic, so you can combine them with almost any outfit. Also because they are adolescents, which means they have different colors for varying angles, they can match any color.
Be it a yellow sundress or a burgundy gown; you are good to go with the ring perched beautifully on your fingers.
How do I care for my ring?
Like a lot of other pieces of jewelry, the moonstone ring should be carefully stored in a soft pouch when not on your fingers. Also, try to avoid taking them close to harsh chemicals; they can be used in the sower but not in a pool or in a bath.
You can also take them to the jeweler once a while to have them ultrasonically cleaned.