Rings / Women
We've Discovered the Past, Present and Future Rings you Won't Find Anywhere Else!
A past, present and future ring is known for being a three stone ring, normally given as an engagement ring. The ring tends to be made up of a larger centre stone and two smaller stones either side. The ring can either be designed by incorporating clear diamonds or colorful gemstones. What's great about a past, present and future ring is that they come in a variety of styles ranging from modern to antique, giving you plenty of choice. They often feature princess cut diamonds, round brilliant diamonds or oval diamonds. If you prefer gemstones over diamonds, then there is heaps of choice to choose from.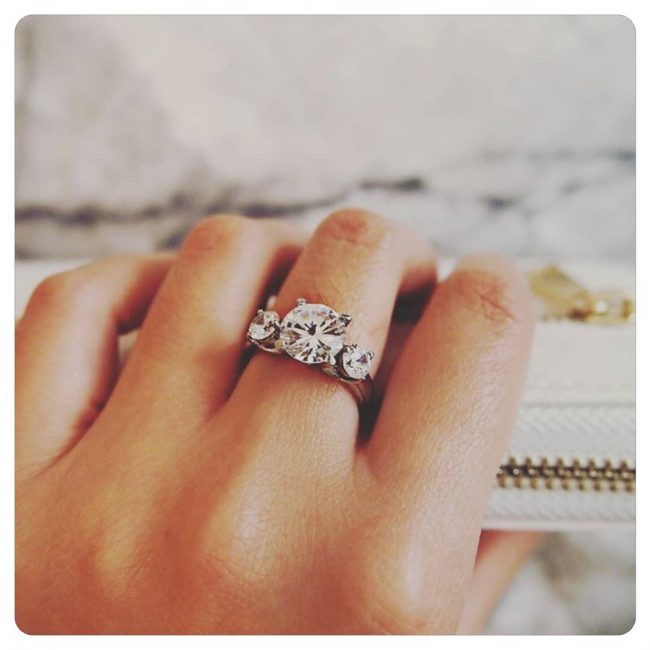 Morganites, emeralds and sapphires are just a few stones to consider. What's great about incorporating gemstones is that they'll give your ring a gorgeous color. Gemstones will also make your ring unique and give it even more meaning! You may also like to feature the receiver's birthstone in the ring or their favourite color.
All of these suggestions show that you've gone that extra mile by choosing a very special ring for the love of your life. You've also got the option of mixing gemstones with diamonds, making your ring unique and beautiful! You may like a halo shaped ring, a pave diamond, an intricate design or even some engravings on the band. There's no stopping you when it comes to choosing a present, past and future ring!
What does the past, present and future ring symbolise?
A past, present and future ring is extremely special because it holds a lot of meaning. It symbolises a couples' past, present and future together. In more detail, one of the stones represents the couple's history, another of stones represents their commitment at the moment and the third stone represents their exciting future ahead.
Surprisingly, even through a three stone ring is very popular, not many people actually know the symbolism behind the three stone setting. Without a doubt, this is a perfect piece to represent the union between two people and it's a great ring to give to someone as a romantic gesture.
Celebrities who adore their past, present and future ring
Once again, celebrities continue to keep this gorgeous past, present and future ring at the top of every ladies wish list. Princesses, singers and actresses, there are so many celebrities that love wearing this gorgeous ring! Take for instance Meghan Markle, Duchess of Sussex. Her gorgeous ring consists of a large centre stone and two smaller diamonds either side. The centre diamond was sourced by Prince Harry from Botswana and the two smaller diamonds positioned either side were sourced from Princess Diana's jewellery collection. What we love about this stunning engagement ring is that it carries heaps of meaning.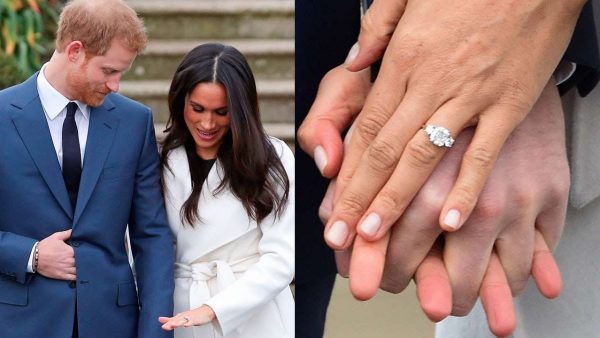 Singer, Jessica Simpson also wears it, given to her by her husband. He decided to design the ring with a ruby in the centre which symbolises her July birthday. The traditional setting consists of an oval ruby which has been accompanied by two pear-shaped diamonds. The band has also been made from a yellow gold metal.
Actor, Nicole Kidman, is another celebrity that has opted for the past, present and future ring. You'll notice that Nicole has a more traditional and vintage style ring where all three diamonds are the same size. Even though the diamonds are the same size this doesn't take away from her dazzling white gold ring that she is often photographed wearing. We simply love this ring!
When it comes to past, present and future rings there are plenty to choose from so here we've chosen some of our favourites to share with you!
Our 10 favorite picks!
1. Engraved Anniversary Ring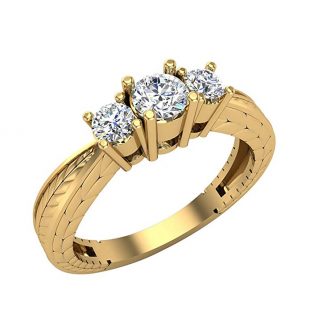 To start off our top ten, we've found this stunning yellow gold ring that is truly unforgettable. This gold ring has an unusual leaf engraving and holds three dazzling diamonds which you won't be able to take your eyes off. This engagement ring comes is being sold at a very high price so if you've got plenty of money to spend then this is the ring for your lovely lady!
Made in yellow gold this 14k gold ring is hand-engraved and has a three stone diamond prong setting which consists of 0.38 carats. If you're looking for a classic ring with plenty of elegance then don't look any further then this option!
It consists of three beautiful diamonds. The jeweller has cut the diamonds so they are classed as 'very good' or 'better'. This grading and description refers to the amount of light reflection that occurs within these dazzling diamonds. It also refers to the quality of the diamond and how much light goes through the diamond and creates a lovely sparkle that everyone will see. When describing the color of this diamond it is classed as colourless. Typically a diamond has many shades so the fact that this diamond is colourless makes it very special. It's important to point out that this diamond is a natural earth-mined diamond which means that it hasn't had any treatment. Carats refer to how much the diamond weighs. The centre diamond featured within this ring weighs 22 carats whereas the two outer diamonds add up to a value of 16 carats.
What's great about it is that if you don't like yellow gold the supplier also sells it in a white gold or rose yellow colour.
When it comes to the jeweller, Glitz Design, their rings start off as a sketch and then are crafted out of gold. The diamonds are then carefully picked and set in the precious gold, creating a wonderful masterpiece. If you like the sound of this jeweller, take a look at their extensive collection available on their website. You can expect to find plenty of glitz and glamour from their collection in the form of rings, earrings, necklaces and bracelets.
2. 1.50 Carat Round Cubic Zirconia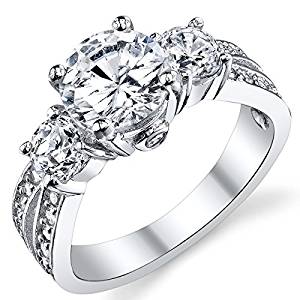 This ring that contains shimmering diamonds is really something to shout about! Made from white sterling silver this shiny band features three striking stones that you won't want to take off. This three stone ring includes a large stone in the centre followed by two smaller stones either side. The shimmering diamonds then continue half way along the band creating an elegant sparkle that has class written all over it. At a bargain price you won't think twice about buying this beautiful ring!
It has been crafted from a solid sterling silver which has a smooth shine to it! The inner rim of this ring has also been crafted with a smooth surface, creating a comfy fit that you won't want to take off! The gorgeous ring has been made with three gorgeous cubic zirconia diamonds which have been fixed into place by a 4 prong setting. The centre gem is 1.5 carats in weight and has two outer stones that equated to 2 carats. Each of the diamonds has also been shaped into a round brilliant shape. All three diamonds also have a beautiful clear colour.
This beautiful piece is being sold for an extremely low price which makes it a massive bargain. This ring would make the perfect birthday gift for your wife, girlfriend, sister, mum or daughter. This piece of jewellery definitely looks like it's worth more than it is!
3. 1 CTW 3 Stone Promise Ring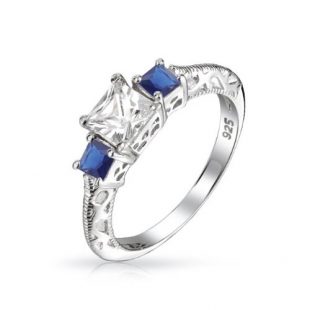 If you like the combination of colored gemstones and diamonds, this piece is for you! This sterling silver ring has been designed with a partial engraved band, a centre clear diamond and two blue gemstones, one either side of the large clear diamond. If you like blue gemstones you'll love this ring.
This unusual piece has been created by Bling Jewellery who has crafted this ring with an art deco style in mind. Not only does the three stone design work to accentuate your fingers but the combination of the diamond and blue gemstones looks great together!
The three stones have all been cut to a princess style cut, giving them a clear simplistic finish. The centre stone may look like a really diamond but in fact it's a cubic zirconia stone. The two outer gemstones have also been created from simulated sapphires.
Each stone has been held in place by a 4 prong setting which makes the ring look very elegant. The inclusions of the sapphire gemstones and the overall design of this ring give it a special antique feel. The overall design of this ring also makes it look very dainty and gives it a lightweight feel.
The ring has been made from a quality sterling silver metal which has a gorgeous shine to it. The band also has a rhodium plated finish which will prevent it from tarnishing and encourages the princess cut stones to shimmer effortlessly in the light.
This unusual ring has been made by Bling Jewellery, who, you guessed it, love their bling! They specialise in creating fabulous pieces of jewellery that you won't be able to take your hands off.
4. 1/2 ct tw Diamond Vintage Ring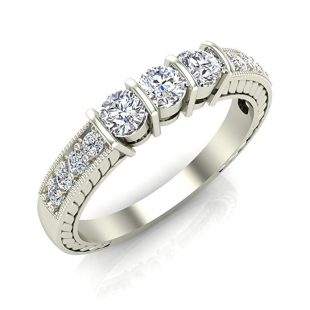 Here we have another vintage style ring. Designed using white gold, this elegant ring contains three round diamonds, cut to all the same size. This vintage ring has been created with a lot of love and care and with bundles of detail.
This piece has been created using white gold metal and three white diamonds that have been positioned in a prong setting. The diamonds have been cut to a 'Very Good' or 'Better' cut which means a lot of light will pass through the diamond and be reflected.
It also contains colourless diamonds which are classed as a colour of G-H which means nearly colourless. When it comes to the clarity of the diamonds they have a few obvious inclusions that may affect the brilliance and transparency of the diamond, giving it a clarity of 11- 12. The total carat of this ring is 0.50 which is measured from the top of the diamond and includes the cut grade. This three stone vintage style ring is definitely a statement piece of jewellery that you won't forget in a hurry!
Your special ring will arrive in an elegant velvet pouch which will be securely held within a gift box. You'll be pleased to hear that this jeweller doesn't cut corners when it comes to customer care for their jewellery. Believe it or not, when purchasing this ring they'll be given a free micro-fibre cleaning cloth and a maintenance information card to help you look after your ring. What more could you ask for?
The creators of this ring are called Glitz Design. They specialise in creating premium jewellery including wedding and engagement rings. Their gorgeous collection has been handmade by their team of experts. The diamonds have been set with delicate precision. At every step of the production, they promise to create your ring by using only high quality materials and a lot of attention to detail. Expect plenty of sparkle with this ring!
5. Sterling Silver Round Cut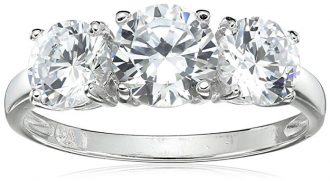 One, two, three! Yes, you've guessed it, this ring is yet another past, present and future ring to add to the collection. If you're looking for a special ring to give as a birthday present this three stone cubic zirconia ring would make a great gift.
This piece has been made with a classic three stone diamond design. The diamonds are in fact a cubic zirconia and these beauties hold a lovely sparkle. They are not only gorgeous but very affordable which makes this ring a bargain. The sterling silver band has also been made with a brilliant shine and has a lovely smooth cut. The three round shaped diamonds have been held in place by a 4 prong stetting. You've probably already noticed that the centre stone is slightly larger then the two outer stones, making this ring stand out and let's not forget, sparkle! At a cheap price, this ring definitely has a luxury feel to it!
The supplier who is selling this stunning ring is Amazon Collection and looking at their extensive collection they have plenty to offer. Necklaces, bracelets, bangles, pendants, earrings and rings – you'll spend hours browsing their collection and will be spoilt for choice!
6. 0.50 Carat (ctw) 10K Gold Princess and Round Diamond Swirl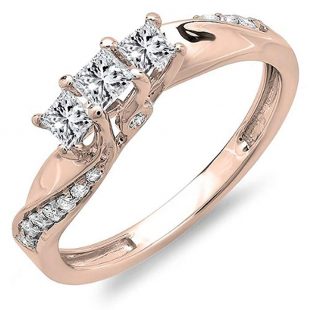 If you're tired of seeing the same old yellow gold and white gold three stone rings then take a look at this rose gold band with three stone swirl diamonds. If you're buying this as an engagement ring you won't need to worry about someone having the same ring!
This memorising piece has been crafted from a10k bright rose gold metal. The three diamonds have been shaped into a princess and round cut and have been securely held in place in a 3 stone setting. The three diamonds equate to 0.5 carats.
This precious ring has been made with a lot of care by jewellers, Dazzling Rock. If the name doesn't give it away, the jeweller specialises in creating sparkling jewellery in the form of rings, earrings, necklaces and bracelets. Though this piece is a being sold at a high price, this ring will last for years and years to come so is well worth the price. The supplier also guarantees that these diamonds are 100% nature. If you still have any doubts, take a look at their rings and their natural sparkle.
So if you're looking for an option with a difference and want to be dazzled by Dazzling Rock and their gorgeous collection of jewellery, then this ring will be right up your street!
7. BERRICLE Rhodium Plated Silver Emerald Cut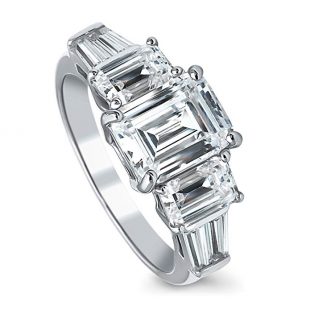 This piece is a great statement piece when it comes to jewellery. All three stones have been cut into rectangles, giving the ring a clean and sleek design. This ring is also very shiny and reflective, making it stand out on your finger!
Made from rhodium plated silver, this gorgeous ring has been created with a lovely smooth and stylish polish finish. The use of rhodium in this ring will not only make it strong but will also prevent it from tarnishing. It is also nickel free which is great for people with sensitive skin! The gorgeous diamonds within this ring have been cut to an emerald cut shape. Even though these colourless stones look like real diamonds they're actually cubic zirconia stones which look utterly gorgeous. The main stone is positioned in the centre of the ring and is approximately 1.17 carats whereas the side stones are 1.32 carats. Together, these three cubic zirconia stones are positioned in a prong setting within this ring that keeps them nice and secure on the ring band.
This beautiful piece has been crafted by BERRICLE's who started making jewellery in 2011. They soon became one of the most sought after jewellers to create jewellery from premium sterling silver and cubic zirconia stones. Their collection ranges from bridal jewellery to everyday fashion jewellery.
8. Venetia Supreme Top Grade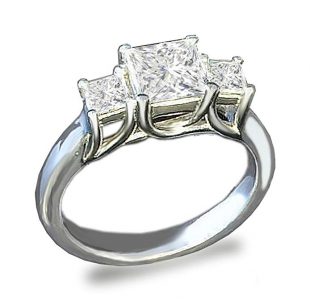 If you like princess cut jewellery you won't be able to take your eyes off this princess cut past, present and future ring!
This contemporary style piece has been beautifully designed to show off its three stone princess cut simulated ring. We all know that the princess cut style is one of the most desirable shapes for a diamond and this ring is no exception. This ring has been beautiful crafted to give it a realistic look. The ring has also been made from 18k gold plated solid silver which has a highly polished finish to it!
This piece has been sold by VenetiaDiamonds.com for a low price. Looking at their collection they offer plenty of sparkle and glamour through their gorgeous collection of engagement rings. It's important to point out that this ring is much more understated then their other rings so if you fancy some more sparkle take a look at their collection online.
9. Montana Sapphire Past, Present, Future Ring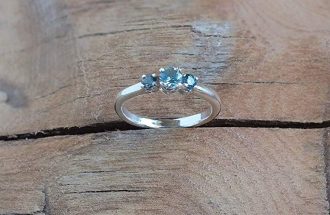 If you prefer sapphires over diamonds then you won't be able to resist this pretty ring. This ring has been designed with a smooth sterling silver band that has a glorious shine to it. The smooth texture of the ring also makes this ring a comfy fit. It has been created with three stunning sapphires which equate to 0.58 carats. As you'll see the sapphire featured in the centre is slightly larger than the two outer sapphires. What's great about these sapphires is that they are natural stones so therefore come in many shades and colours. They range from a light blue to a blue green colour.
This piece is being sold by Mac's Gems, who love their sapphires. Rings, earrings, pendants and bracelets – as long as they include a sapphire they sell it! Take a look at their gorgeous collection. The attention to detail when it comes to their jewellery collection is really something to admire!
10. Ring Band Set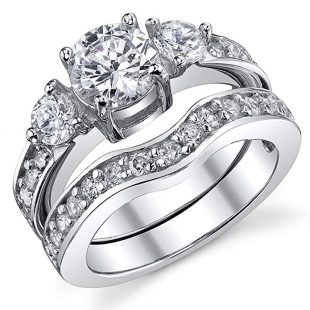 This stunning bridal set that consists of an engagement ring and wedding band is very pretty. You'll be pleased to hear that this three stone engagement ring that includes the past, present and future stones is being sold at a very low price. When we found this bridal set, we we're shocked at the price.
This lovely piece has been created using solid sterling silver which has a very smooth and shiny finish. The shimmering diamonds are actually cubic zirconia stones which are extremely high quality. The cubic zirconia stones are also a round brilliant shape and have a clear colour which means they have a beautiful reflection to them. Each diamond has been carefully positioned in a four prong setting and the total ring equated to 1.10 carats.
This bridal set is being sold by Bonndorf who love their rings. They offer a range of bridal sets and engagement rings which you won't be able to resist. Take a look at their collection now!