Mix
Bolo Bracelet: Silver & Other Designs!
Bolo bracelet is an adorable and super versatile piece of jewelry. We love them for all sorts of occasions and styles and if you're not already familiar with them, we think you'll love them too!
The design and the name of bolo bracelets come from the accessories known as bolo ties. A bolo tie is a necktie that is made from a cord of some type with a metal tip on each end of the cord. They also have a slide on them above the metal tips that hold the two ends together and allows the tie to be easily adjustable.
The bolo jewelry work the exact same way! They are made from various materials such as cord or metals and they've got metal tips and a slide of some sort that keeps the bracelet together and allows for easy adjustability. They come in many different materials, designs, and styles. Check out our favorites below.
Our Favorite Bolo Bracelet Selection
1. REEDS Sterling Silver Heart Bracelet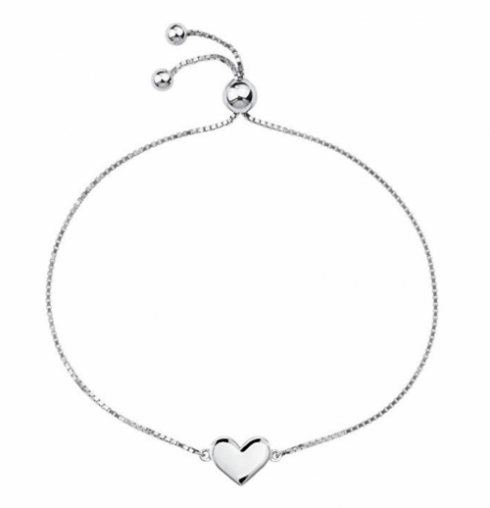 Our first bolo bracelet pick is this adorably simple option from REEDS! This is one of our silver picks. It is made from 925 sterling silver. This is the most popular composition of silver for jewelry because at 92.5% the silver is much more durable and stronger but still retains the beauty of silver perfectly.
The bracelet features a box chain made from the solid sterling silver. This gives it a really nice look that works well for almost any setting whether it be casual or formal. It gives a really smooth and fuller look compared to a typical chain style.
On the ends of the silver box chain, the metal tips are actually smooth silver balls. They're relatively small in size and give the perfect finish to the ends of the chain. It really goes along with the smooth look of the bracelet overall. The slider is also a silver ball to match the metal tips in a cohesive way that keeps the simple look together nicely.
The slider ball is a bit bigger than the balls at the tips of the chain and moves up and down the chain easily for simple adjustment of the bracelet. The main feature though is a lovely silver heart at the bracelet's center.
The heart, as well as the rest of the bracelet, features a high polish finish that shines wonderfully and further lends to the versatile design of it. Its adjustability allows it to fit any wrist up to 9 inches!
It is about mid-priced, so perfect for anyone looking for something really nice but not wanting to break the bank.
2. Cherished Moments Bracelet in .925 Sterling Silver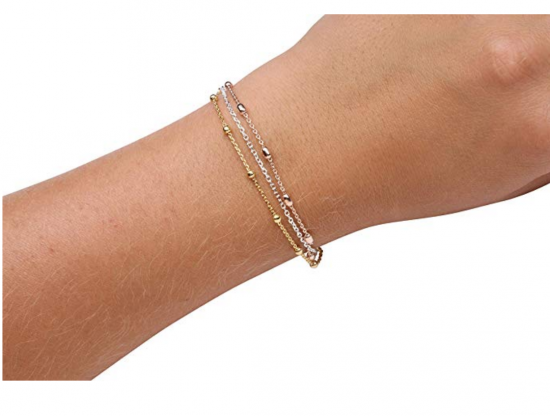 This lovely option is a bit more formal, although it can still work casually with the right outfits. It is also mid-priced but closer to the lower end of the mid-priced range.
It is made from primarily 925 sterling silver but has some other metal added as accent pieces. The lower half where the adjustability takes place is made with a simple silver box chain. The ends of the box chain are finished off with cute silver balls and the easy-to-use slider bracelet is also made from one of these cute little silver balls to help match the ends of the bracelet too.
Then, instead of featuring the box chain all the way around the entire bracelet, the box chain ends at about halfway around it. It is connected to three different sections of chains that go across the top of the wrist when the bracelet is being worn. This gives you a really cool layered look that has tons of incredible style built in.
The middle chain is very simple and is just your run-of-the-mill dainty silver chain. It creates a nice layer without making the bracelet too busy overall.
The top chain is still made from the 925 sterling silver, but it also features a lovely 14k yellow gold plating on it. This chain also features small golden balls in equal spacing across it.
Finally, the bottom chain – also made from the same sterling silver – features a precious 14k rose gold plating. This creates a really lovely tri-color look of different layers for your piece of jewelry.
The rose gold chain also features small oval-shaped beads along with it. These oval-shaped beads are just a little more spread out than the round gold beads on the top chain. It gives it variety and adds a lot of interest to your bracelet overall.
This sweet little bracelet adjusts anywhere from 6 inches to 9 inches!
3. COAI Tree of Life 7 Chakra Stones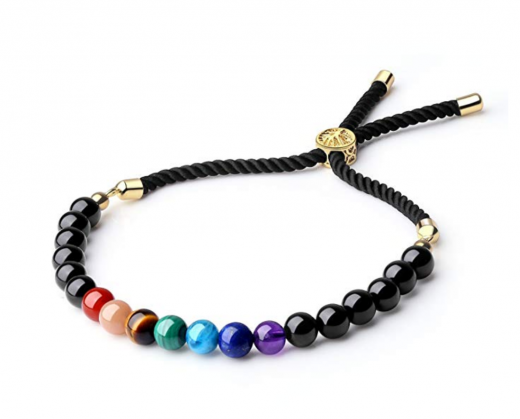 If you're looking for a really unique and more casual pick, you won't find anything more perfect than this incredible option from COAI!
This super cool piece is actually really similar to an actual bolo tie with the black nylon cording that makes up the adjustable section of the bracelet. This cording is fairly thick compared to the chains that make up a lot of the options out there, but it does create a really cool and bold look that is, again, perfect for more casual attire.
The nylon cording only makes up the adjustable lower half. Each side of the cording is finished on both ends with gold-tones metal tips. These are smooth and match the chase of the cord more similar to a traditional bolo tie.
On the inside edges of the cord, the bracelet continues with stunning rounded beads threaded across the entire upper half. These beads represent the 7 chakras. They are red agate, sunstone, tiger eye, malachite, apatite, lapis lazuli, and amethyst.
On each side of this row of 7 chakra stones, there are 6 onyx stone beads. This creates a nice balanced look with the rainbow of chakra stones at the center of the bracelet.
One more super cool feature is the slider that makes it so easy to adjust. This slider is round in shape but has flat sides. It's actually more like a charm itself as it has a lovely design on it.
Inside the circular shape of the slider, there is a beautiful tree, often referred to as the tree of life, engraved into it. This adds a very sweet and meaningful detail to the chakra stones.
This tree of life charm slider is also made with the same gold-tone metal as the rest of the metal accents on it. It really helps to bring the entire look together perfectly.
This piece of jewelry fits nearly any wrist up to 9.5". It's also quite affordable, which really amps up the value considering how nice, detailed, and well-designed it is.
4. Ross-Simons Italian 18kt Yellow Gold Bracelet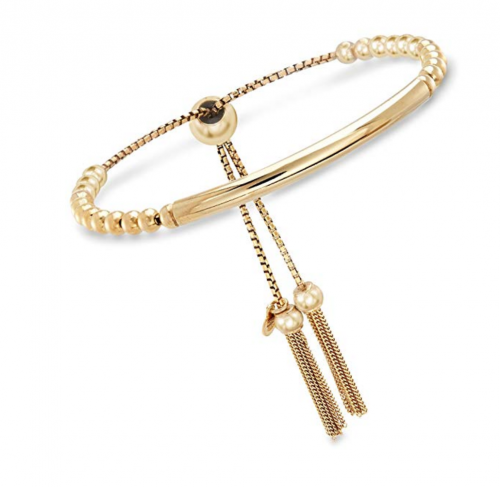 Here is a very dazzling and high-end option perfect for more formal occasions! This lovely piece is made from 925 sterling silver but it is then coated in 18k yellow gold for a rich and full appearance.
For the base of the bracelet, there is a strong box chain. The ends of the box chain are finished with very ornamental gold-plates beads. The beads are round but feature small rims that stick out from the ball shape on the top and bottom.
For an especially fancy touch, there is a small waterfall of golden chains coming out of each of the ornamental beads. This provides a lot of rich detail that helps enhance the high-end feel of this piece of jewelry.
On the top side, there is a single long bead that curves with your wrist. It is smooth with the same high-polish finish as the rest of the bracelet.
On each side of this longer head, there are small round beads. There are 12 of these round beads on each side of the longer one for a total of 24 of them. The price is a bit higher but still very reasonable. It is certainly a good purchase in terms of value!
5. GemStar USA Initial Alphabet Letter Bracelet
For a fun and casual piece that can also be used in a more formal setting, you'll love this customizable initial bracelet from GemStar USA! This one is also made from solid 925 sterling silver and has a nice box chain as the base.
It has a cute simple design perfect for any age! Since it is easily adjustable between 3 and 10 inches, it can be used as a bracelet for a child or even a larger adult.
The slider is a simple bead style slider that moves easily but stays in place where you put it at the same time. The ends are tipped with simple silver balls.
At the center, there is a single letter suspended by the box chain on each side. You can choose from any letter of the alphabet making it fully personalized.
You can decide to choose the first letter of your first name or last name. You could even put your partner's first initial instead for an even more special meaning to your bracelet.
The entire thing has a smooth high polish finish that makes it shine wonderfully. It is also super affordable for almost any budget!
6. Beaux Bijoux Diamond-Cut Moon Beads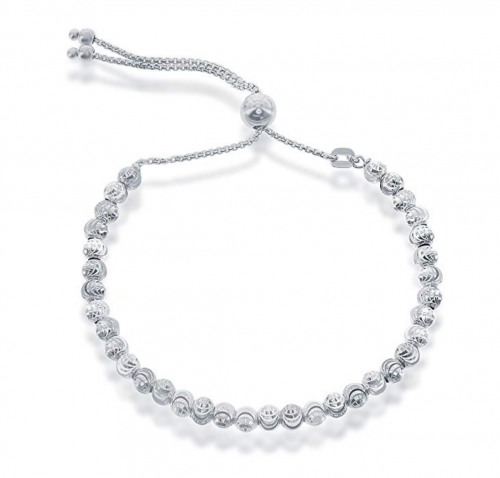 This next pick is a really cool and unique choice with some European style! Made completely of solid sterling silver with a relatively simple design, this option is great for any outfit and any occasion. It is super versatile!
It has a nice range of adjustability as well and should fit any adult wrist up to 9 inches. The chain is a box-style chain and features a long row of matching beads. Each one of these beads is round in shape but has a very special and intricate design called moon beads. They are very pretty and ornate in design but the bracelet manages to maintain a nice minimalist look overall sill.
The ends of the box chain are finished with small silver balls. Hanging down on the chain against each of the silver ball tips, there is also a small and round silver bead. There is one of these extra beads on each one of the ends of the bracelet.
It is mid-priced and very nice. This entire piece is the sterling silver but you can also choose it in a tri-color design with a mixture of gold, rose gold, and silver beads!
7. Ross-Simons 18kt Gold Byzantine Bracelet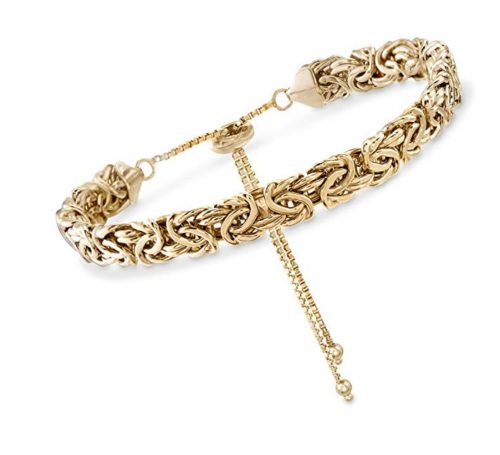 If you'd like a thicker pick with a bold look, this Ross-Simons option is perfect! It features a really unique Byzantine chain. This is a fascinating design that draws a lot of interest and is one of Ross-Simon's signature designs.
It features many different links of chain looped together in all different directions and overlapping multiple times. It kind of has a look of organized chaos to it.
It is mostly made with this Byzantine chain but also features a box chain at the bottom to allow for the adjustable feature associated with any bolo bracelet.
The entire thing is made from solid 925 sterling silver but it is also played with lovely 18k yellow gold for a more high-end look. The gold looks lovely in almost all settings!
At the end of the box chain, on both sides, a small gold ball finishes the chain ends with a larger gold ball above each of the smaller ones for some nice added detail.
The adjustable slider is a flat bead-style that compliments the rest of the bracelet's design wonderfully. While it is a little more expensive, it is still in the mid-price range for these bracelets.
8. WISHMISS Silver Bracelet in Natural Drusy
WISHMISS is the name of the brand that makes this breathtakingly pretty pick featuring natural drusy. The chain is the smooth and clean-cut box style. It's got an elegant and dainty but still strong and durable appearance.
It has a very high-end look and is made from 925 sterling silver. The clasp or slider is a smooth silver bead that's got kind of a cushion-cut look to it. One of the cool details is the way that the chain is capped.
At the ends of the box chain, there are round silver charms to finish the chain, but they aren't just plain beads. Each one of them has a decently sized cubic zirconia stone inlaid into it within a bezel setting. One of the little charms also has an additional little charm attached that contains a fancy 'W' to stand for WISHMISS.
On to the main part that you, and everyone around you, will notice – the centerpiece which is suspended by the chain on each side right at the middle of the bracelet. This centerpiece features a very distinctive and beautiful stone formation called drusy.
This all-natural drusy piece specifically comes in black that sparkles stunningly. If you do prefer, though, there are some other drusy color options you can choose such as blue, purple, green, and multi-color.
The black just has such a sophisticated look to it that we love! The stone formation is cut into an oval shape and mounted into a slightly larger silver oval. All around the drusy stone formation, there are carefully placed little notches in the silver.
This creates a rope look in the silver surrounding the stone. It is all very pretty and unique. The bracelet extends up to 10 inches and is pretty affordable too!
9. GemStar USA Infinity Adjustable Cuff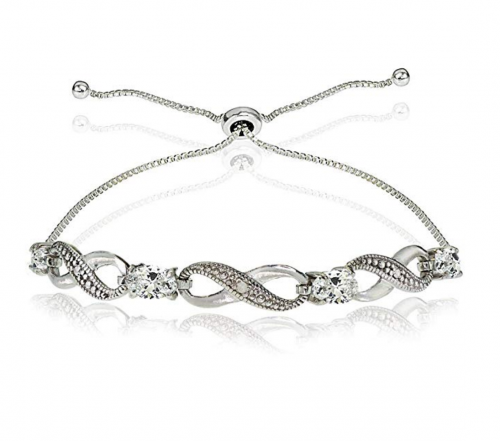 Here is another great option from GemStar USA. This lovely infinity bracelet is super sweet and affordable too! This is another pick made from sterling silver that features a simple but very nice box chain design. This gives it a fullness that looks great and is more durable than daintier chains.
The ends of the chain are tipped with very small silver balls that go along with the minimalistic chain. The slider is a simple silver bead as well. It is rounded on the edges and flat on each side.
This bead, as well as the silver of the rest of the bracelet, has a lovely high polish finish. Multiple charms strung together into a chain complete the front of it.
There are two different types of charms: the first is an infinity symbol. This symbol appears as an elongated number '8' laying on its side. The bottom pass on the infinity symbols is smoothly polished. The top pass, however, features more intricate detailing.
The edges are raised and notched for a cool outlined look with nice texture. Then, inside these raised edges, there are silver dots of varying sizes to add even more detail and interest. There is a total of 3 of these infinity symbol charms.
Then in-between each one of them, there is a different charm. This is a simple gemstone charm with a gorgeous oval cut to it. The oval lays on its side to match with the infinity symbols and is mounted securely onto a sterling silver base. There is a total of 4 of these charms.
The gemstones are clear cubic zirconia that sparkles brilliantly almost like real diamonds. Of course, you have other choices as far as the gemstones go as well.
You can choose from lab created sapphire, simulated alexandrite, lab created ruby, blue topaz, peridot, garnet, and more!
The bracelet can adjust anywhere from 3 inches to 10 inches. That means that it can easily fit almost any wrist – even that of a child. This makes a really great gift as well and even comes in a soft and pretty pouch perfect for gifting.
10. Caperci Blue Sapphire Bracelet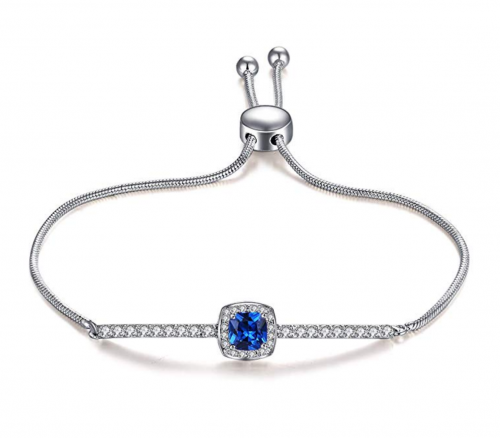 The final recommendation on our list is from Caperci! This pick is more sophisticated and is great for a more formal setting compared to most of our other options. It is made from sterling silver but has a different chain type than our previous picks.
It features a really neat wheat chain design. This makes it hardy and durable but still lets it maintain a delicate and elegant look. The ends of the silver wheat chain are finished with round silver balls.
The bolo clasp of the chain is a simple circular bead design that has the same high polish finish as the rest of the piece. It allows it to easily adjust up to 9 inches to comfortably fit most wrists. Each end of the chain is attached to a single long piece of solid silver.
This piece of silver is curved slightly to fit well on the wrist without impacting comfort. It is adorned with 18 tiny cubic zirconia stones in a straight row across it. They're all mounted securely and equally spaced for a clean-cut design.
Right at the center of the row, there is a charm mounted. This charm is actually a lab-created blue sapphire. It has a stunning bright but deep blue color to it and a lovely cushion-cut.
The stone is 7mm across. It shines amazingly and is perfectly complemented by the halo of cubic zirconia stones all around it. The little cubic zirconia stones are snugly secured around the cushion-cut created sapphire enough to keep the cushion-cut shape.
The stones themselves are all around, though. They match the stones on the row of silver and are actually surrounded by a small ring of silver themselves in the same cushion-cut shape.
Altogether, the piece has a somewhat royal look to it and will truly look breath-taking on your wrist for a nicer occasion. It even comes in a high-quality gift box and at a very reasonable price!
 Style Tips
This type of bracelets come in so many different fun and beautiful designs! They are very versatile and easy to wear with practically any outfit on any occasion. They vary a ton when it comes to materials, styles, and designs.
So, it is important to match them appropriately for different occasions and clothing. Corded bracelets are generally best for just more casual occasions. Metal options can be versatile and worn in different occasions more easily.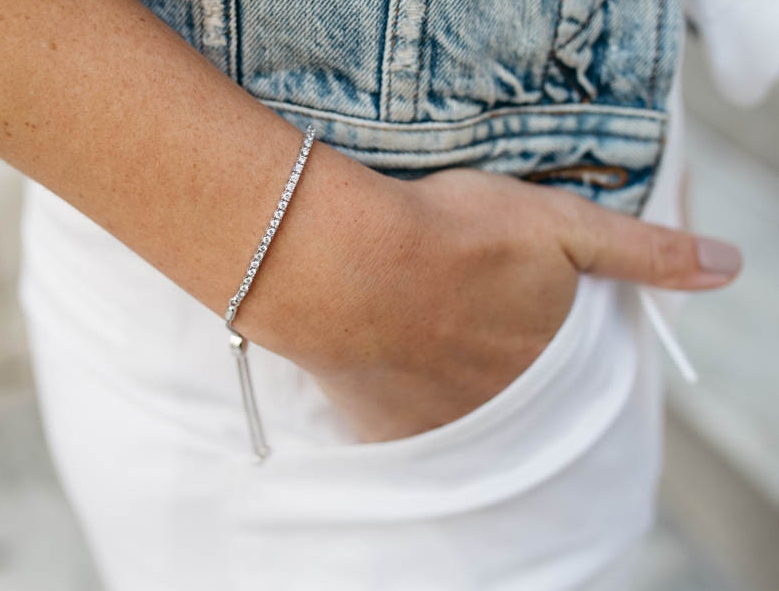 If the bracelet features only metals, it is likely a bit more casual. However, it is adorned with gemstones, it is probably a bit more formal. Since they do vary so much, you'll just need to use your best judgment for what works the best with your different outfits and depending on where you are going.
One of the really cool things about these bracelets is that they can be worn alone and look incredible as a single statement piece, but they can also be worn stacked!
They look amazing when you put several together on a single wrist. Just make sure that they all go together well. For example, you wouldn't really want to put several really casual options together with one fancier or more formal option.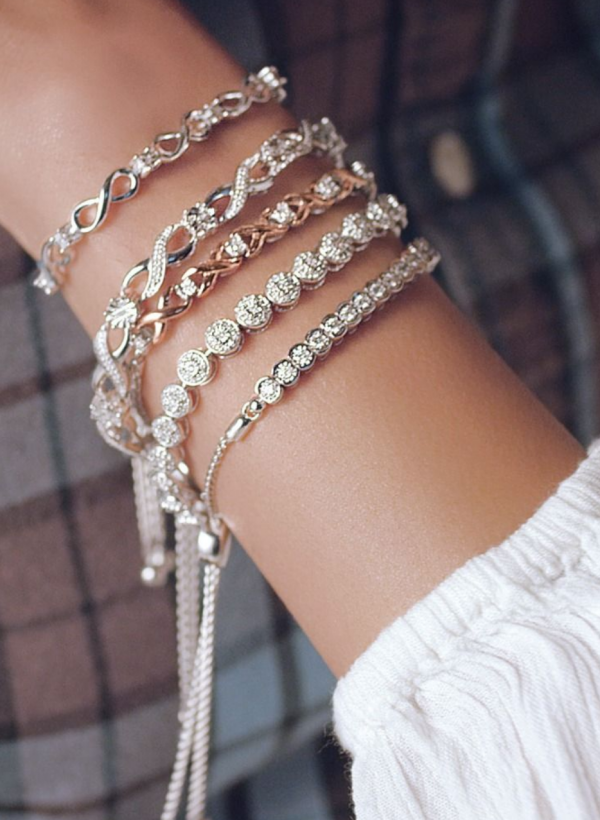 Match the formality level when you are stacking bolo bracelets. Wearing multiple ones works great, but you can also mix and match your bolo piece with other bracelets as well.
One cool look could be several bangle bracelets paired with a single bolo one! Just, again, remember to match the level of formality for the best results.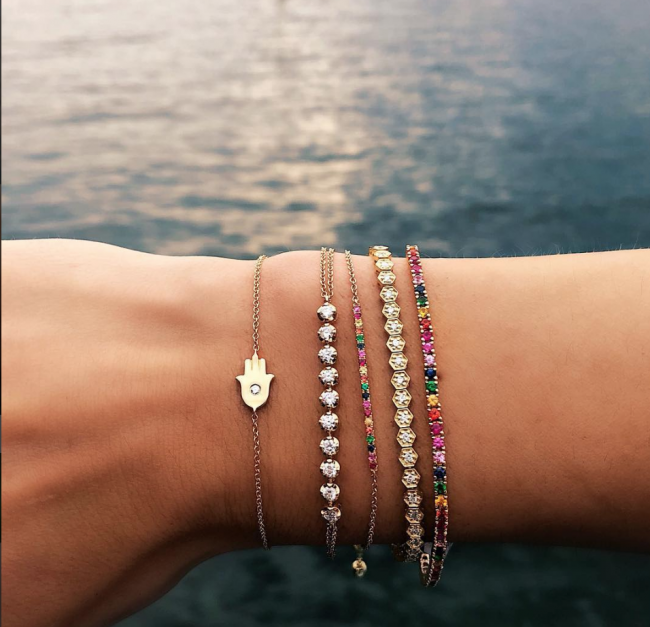 More formal options could be stacked nicely with a couple of silver or gold bangle bracelets, but multiple bolo bracelets or a lot of bracelets all stacked together look best in more casual settings. Just have fun with it and remember to wear your pieces of jewelry the way you love them!